A reader from South Africa emailed me recently about the difference between French and American manicures.
The French manicure is thought to have been invented by Max Factor in the 1930s for the
fashionistas
of Paris. A french manicure consists of a white tip with a flesh toned sheer over the rest of the nail.
Orly
trademarked the term "Original French Manicure" when they began selling their at home french manicure kits in 1978.
The origins of the American manicure are much harder to find. Basically, the major difference between the two styles is the color of the tip. American manicures are a softer version of the traditional French, using creamier colors as opposed to a stark white. Most people consider the American manicure a more natural nail look.
Here is an example of each:
French Manicure (
Barielle
French Tip White & Pinnacle Sorbet Cerise)
American Manicure (Orly Naked Ivory tip, OPI Bubble Bath)
Popular french manicure tip colors: OPI Alpine Snow and Orly White Tips
Popular American manicure tip colors: OPI Swedish Nude, Kyoto Pearl (shimmer) and Desire
In addition to the two most popular styles, alternatives to the french manicure are becoming very popular. Termed a "funky french" or "reverse french" these new versions are fresh and fun.
Sephora showed a reverse french, with black tips on their spring catalog cover.

Use a glittery, metallic or holographic polish on your tips for a blingtastic funky french. Tip color: OPI Paris Couture for Sure.
Finally, my lame attempt at a 4th of July funky french from last summer. Inspired by one of the MUA nail board gals, I decided to go for it with lots of color and glitter. I used China Glaze Hot Lava Love, OPI Paris Couture For Sure and China Glaze Dorothy Who?.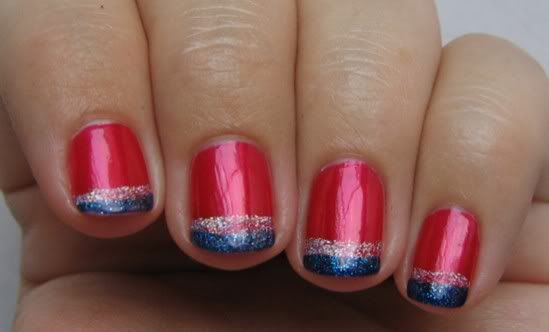 Helpful hints for "tipped" manicures:
Apply the base, nail bed, color first.
Hold the tip color brush steady and roll your fingertip underneath to get a smooth and even line.
Try using the Sally Hansen French Manicure Pen Kit if you can't get your polish even.
photos: M_Grace on MUA, Sephora and All Lacquered Up