Holiday 2011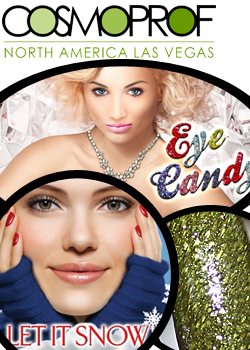 Stopping by the AII Beauty booth at Cosmoprof North America, the premiere business to business beauty trade show, is like a visual assault. They own so many brands, including China Glaze, that it's hard to know where to look first.

Thankfully, two of my fave people from the company, Amy & Anne, were there to walk me through. You may remember that eons ago, not really but it seems that long, I had the chance to meet the China Glaze team during a trip to LA. It's where I got my first glimpse of the best green glitter to ever exist on the planet, China Glaze Emerald Sparkle.

Get ready for your own visual assault courtesy of ALU as I bring you a look at the 34 new China Glaze polishes that will be released between now and January 2012. That's right, I said 34.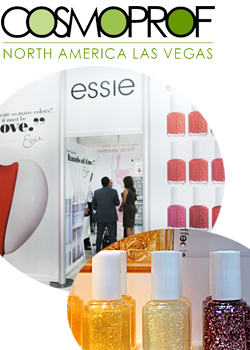 I recently attended the Cosmoprof North America business to business beauty trade show in Las Vegas and, as always, it was completely overwhelming, in a good way. Imagine an enormous convention center filled with rows upon rows of beauty brands, manufacturers, packaging companies, etc. debuting their latest products and innovations. I didn't know which way to go first.
In years past I haven't made it to the Essie booth. In part because they make it look so secretive with the surrounding walls. This year however, I met the adorable and charming Dominic and Melissa who took me on a tour of the upcoming Winter & Holiday 2011 collections. Sadly, Essie was not at the show this year but I'm sure I'll run into her in a few weeks during New York Fashion Week.
Dominic, by the way, told me he reads my blog (so flattering) and when I playfully questioned him, he replied, "I know that you store your nail polish in IKEA Helmers!" How cute is that?!?
Let's check out what Essie is bringing to the nail polish party in the upcoming months including some hints about SPRING!
Continue Reading »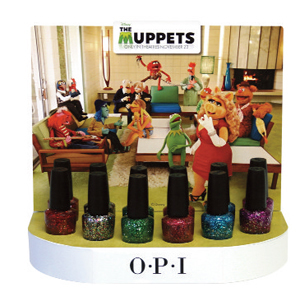 It's time to play the music
It's time to light the lights
It's time to meet the Muppets on the Muppet Show tonight
Oh.My.Gosh!! The Muppets are partnering with OPI. Let me repeat. THE MUPPETS ARE PARTNERING WITH OPI!!!
I can't even begin to tell you how thrilled I am over this news. I tend to love OPI's Holiday collections more than any other in the whole year but with the Muppets involved I'm already calling it THE collection of 2011.
As a kid I lived for Sunday nights when The Muppet Show would come on and I still have my Kermit and Miss Piggy puppets from way back then. I seriously worship the genius of the late Jim Henson and watched anything he was involved with; Labyrinth, Emmet Otter's Jug-Band Christmas, The Tale of the Bunny Picnic, Fraggle Rock.
I seriously freaked out when I saw Bean Bunny at Disney's Hollywood Studios. Don't judge I also cried when I met Tigger! What?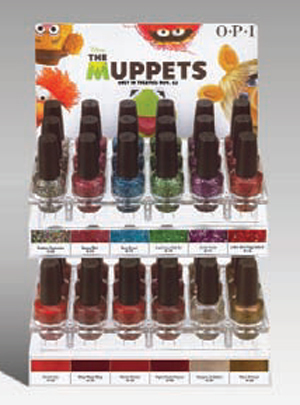 Anyway, I know this is a LONG time out but I just had to post about it. The reported color names are:
Animal-istic
Meep-Meep-Meep (can you even stand how cute this sounds?)
Wocka Wocka!
Pepe's Purple Paassion
Designer…de Better!
Warm & Fozzie
Rainbow Connection (We sang this in elementary school)
Excuse Moi!
Gone Gonzo!
Fresh Frog of Bel Air
Divine Swine
Gettin' Miss Piggy With It!
Please tell me there are others as excited over this news as I am? Who is your favorite Muppet character? And where's the love for Janice?
***EDITED TO ADD – While I do not have an official release date, based on previous OPI Holiday launches, I would expect to see these on shelves no later than November 1st, 2011. Burlesque was pushed up to October 1st so that is a possibility as well.
info and image credit: neglelakkmani