Lancome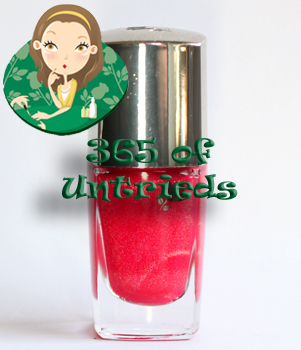 365 of Untrieds is my personal challenge to weed through the polishes in the ALU stash that I've been wanting to try but just haven't gotten around to.
As much as I love greens, I had to break the cycle and put on something the complete opposite. For me, that's anything in the pink or red color families. I decided to combine them by choosing the reddish pink Lancôme Sarong from the Bronze Azure Summer 2011 collection.
Bronze Azure captures beach chic with its palette of shimmering tans, cool blues and bright pops of pink. I've said it many times that I'm NOT a pink girl. And I don't say that as though it's a bad thing. It's just not my aesthetic. Now when you mix pink with orange or red, I'm a little more apt to get on board. True corals and red corals, like Sarong, are like my gateway drug to pink. Every time I wear one I think, "I can do pink." But it takes a rare pink bird, like Chanel Morning Rose, to make me believe.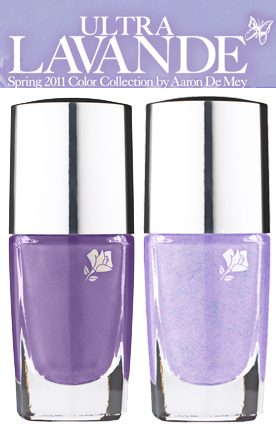 Last September I had the pleasure of meeting famed Celebrity Manicurist Lisa Logan backstage at the Chris Benz fashion show in NYC. Lisa is Beyonce's manicurist among others and I was geeked to meet her.  At the show Lisa was using a bold purple nail polish that caught my eye and I've been dying to get my hands on it ever since.

The color is Violet Groove from the Lancôme Spring 2011 collection, Ultra-Lavande.  The collection of purples and pinks also includes Le 54, a sheer lavender glitter polish, and together they make one killer combo.  Keep reading to see for yourself.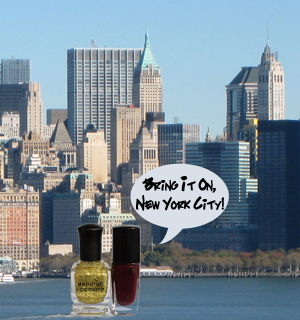 As you know I was in NYC for Halloween weekend with the boyfriend and per my usual travel ritual I was up late the night before we left. I did actually get five hours sleep with is a record for me. Baby steps…

Anywho, as I tend to do, I gave myself a middle of the night manicure, procrastinating because I couldn't decide on a color. Unlike my trips to NYC for Fashion Week, I wasn't going to be changing my color daily so I wanted something that would not only last but go with every outfit I packed. Finally, around 2 am, I pulled out the polishes I bought the day before, determined to wear something new. Little did I know, the combination I ended up choosing would last me 7+ days with barely any tip wear.

Read on to see my manicure with Lancôme Les Rouge L'Wren and Deborah Lippmann Boom Boom Pow and check out some pics from my trip.