On a brisk Saturday morning, 200 beauty-loving women gathered at Nordstrom in Beachwood Place to Wake Up Pretty with me. A slew of beauty gurus spoke about trends in makeup, skin and nails for Fall and Holiday 2013 and I was thrilled to be one of them.
I could write a novel on all my favorite nail polish colors and trends for the season but with only a few minutes to speak, I had to narrow my choices down to the top trends and best shades Nordstrom has to offer. See which ones made the cut below.

To say I was nervous would be an understatement. I haven't done a ton of public speaking but I jumped in, feet first, at the chance to dish on my favorite subject. Thankfully, I had some friendly faces in the crowd to support me, in addition to all my new beauty friends in the audience.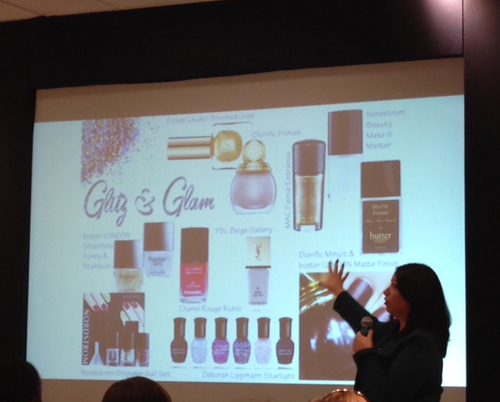 Jewel Tones
I talked about jewel toned polishes in my post about the event I hosted at Saks and it's still raging on, well into holiday. Jewel tones are one of the big trends from the runway that translated well into nails.
And no brand embraced that concept more than Deborah Lippmann with her Jewel Heist collection. She gave us a shimmering emerald, creamy midnight blue and sparkling gold that are gorgeous on their own but she created three glittering top coats to pair with them. What's unique about the Jewel Heist glitters is that the particles are holographic so when the light hits, it creates a prismatic effect.
Now you all know how I gushed about Bobbi Brown Navy in my Favorite Fall 2013 Nail Polish post so I won't go on but it is stunning. And technically Chanel Taboo was released last spring but, it feels so right for this season with its rich purple tone and unique blend of shimmers.
So, did you know that Nordstrom has their own nail polish line? Neither did I! I'll tell you what, it's really nice for the price point ($8.50 or 2 for $15). Pigmented and smooth with great wear. Sparkling Grape and Lush Forest are my picks from the line.
Other jewel toned shades to consider: butter LONDON Bramble, Dior Masai Red, Estee Lauder Midnight Metal, Lancome Lovered.
Glitter and Metallics
Who doesn't love a little bling during the holidays? If you don't, that's cool. Chanel has you covered with Rouge Rubis, a classic creamy red. Or you could opt for a neutral base like YSL Beige Gallery and add just a touch of sparkle with a glittery statement nail.
But, if you're a glitter queen, Deborah Lippmann is your girl. She is pushing out some amazing holiday sets this season and the Starlight mini glitters are ideal for high-powered sparkled fest.
Of course, if you are looking for a more refined look, butter LONDON's Holiday 2013 glitter top coats are worth a look-see. Stratford Honey and Stardust are fine shimmers in gold and holographic silver that work well over any base color.
On the metallic end of things, there are the Estee Lauder Metallics I showed you yesterday but in addition to that, MAC Fierce Entrance is a foil metallic mix of pewter, silver and bronze that will flatter a range of skin tones.
Now, Diorific Frimas isn't technically a metallic but both it and Diorific Minuit contain metallic flecks that look like pieces of mylar. And when I see flecks like that, I love to add a matte top coat to make the particles look like they're trapped under ice. Nordstrom carries three matte top coats; Nordstrom Beauty Make It Matter, Deborah Lippmann Flat Top and butter LONDON Matte Finish. It's a more subtle look and the velvety finish feels very holiday to me.
Finally, if you're a crafter or DIY'er and you've been wanting to try some of the nail kits on the market, Nordstrom Beauty has come out with a line of affordable kits for holiday ($12.50), like the Shimmer Nail Kit featured below. They're a great way to experiment with caviar nails or pour-over glitter nails without making a huge investment.

All items featured can be purchased your local Nordstrom store or Nordstrom.com. To find out about events like the Pretty Party, visit the Stores & Events locator.
What are the fall and holiday polishes that have appealed to you most this year? Do you have any of these shades already or do you plan to pick them up? Have you attended a Nordstrom trend event?
Shop The Post
Disclosure: Product samples were provided by reps for the brands. Affiliate links appear in this post. When you shop using an affiliate link you help support this site. For more info view my Disclosure Policy.