This week's Makeup Wars theme is a natural fit for me, Favorite Fall 2013 Nail Polish shades. As much as I enjoy talking all things beauty, obviously nail polish is all me, all day!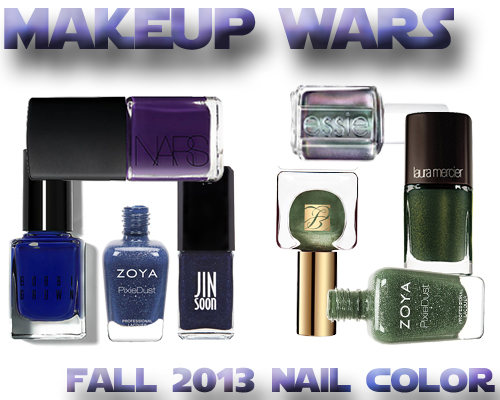 Jewel tones are having a major moment this season which means my fave nail shades (green, blue and purple) are in the forefront. I couldn't be happier about it. From drugstore to salon to prestige, there are tons of great jewel-toned hues to choose from and I'm sharing my top picks with you today.

First, let's start with a couple shades I haven't posted yet.
Bobbi Brown Navy is a delicious royal blue creme. Don't let the name fool you, while it doesn't dry quite as bright as the bottle shade would imply, it's not a super dark navy either. The best part, it doesn't stain! I wore this, without base coat (because I was running late) and when I went to remove it, not a hint of stain.
If you follow me on Facebook or Instagram, you know that I wore Bobbi Brown Navy to a wedding Saturday night. I glitzed it up with a light layer of ULTA Indigo-go Girl, a midnight blue metallic glitter. Unfortunately, my camera dulls out the finish. In person, it looks like a glass-fleck polish. Simply stunning!
Another great fall find, is Estee Lauder Metallic Green from the Fall 2013 Metallicsline. Estee Lauder really hit it out of the park with these metallics. They give full coverage in one coat and dry without strokes marks leaving a smooth brushed metal finish.

Next, my favorite fall shades that I've already shown you. Click the name to view the full review.
FingerPaints You Yacht To Know Better


What are your favorite nail polish colors for fall? Which of these shades do you already own?
Disclosure: Product samples were provided by reps for each brand. Affiliate links appear via rewardStyle and Skimlinks. For more info view my Disclosure Policy.