If any brand has earned a "Best Formulation" award for Fall 2013, it's Estée Lauder for their "The Metallics" nail polishes. Not that their Pure Color Nail Lacquers weren't great before but, they have single-handedly redeemed metallic nail polish's not-so-stellar reputation.
In general, true metallic nail polish gets a bad rap. Deservedly so, for the most part. It can be streaky, lumpy and tend to dry with major brush stroke-itis. It's one reason why foil metallics have gained such popularity over chrome metallics. But, Estée Lauder truly hit it out of the park with this stunning limited edition collection of eight brushed metal shades.

Formula & Application: Estée Lauder nail polish is 4-Free (Formaldehyde, Toluene, DPB and Formaldehyde Resin). The signature square glass bottles are weighty and beautiful. Vanity display worthy.  The only downside is that the thick glass can make the polish inside look a lot lighter than it will appear on the nail.   The gold chrome cap is long enough to allow a comfortable grip but the smooth surface can make opening the bottle a bit difficult if the seal is really tight.  The brush is squat, flat and wide with soft flexible bristles.
All of the shades in this collection are super pigmented, we're talking ONE COAT COVERAGE, and easy to control. They dry with a satin, brushed chrome finish that is beautiful on its own, or you can add top coat for a bit more shine. What's amazing is that even if you see some brush strokes during application, they smooth out when dry. It's almost as if the polish has been buffed or airbrushed.
There's one caveat to all this amazing-ness. I find that applying them over a regular base coat can make them a bit gloppy. I prefer to wear them like a matte polish, no base or top coat, though that inhibits wear time. I suggest a base coat made for holographic polish, like Nfu Oh Aqua Base, or applying it over a coat of Seche Vite to get the smoothest application. Just make sure your base is dry.
NOTE: If your nails have imperfections or ridges (mine have tons), they will be magnified by this type of finish.

Estée Lauder Brushed Gold is a golden champagne brushed chrome.
Estée Lauder Chocolate Foil is a warm reddish-brown with silvery pearl.
Estee Lauder Chrome Violet is a mid-toned, blue-based, silvery purple chrome.
Estée Lauder Metallic Green is a muted evergreen chrome. The cool silver pigments keep it from being too warm.
Estée Lauder Midnight Metal is soft, sapphire blue metallic. I'm showing it with top coat, below, which really brings out the depth and intensity of the color.
Estée Lauder Rose Gold is a perfect blend of rosy pink and yellow gold. It feels a bit old fashioned on me, on its own, so I've been pairing it with some of the other shades like in the braid-style nail art below using Chocolate Foil and Brushed Gold. Note: That image was taken on my cell phone which over saturates colors. Rose Gold is not that intense.
Estée Lauder Smoked Chrome is just as the name implies, a steely charcoal grey brushed metallic.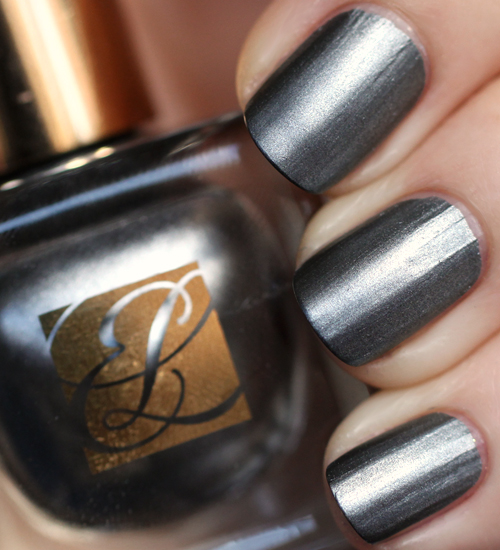 Estée Lauder Steel Orchid is a red plum chrome metallic. Its warm hue is the polar opposite of the cool-toned Chrome Violet above.

Bottom Line: I'm kind of over the moon about these shades simply for the fact that the formula is just so damn good! Not to mention the shade range, which has great diversity. Yes, they are pricey but really worth it. Granted, my flawed nail beds don't necessarily do them justice but they are stunning.
Estee Lauder "The Metallics" Fall 2013 Pure Color Nail Lacquers are available now at Nordstrom.com and Estee Lauder counters nationwide, while supplies last. Estee Lauder Pure Color Nail Lacquer retails for $20/ea for a .3oz bottle.
What do you think of these new EL shades? If metallics turned you off in the past, will these get you to reconsider? What are your favorite metallic nail polishes?
Disclosure: Product samples were provided by reps for Estee Lauder. For more info view my Disclosure Policy.