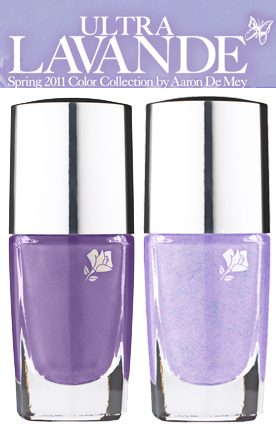 Last September I had the pleasure of meeting famed Celebrity Manicurist Lisa Logan backstage at the Chris Benz fashion show in NYC. Lisa is Beyonce's manicurist among others and I was geeked to meet her.  At the show Lisa was using a bold purple nail polish that caught my eye and I've been dying to get my hands on it ever since.

The color is Violet Groove from the Lancôme Spring 2011 collection, Ultra-Lavande.  The collection of purples and pinks also includes Le 54, a sheer lavender glitter polish, and together they make one killer combo.  Keep reading to see for yourself.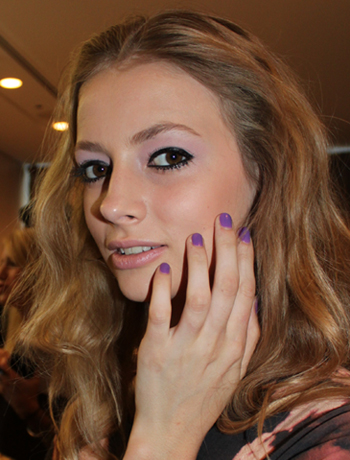 Lancôme's Daniel Martin was inspired by 60′s French pop singer Frances Gall to create a modern take on the mod look for the Chris Benz Spring 2011 presentation. He used the pale lavender shadow from the Cool Lavande Color Design Minerale Quad on the lid and placed tiny black dots along the lash line with Artliner. "From a distance it looks like a fuller lash," explained Daniel, "but up close it's just cool."  Daniel is "just cool."  Seriously he is one of my fave MUA's to interview as he always has a fun makeup story to tell and is so down-to-earth and friendly.  He always has a smile on his face and that can be a rarity in the backstage world.

Of course the nails were the star of the show for me.  A few days prior to the presentation I heard that Chris was debating between the two new Lancôme spring colors, a creamy violet and glittery lavender and even though I was hoping for some sparkle, using Violet Groove ended up being the right choice for this collection.  The bold pop of purple against Chris' playful palette of color added a touch of fun and whimsy.

Formula & Application: Lancôme polishes are 4-Free (including Formaldehyde Resin).  The flat wide brush is about the same length as OPI's ProWide Brush but it's more tapered, not as wide.  The bristles are flexible and spread easily across the nail.
Both polishes applied with squishy, jelly-like texture and were easy to manipulate.  Violet Groove is high on pigmentation resulting in a perfectly opaque finish in two coats.  Le 54 on the other hand is very sheer best used as a top coat or for a simple wash of color.  I am showing it with three coats and you can still see my smile line.
Violet Groove is aptly named as it reminds me of my sorority's official flower, Woodland Violets.  This color is gorgeous and just screams Spring.  Due to the jelly-ish texture it dries with a high shine gloss all its own.  It should be noted that I'm holding a mini bottle in my hand but the polish is sold in the full size bottle.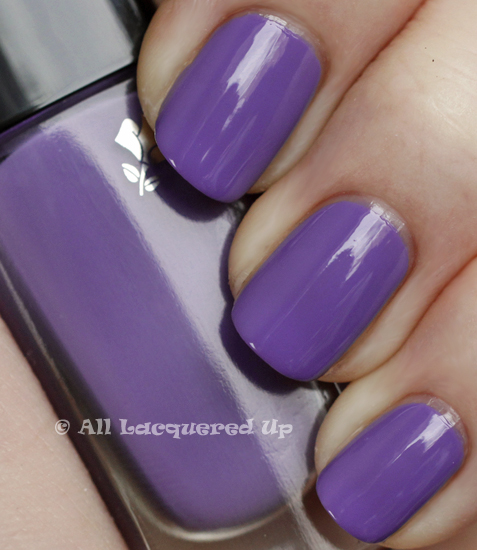 Though as soon as Violet Groove dried on my nails I couldn't help but think it looked familiar.  I just happened to have my bottle of Rescue Beauty Lounge Purple Haze sitting on my desk and, ta da, a dupe was found.  I don't use the word dupe often but in this case there is no other word.  I couldn't tell these two colors apart if I tried.  They even look identical in the bottle.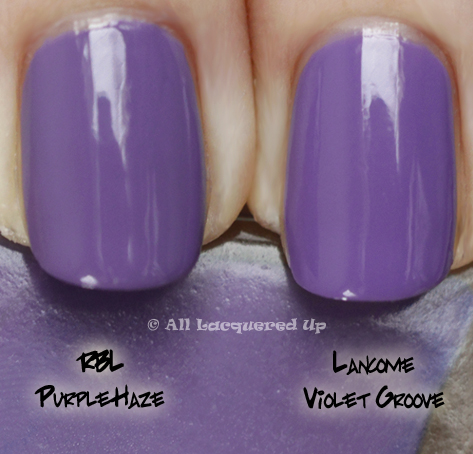 Le 54 on its own is a sheer lavender packed with blue shimmer and micro-glitter.  On its own it does nothing for me.  This is the type of pale purple I say gives me "alien hands."  It's just not flattering to my skin tone.  The base color reminds me a lot of those old Revlon Glimmer Glosses.  I remember excitedly buying the purple from that set only to have it clash with my coloring.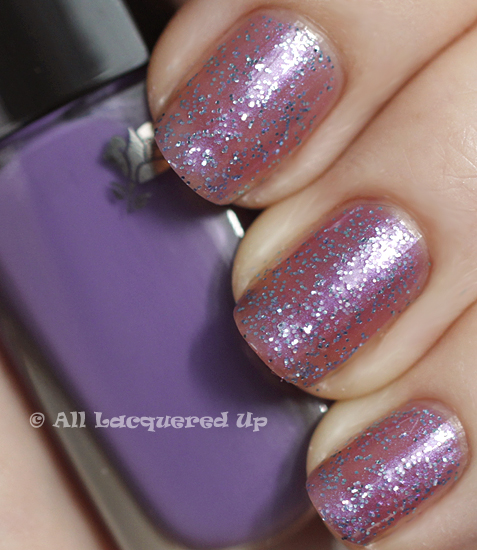 However, put these two colors together and SHUT IT DOWN.  The sprinkling of blue glitter, the subtle shimmer and the vivid purple base make for one gorgeous layering combination.  I've been wearing it on my nails for a few days now and I don't want to take it off.  These polishes were made to be worn together.

Bottom Line: Since I already own RBL Purple Haze this polish wouldn't make my personal must-have list but if you haven't been able to get your hands on the RBL version, this is an excellent substitute.  Le 54 is really best for sheer lovers (unlike me) and layering.  I can already think of so many colors that this would look great under it.
The Lancôme Ultra-Lavande nail polishes are available now at Lancôme counters nationwide and at Lancome-usa.com.  Nail polishes retail for $19/ea for a .34oz bottle.
Thoughts on Violet Groove and Le 54?  How many of you are sheer polish lovers?  Could you see yourself picking up Le 54 just for layering purposes?
Disclosure: Product samples were provided by Lancôme.  For more information view my Disclosure Policy.