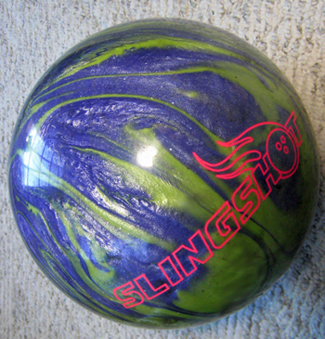 Let's bowl, let's bowl, let's rock-'n-roll.
Hey, come on, let's get this show on the road.
Let's bowl, let's bowl, let's rock-'n-roll.
'Cause the stakes are high, and the winner takes all!
- "Score Tonight" from Grease 2
If you've seen the documentary My Date With Drew you know that the director/subject of the film believes that people can be divided into two categories; those who love Grease 2 and everyone else.  Drew Barrymore, the director Brian Herzlinger and I all fall into the Grease 2 loving category.  One of the most infectious songs in the cheese-tastic flick is "Score Tonight" which involves a night at a bowling alley.
This past fall I officially became a bowling addict when the boyfriend and I joined a league with some friends.  Every Thursday night you can find me making a fool of myself on the lanes and a few weeks ago I made the committment to get my own ball.
Of course, no ordinary bowling ball would do.  It had to express my colorful style.  When I saw this lime & lavender Brunswick Slingshot it was all over.  Purple and green?? Are you kidding??  It's like they made it for me and me alone!
Now what kind of nail girl would I be if I didn't don a manicure inspired by my new ball? Check it out!

I wanted to match the main colors in the ball as closely as possible so I played with different lime greens and burples (bluish purple), layering to find the perfect combinations.  Sally Hansen Sea And Be Seen was too blue and Revlon Not So Blue-berry was too purple but combined the color was spot on.  OPI Call My Cell-ery was ideal for the glittery lime but it's so sheer that it needed an opaque base color. Models Own Lime Green fulfilled that need.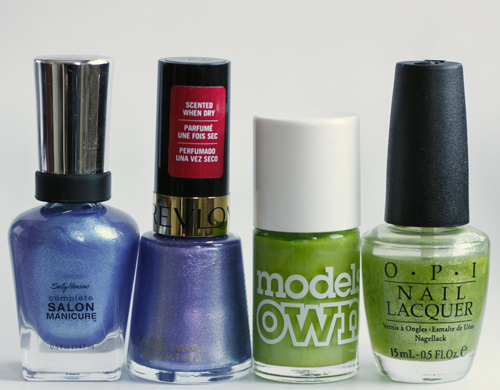 I originally thought of doing gradations on all my fingers but the Revlon was too opaque over the lime green combo to make that happen. In the end I alternated fingers with the two layering combinations. The multi-colored manicure actually worked better because when I put my fingers in the ball, only my ring and pinkie fingers show so both combinations can be seen.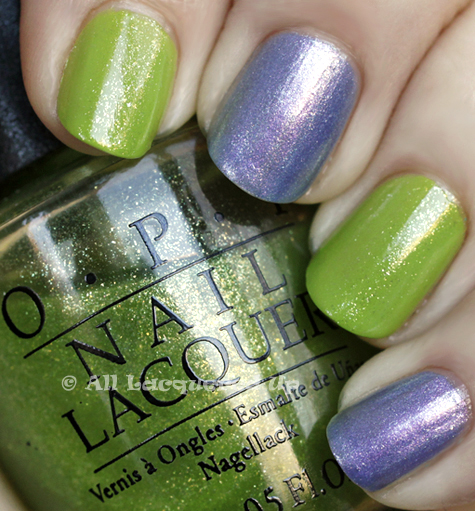 When I was toying with the gradation concept I tested it on my thumb nail using the sheer OPI Call My Cell-ery to create the gradient over the Sally Hansen/Revlon combo. I loved the look so much that I decided to polish both thumbs with the gradation just to change it up a bit. The overall look is totally over the top but I love it.  For more details on the gradation manicure technique check out my gradation mani using the CND Night Factory Duo & butter LONDON Stroppy.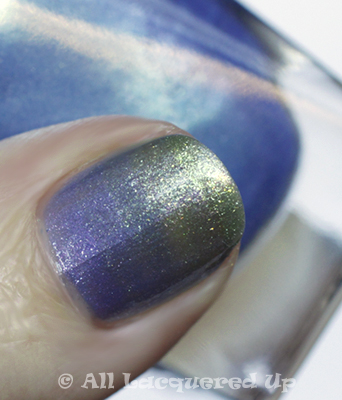 I think I ended up with a pretty good match, wouldn't you say?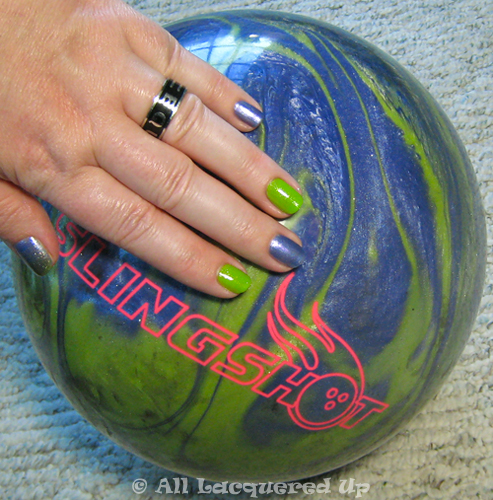 Every week as I'm driving to bowling I get this song stuck in my head and now with this manicure on my fingers every time I stare down at my hands it pops back in my brain. If I'm going to be infected with this earworm, I may as well share it. Enjoy!

Want to replicate the look? OPI Call My Cell-ery is a discontinued shade from the original Brights collection but I did see some for sale on eBay. Sally Hansen Sea And Be Seen was released this past summer and is available in drugstores nationwide. Revlon Not So Blue-berry was part of a limited summer collection of scented polishes (the scent penetrates top coat).  Revlon recently released new scented polishes and there's a purple, I just haven't seen it in person to know if it's a match.  Models Own Lime Green retails for $8/ea and can be found on UrbanOutfitters.com and ModelsOwnIt.com.
What do you think of my bowling ball inspired manicure? Do you have suggestions for other manis that would look good with it? Do I have any fellow bowling Fanatics out there?
Disclosure: Product samples were furnished by Sally Hansen and Models Own. I purchased the Revlon & OPI polishes myself. For more info view my Disclosure Policy.