Beige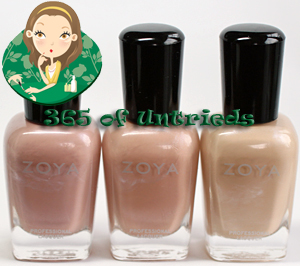 365 of Untrieds is my personal challenge to weed through the polishes in the ALU stash that I've been wanting to try but just haven't gotten around to.
I've been on this odd beige neutrals kick lately. It all started with CND Perfectly Bare and Deborah Lippmann's Naked and now Zoya comes out with the Touch collection, a specialty set of three undertone-matching beige polishes with a subtle shimmer.
Zoya Nail Polish presents 3 new, full coverage nude creams – softly kissed with a bit of metallic to make them ultra wearable.
It's so not my color personality but there's just something about wearing a full coverage neutral that feels so fresh and clean in this sticky summer heat. I honestly don't know what's become of me but I don't see this trend of mine dying off anytime soon.