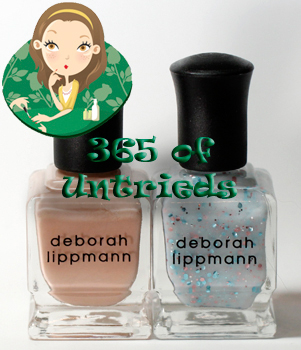 365 of Untrieds is my personal challenge to weed through the polishes in the ALU stash that I've been wanting to try but just haven't gotten around to.
Deborah Lippmann's Spring 2011 Collection nail polishes both made their first public appearance during New York Fashion Week. Naked, a classic backstage beige, was seen on the ADAM runway where the look was a modern take on 70s fashion. Glitter in the Air, which Deb created after seeing Pink's ethereal performance at the 2010 Grammys, was the finishing touch to a layered manicure with Fashion at Badgley Mischka.
When I first saw Glitter in the Air last September, I couldn't help but drool over the cotton candy confection. My mind starting racing with layering ideas, including Waking Up In Vegas but it was Deb who suggested wearing it over Naked so I decided to combine the two for today's post.
Click here to view more pictures and read the rest of this story.