Rescue Beauty Lounge

I have no doubt that the 300+ Rescue Beauty Lounge nail polish fans who submitted ideas for the fan collection have been stalking the RBL Facebook page and Blog for news of the finalists.  For everyone else, I thought I'd let you know that Ji will be posting her selections tomorrow and voting will begin.
The voting period will only last for 48 hours so don't  miss out on your chance to have a say in which color concepts Ji will bring to life.  I don't know about you but I'm dying to see what she chose and what the amazingly creative nail community came up with.
Good luck to those who entered!  I really hope some ALU fans make the short list.  If your color is chosen, I hope you'll comment here and let us know.

Two years ago Rescue Beauty Lounge founder Ji Baek approached me with the opportunity of a lifetime. To create my own signature nail color in her famously flawless formula.  It was an honor and a joy to work with Ji to create my perfect purple creme, Mismas.  The color launched in September 2009 as part of the Blogger collection and it was an absolute thrill.
Now it's your turn to create a unique Rescue shade for the RBL Fan's Collection.  Ji announced on her blog that she will give three fans the chance to see their dream color come to life.  You can submit your idea and accompanying inspiration image beginning tomorrow at noon.  For full details visit Ji's Blog.
A few weeks back I mentioned that Rescue Beauty Lounge founder Ji Baek would be launching a blog on the site. It's LIVE!  Bookmark blog.rescuebeauty.com or add it to your feed readers.
Even better, the voting to bring back TWO discontinued colors is up and running. You have from now through December 10th to vote for your favorite DC'd polish from the following choices: Atame, Bikini Bottom, Black Russian, Bruised, Concrete Jungle, Diddy Mow, Glamourpuss, Killa Red, Locavore, Mismas, Opaque Nude, Orbis Non Sufficit and Purple Haze.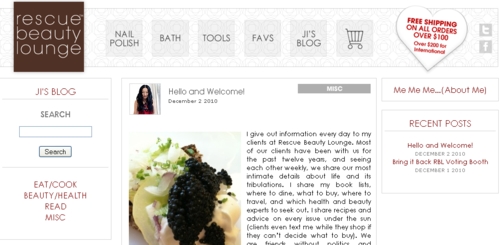 At the moment Purple Haze is in the lead with Bruised just behind it. The only colors from that list I don't have are Killa Red and Atame but I can live without either one. Which two colors do  you want to win?