NY Fashion Week S/S 12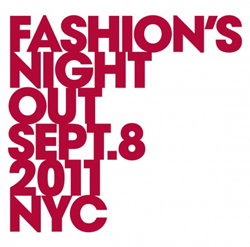 Tonight is Vogue's 3rd annual Fashion's Night Out event. A night to help promote the fashion industry that has grown to become a worldwide celebration. Stores all across the country and the world will be open late tonight, many of them offering special deals, gift bags or complimentary services while you shop.

Of course the craziest place to be on FNO is New York City. Last year was my first time being out for FNO and to say it was a madhouse would be an understatement. One major lesson I learned… if a major celebrity or reality star is involved STAY AWAY. Unless you are sleeping on the sidewalk waiting to be the first ones in the door, you're never getting near them.

That's why this year I am focusing on the events outside of the major department stores or featuring big names. I'd rather enjoy the fun things like discounts, manicures, goodie bags and hair styling. I've compiled my list of 19 fun FNO destinations for all my NYC peeps. Enjoy!