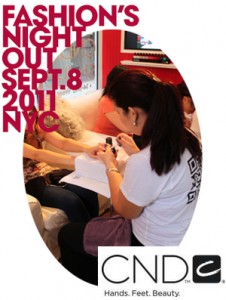 Last night I was out and about in NYC for the 3rd annual Vogue Fashion's Night Out and the city was a giant ball of crazy. Available cabs were like spotting a unicorn. The subways were packed with tired but happy shoppers. And the heat and extreme humidity beat everyone down physically. Let's not even talk about how my feet are feeling.

The thing is, all of that doesn't matter because the energy of the city, the excitement of being out in the crowds, the visual overload makes it all worthwhile. Fashion's Night Out is just plain fun. I spent my night down in Soho and Meatpacking checking out CND's two Shellac outings and reminding myself why I avoid the celebrity fueled events. One word: Kardashians.

My first stop was the CND Shellac Mobile Mani truck that was parked outside the 3.1 Phillip Lim boutique in Soho. The mobile Shellac salon is so cool. They brought in big comfy chairs and the full Shellac color range to Shellac Attack the women of NYC.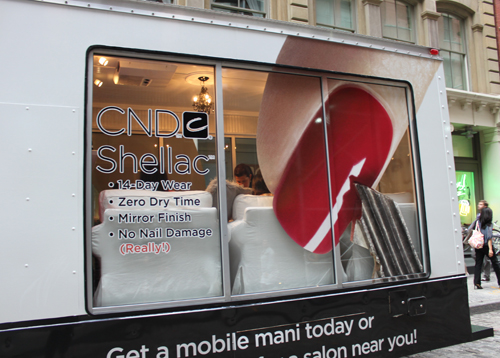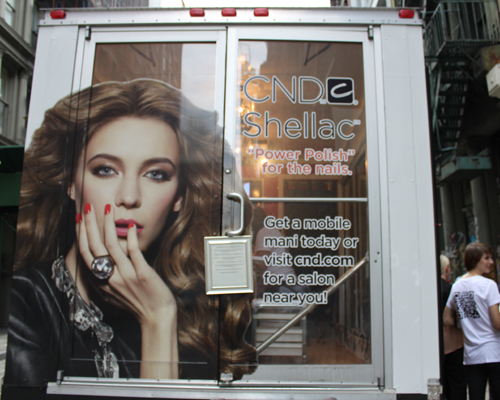 Doesn't it look like a real pro salon? Oh and check out the QR codes on the back of CND's Education Ambassadors. Scanning the code will bring you to a list of CND Certified Shellac Salons in NYC. Visit CND.com/ShellacAndTheCity for details. If you would like to visit the CND Mobile Mani truck, follow @CNDWorld on Twitter to find out where they will be the rest of the week.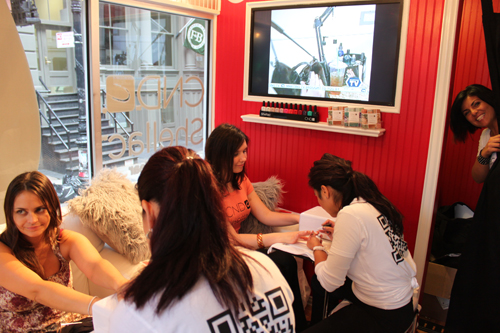 On my way to Meatpacking, I happened to wander by the DASH store, owned by the Kardashian sisters. The throngs of people hoping to catch a glimpse of the girls was overwhelming. They actually did drive-by while I was walking to the subway and the screams were deafening.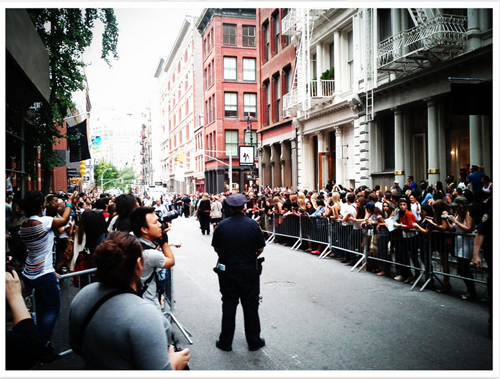 Down the street, Chanel Soho had line winding around the block just to get in the store. Which isn't surprising. It was just as bad last year when I went. I know you all are dying to see the Les Jeans de Chanel colors but unfortunately I wasn't able to get my hands on them prior to FNO due to Hurricane Irene delaying the shipment. I will have swatches up soon but in the meantime, check out Beauty Look Book.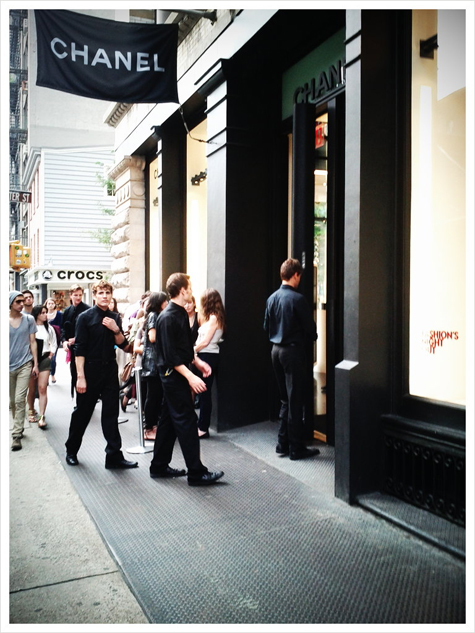 A quick subway ride landed me in the Malandrino boutique on Hudson where CND set up Shellac stations for shoppers.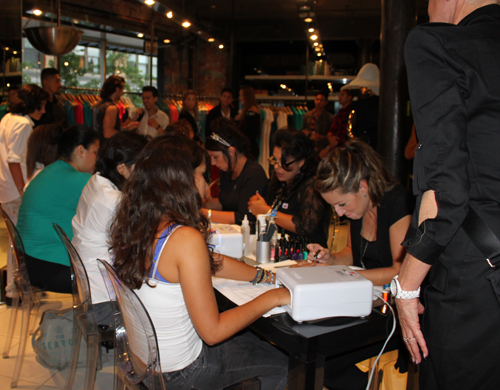 CND's Jan Arnold is rocking some incredible lace tipped nails that I have to get a shot of for you.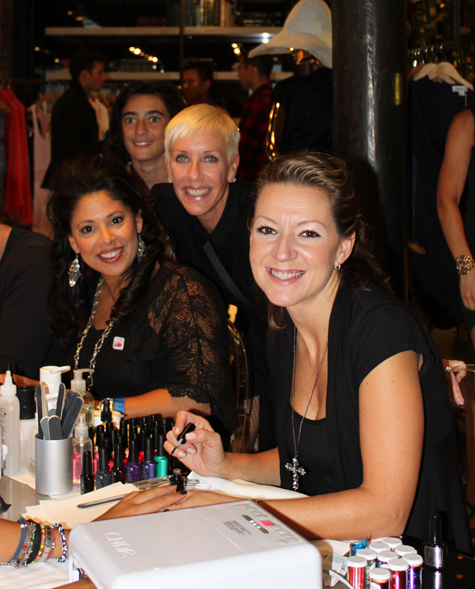 Just when I thought I couldn't walk anymore, I headed down the street to Teen Vogue's Block Party to see my friend, Celebrity Manicurist Elle, who collaborated with Teen Vogue Beauty Director Eva Chen to create some fun nail art options for Essie. Of course, being a perfectionist, Elle wasn't happy with her work and didn't want me to photograph my manicure. Despite the fact that her table kept moving, thanks to shaky flooring, I'm proud to rock this look featuring Essie Mint Candy Apple, Mink Muffs and Pretty Edgy.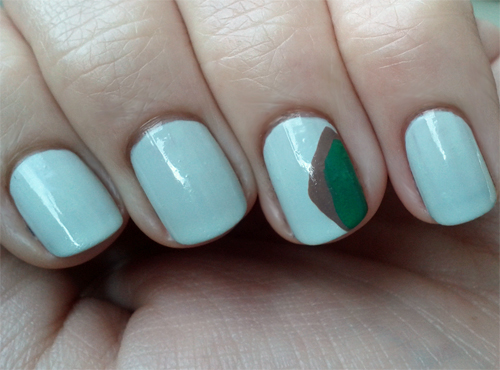 How did you spend Fashion's Night Out? Did you go to any local events in your town? Did you buy any LE FNO products or clothing?
Disclosure: All Lacquered Up's coverage of CND at Fashion's Night Out and New York Fashion Week is sponsored by CND. All opinions are my own. For more info, view my Disclosure Policy.