CND kicked off New York Fashion Week with Wes Gordon's Spring 2012 collection. Team CND led by Kristina Estabrooks along with Charlotte Willer for Maybelline and Travis Speck for Bumble and bumble created what I dubbed a modern "power bitch" look. The updated version of Dynasty's Joan Collins. Think of her, with the power suits and red talons and bring it to 2012.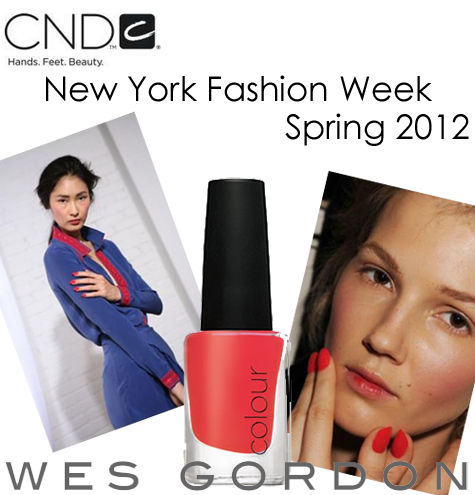 CND's Kristina Estabrooks described Wes's woman as a, "Young sophisticated lady. She's rich, lives in Soho and is a really powerful woman." Showing that power comes through the nails so Team CND chose CND Poppyfield for the tips and CND Desert Suede for the toes. "[Poppyfield] is energy, it's excitement. It's the new modern upbeat red."  Applying the nearly neon to a medium length almond shaped nail creates a look that is soft and feminine but powerful. It says, "I'm a woman but I'm powerful woman." Kristina notes that Poppyfield is great for any skin tone and it brightens up the skin, giving it a luminosity. Pairing it with Desert Suede toes, which is clean and classic, leaves all the power in your hands.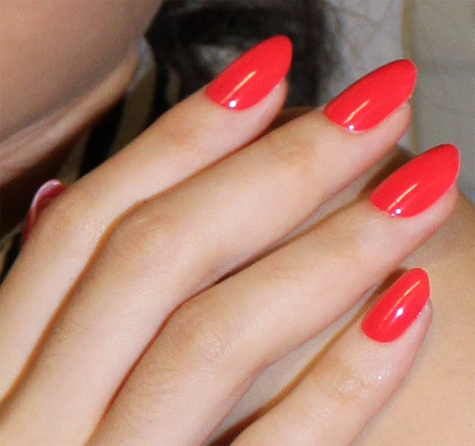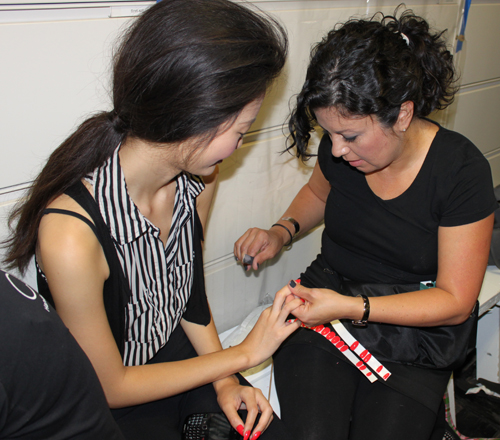 In speaking with Travis Speck for Bumble and bumble he shared that the designer referenced Carine Roitfeld from French Vogue. He wanted that effortless, chic look when it came to the hair. Natural and soft but with a lot of texture. He said the trick is to get some grip in the hair with product (Bumble + bumble Prep, Thickening Hairspray and Surf Spray before blowdrying, White Hair Powder after) and a light backcomb at the front, lightly pulling it back as though you did it yourself, keeping the pony really low. He noted that the designer, "didn't want it to be too cutesy. That's one word he used. Sophisticated but still kind of casual. He didn't want it to look too done since the clothes are very tailored."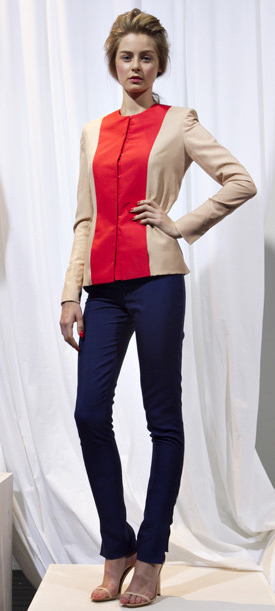 Charlotte Willer for Maybelline described the look as, "young, fresh, elegant." Adding that, "It's a glossy look. Dewy skin. Pink blush. Lip balm on the eyelids. Stain on the lips. No mascara. Strong eyebrows."  Charlotte always gets straight to the point and I love that. Makeup can be intimidating but she makes is sound so easy and attainable. To create the look Charlotte used Maybelline Fit Me! Foundation, Maybelline Define-A-Brow Eyebrow Pencil, Maybelline Fit Me! Blush in Medium Coral, Maybelline Color Sensational Lipcolor in Very Cherry as a stain on the lips and Maybelline Baby Lips Lip Balm in Quenched on the eye lids.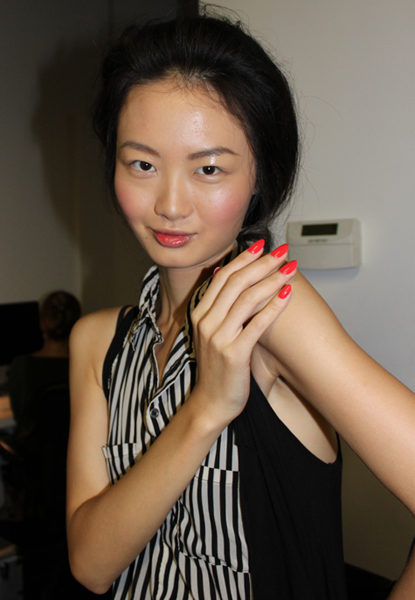 My take: I love that this is an accessible look. We can all do this at home. You don't need to be a master at blending shadow or a nail art savant. Even if you don't rock a longer nail you can still have power nails with a shade like Poppyfield. Just throw your bed head hair in a low pony and call it a day!
What's your take? Is this a look you would try at home? Does your nail length change with the seasons?
If you want to keep up with my NYFW experience be sure to follow me on Twitter for the latest updates. Also, check out Jan Arnold's Fashion Week Blog on CND.com and my Tumblr peeps should follow the new CND Fashion Tumblr.
Disclosure: All Lacquered Up's coverage of CND at Fashion's Night Out and New York Fashion Week is sponsored by CND. All opinions are my own. For more info, view my Disclosure Policy.