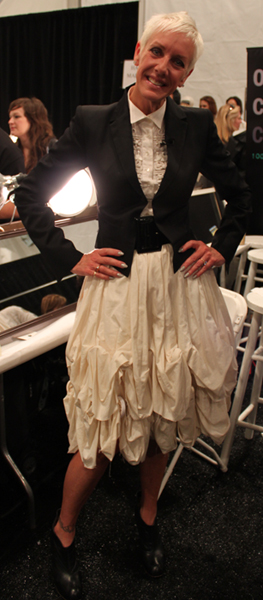 2011 is a big year for CND. In addition to Shellac becoming a household name, I don't know anyone who hasn't heard of it, the brand is celebrating their game-changing relationship with Fashion Week. No one could depict what this means to the brand better than its Co-Founder and Creative Director, Jan Arnold. I asked Jan to write a guest post for ALU and she graciously took time out of her crazy schedule to share her thoughts with us.

Jan's voice and point of view are so distinctive. She is a storyteller, a fashionista, in the best sense of the word, and a true, creative visionary. I know that sounds totally fangirl but I can't help it, I'm a fan! I could listen to her for hours as she weaves a tale of nails and fashion at every show the brand works on.

I asked Jan to share her thoughts about the journey Fashion Week nails have gone on this past 15 years, her favorite looks (with pics), and what we can expect from the Spring 2012 shows.
CND is celebrating 15 years of Fashion Week by designing manicures at 21 shows this season! From household names including Catherine Malandrino, 3.1 Phillip Lim, Nicole Miller and Monique Lhuillier to up-and-coming designers Altuzarra, Joy Cioci, Wes Gordon and The Blonds, CND has solidified the nail as the best accessory on the runway. It has been a long road from the days when designers barely thought about nails… now, "it" manicures are the expected must-have! Doing Fashion Week has validated a place for nails, alongside the best in hair and make-up. Designers now can't see the total look without the finishing touch of an interesting nail. Nails are the punctuation to an outfit, a defining statement to your style.
My personal fashion sense can be described as avante garde. I like high-tech structure, sharp lines, masculine elements, and pointy details (like nails and shoes). I look for a sense of humor in my clothes, with unexpected details that entertain. I'm infatuated with all the Japanese designers, in particular I love Yohji Yomomoto, Comme de Garcon, Junya Wantenabe. Their designs are inventive, extraordinary, unique and timeless. My love of fashion originated from the time I was 5…when I'd illustrate sleek, lean models with the highest heels, the longest nails and the coolest hair. I'd invent ideas through my love of drawing, which was nurtured and encouraged by my arts-loving parents.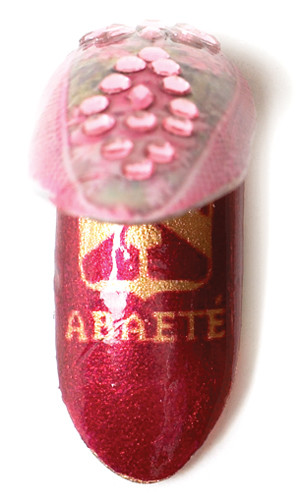 Some of my favorite moments from the past 15 years include the decadent Faberge egg nails we made for Abaete's Spring 2005 show (they actually opened and closed!), the fiery and fierce dragon manicure we created using clear PVC tubing for The Blonds' Fall 2011 show, and Military-inspired Badge Manicures we designed for Baby Phat in Fall 2007. These nails were out of the box, and showed designers that anything is possible when they work with CND's talented team!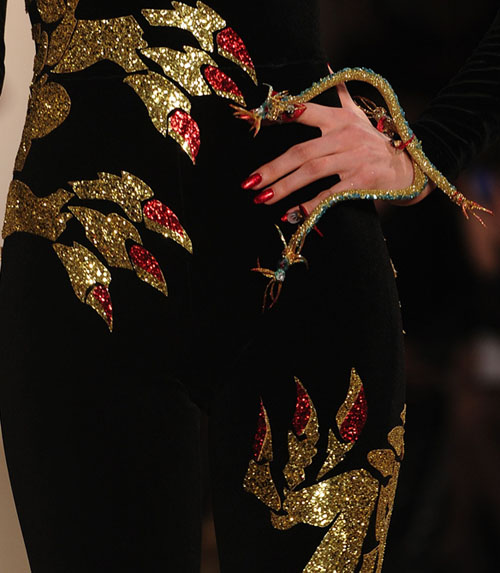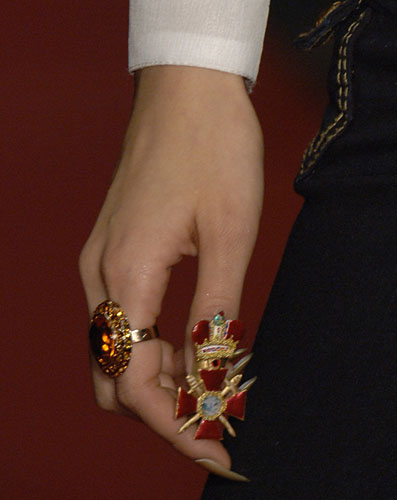 A quick teaser for Spring 2012: manicures this season are no holds barred – be prepared to take your nails to the edge with rockstar psychedelic neon, illuminated sci-fi finish, and precious metal texture.
Get a behind the scenes look at CND's backstage beauty looks and more by reading my Fashion Week blog on cnd.com!
Thank you so much Jan! And don't forget to follow CND on Tumblr and Twitter for more Fashion Week updates.
Disclosure: All Lacquered Up's coverage of CND at NYFW is sponsored by CND. To learn more, view my Disclosure Policy.