With the rise in popularity of "scotch tape manicures" amongst the DIY nail art fanatics, I see a lot of checkered nail styles roll by on my Tumblr. So I was quite thrilled to see this popular look pop up on the runway. CND injected bright pops of color and pattern at Nicole Miller's Spring 2012 show at Mercedes-Benz Fashion Week.
For Nicole Miller, Wanda Ruiz crafted glam rock checkered manicures using CND Colour in Raspberry Parfait and a custom mixed blue comprised of CND Colours in Anchor Blue, Dark Ruby, Eclectic Purple and added blue pigment. Nails were finished with one layer of Ice Blue Shimmer Effect.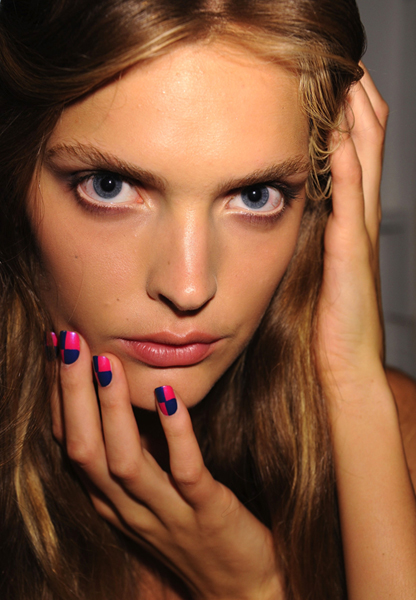 CND Says: Create this look at home by doing a vertical sweep of pink down your nail, and do the same with a sweep of blue so each half of the nail is covered with a color. Then go over with each color for the opposite corners. Top all nails with Ice Blue Shimmer for a dazzling finish.
If your hand isn't steady enough to hand paint straight lines of color, create checkers utilizing scotch tape. Check out the tutorial on Chloe's Nails for great tips on how to create this look.
What do you think of Checkerboard nails? Do you like the blue and pink combo? Do you have any great tricks for DIYing checkered nails?
If you want to keep up with my NYFW experience be sure to follow me on Twitter for the latest updates. Also, check out Jan Arnold's Fashion Week Blog on CND.com and my Tumblr peeps should follow the new CND Fashion Tumblr.
Disclosure: All Lacquered Up's coverage of CND at NYFW is sponsored by CND. For more info, view my Disclosure Policy.