For Spring 2012, Sally Hansen is continuing its successful designer collaboration with the innovative and colorful Prabal Gurung. Editorial Manicurist Jin Soon Choi is back for another season and this time she was challenged to create simple, elegant nail art. That resulted in a look she has dubbed the "slim silhouette."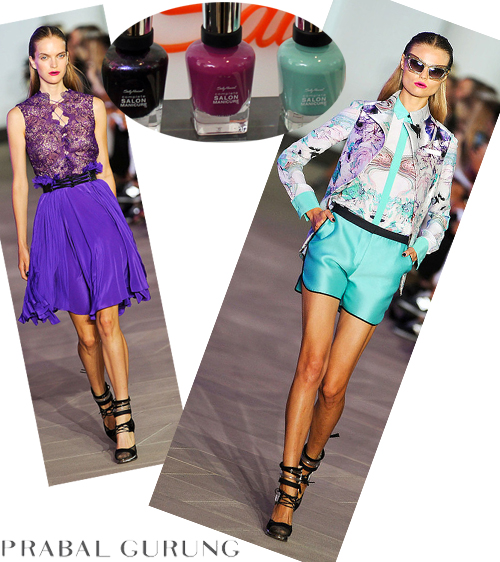 According to Jin, "[Prabal] said he wanted to have a softness with a strong statement."  She shared that, "Sometimes it's hard to do simple nail art. You can do crazy nail art, no problem, but simple nail art is hard to come up with. Prabal is so creative and he always pushes me to come up with something new."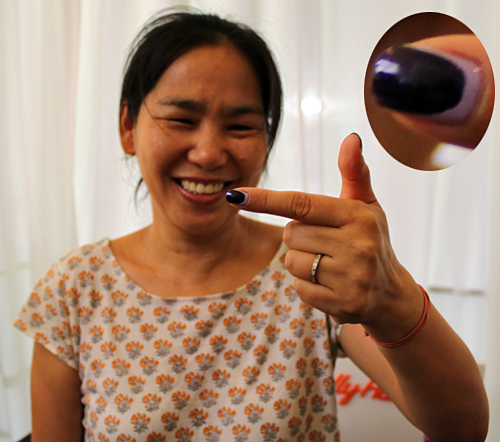 That something new involves polishing the entire nail with a pale lilac to give the look its softness then applying a darker shade just inside, leaving a ring of lightness around the rim. Jin chose Sally Hansen Xtreme Wear Lacey Lilac to pair with Sally Hansen Complete Salon Manicure Loves-Me-Not, one of the new shades from the Prabal Gurung for Sally Hansen Spring 2012 collection. To be clear, "This is NOT a French Manicure or Reverse French. French Manicure is outdated." Jin was adamant about that.

To me, this look is a cross between the Ruffian Manicure from Fall 2010 and the "Slimline" Technique I learned from CND's Roxanne Valinoti. The Ruffian covers the sides of the nails and in a proper "slimline" the polish starts at the cuticle.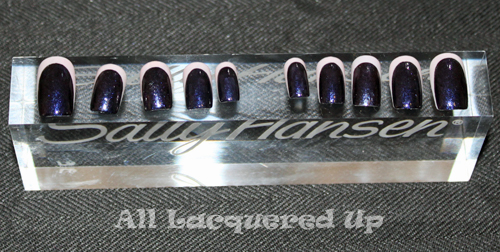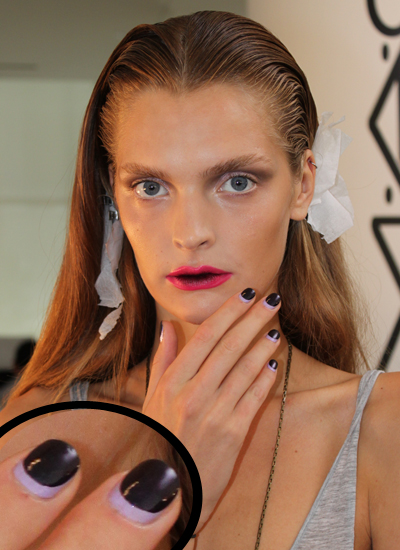 The Prabal Gurung for Sally Hansen Spring 2012 nail polish collection was inspired by Nobuyashi Araki's photographic series, "Sensual Flower." These flowers are beautifully subversive, layered and at further glance very representative of Araki's work – nuanced with a feminist twist and perverse undertone.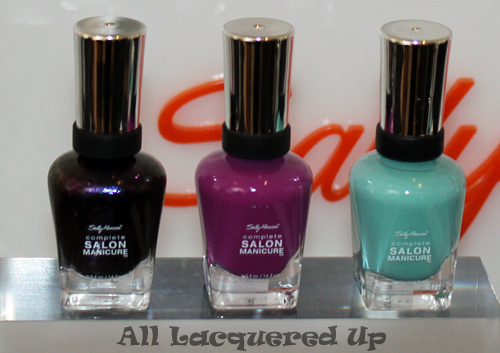 Loves-Me-Not, Purple Posy and Barely Bluebell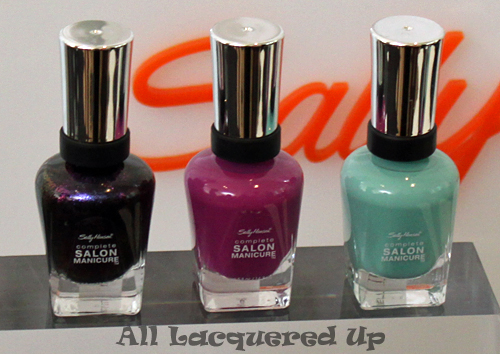 The Prabal Gurung for Sally Hansen Complete Salon Manicure collection will be available this Spring for $7.99/ea.
What do you think of the "slim silhouette" look? Is this something you will try at home? It would also look great using Barely Bluebell under Loves-Me-Not, don't you think? Are you jazzed over the new Sally Hansen shades?