Countless movies and television shows (both fictional and reality) have depicted the crazy whirlwind that is backstage at a fashion show. The models dashing to and fro. The dozens of hair, makeup and nail professionals wielding their tools to bring the designer's vision to light. The model wrangler (for a lack of a better term) yelling for the girls to get in line. And, of course, the designer, in either an eerie state of calm or ball of frenetic energy, overseeing the whole process. If you're like me, you've wondered what it's really like to be a part of that amazing chaos.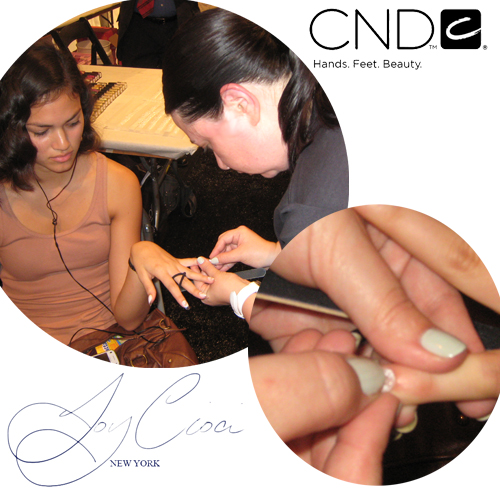 This is my seventh season attending New York Fashion Week as a member of the media and even though I am able to go backstage, our time is limited due to the number of outlets that need access. I've never been able to see what it takes to make a show happen from start to finish… until now! As part of my Fashion Week partnership with CND, I was given the extraordinary opportunity to strap on a Team CND tool belt at the Joy Cioci Spring 2012 presentation and work right alongside the pros.

Days, and sometimes weeks, before the show, CND Co-Founder Jan Arnold and members of the CND Fashion Week team meet with the designer to discuss the vision for the nails and come up with a concept. By the time the team arrives at the show, the nail is already finalized, unless they are asked to custom mix the day of. The gorgeous Urban Haze blend created by Angi Wingle at Malandrino last February came to fruition under that very circumstance.
Team CND arrives on the scene at least three hours before show time. I showed up just as they were unpacking their kits. The hair and makeup teams were already hard at work to get the models ready in time.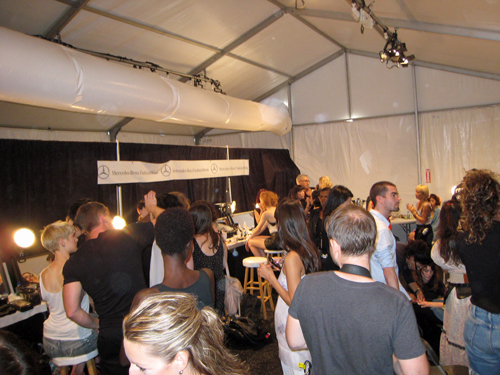 I shadowed team lead, CND Education Ambassador Candice Manacchio, before being let loose into the wild. I quickly changed into a CND tee, strapped on my tool belt and got down to business. My belt was stocked with Scrub Fresh, Hands Down Pads, Cuticle Eraser, Solar Oil, Air Dry top coat, Creative Scentsations lotion, hand sanitizer, orange wood sticks and various buffers and files.
The "Lucite Lace" manicure at Joy Cioci was very much a reflection of the clothes. There were pieces with gauzy layers that gave a veiled effect and the designer included a lot of lucite accessories in styling her collection. The nails were created using a clear lucite-esque base painted with randomly placed lace designs.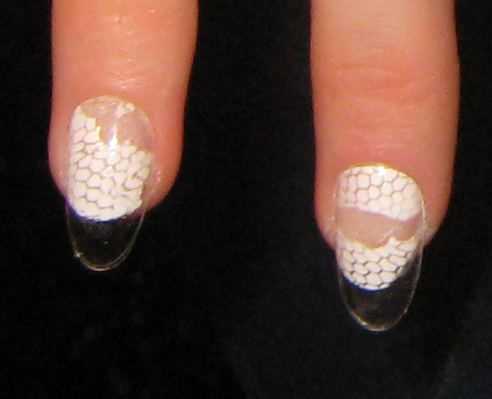 Now while you might think that applying tips is a simple task, there is actually quite a bit of skill involved. After prepping the nails using CND Scrub Fresh to remove any polish, dirt or debris, Candice showed me how to select the correct size nail for each finger and how to place it over the nail bed, covering the cuticle. Finally, the tip is shaped to eliminate any imperfections.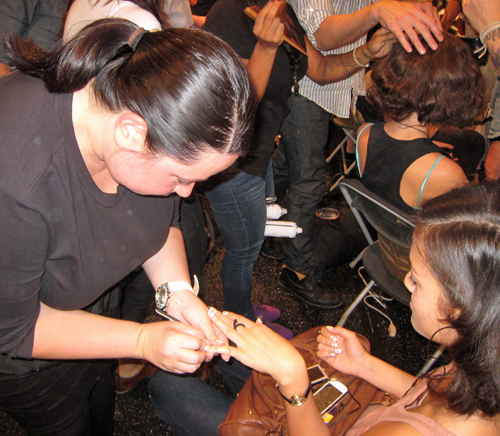 Of course there are always issues that arise. One model had the most gorgeous long nail beds (she could so be a hand model) that were polished with Shellac. The problem, she had very slim nails so the tip that best fit her nail width wasn't long enough. Candice ended up having to trim the nails in order to get a perfect fit. And then I was sent to work on a model who literally had polish caked all over her nails like mud from a photo shoot she worked on. Getting that stuff dislodged from her cuticles and out from under her nails was a CHALLENGE.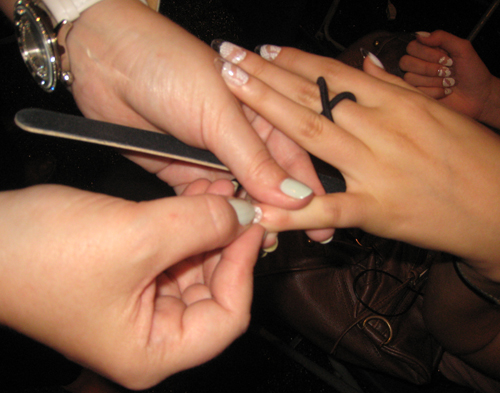 For the most part though, the models were friendly and sweet. Not at all difficult or bratty. My "challenge" girl was actually quite interesting. She is an artist working in multiple mediums and just lovely to chat with. Though she kept apologizing for all the polish on her nails, as if it was her fault. Fun fact: The NARS makeup artist who worked on my "challenge" model was the first Abercrombie & Fitch model from the 90s and holy hell is he hot. He clearly drinks his milk because it's done his body GOOD.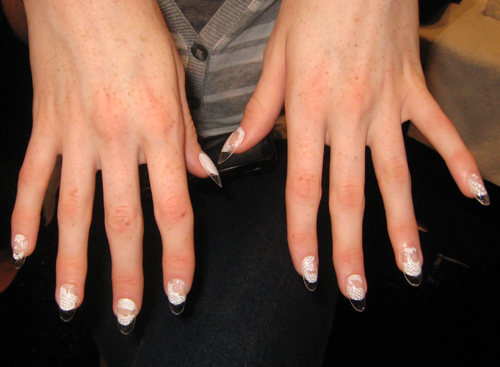 Oh and I had to touch feet! I know, I'm slightly horrified as well. When I was told we had to remove the polish from their toes I shuddered a bit. Though surprisingly, as much as feet gross me the EFF out, when push came to shove, I just grabbed a foot and went to town. That's so not me. I don't even like to touch my own feet most of the time. Explain that!
What was fun for me, as a blogger, was seeing my peeps roll through for interviews. While Candice told them all about the look and how it was created, I could see surprised faces as they noticed me, crouched down on the floor, as a member of the team.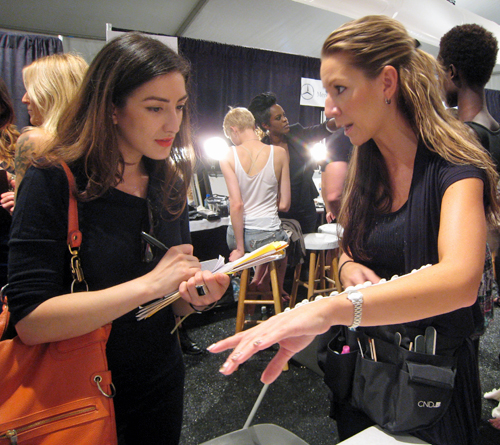 Since the look didn't require any actual polishing, we finished relatively fast so there was definitely some downtime to hang and grab something to drink or eat. Though the hair and makeup teams weren't as lucky since a couple models showed up late and they had to scramble to pump out the intricate hair and makeup looks in time.
As the models finish with the beauty team they are quickly whisked away to the dressing area and moved into the presentation space for final inspection and placement. Armed with a full set of tips, we check to make sure none of the nails came off while dressing and then the hair and makeup teams go through doing last minute touch-ups under the show lights. Now because this was a presentation there wasn't any craziness over getting the models down a runway in time so that definitely made things a bit calmer.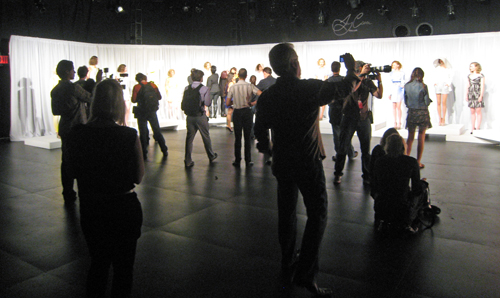 Here's my girl all done up. Am I the only one with a serious case of brow envy? Does she have Brooke Shields eyebrows or what??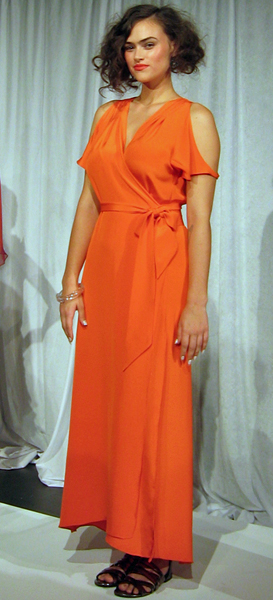 The experience as a whole was really cool and solidified what unsung heroes the manicurists are at Fashion Week. They don't get their own stations backstage. They have to crawl under tables and find holes between the makeup and hair teams to get their work done while kneeling on "carpet" that is marginally more comfortable than Astroturf and trying to apply a perfect manicure.
DIY Alert: To recreate the Joy Cioci "Lucite Lace" manicure at home, pick up some clear nail tips at a beauty supply store, like Sally Beauty. Find lace with a pattern you like at a craft store. Lay the lace over the nail and apply white nail polish in the areas where you want the pattern to appear. Pull up the lace while the polish is wet to create the effect. Of course if you have a nail art stamper, like Konad,  that would work as well.
Tips: 1. CND uses "Glue Dots" that can be found at a craft store to hold the nails in place. They really hold without damaging the nails. 2. Double-sided, foam-like tape strips make for a great work surface. Press the nails into the strip while you work and they won't slide about when you're polishing over the lace.
I seriously can't thank CND enough for giving me this opportunity to be a part of the Fashion Week backstage experience. The whole team is so talented and fun to work with and I had an absolute blast.
What do you think of the "Lucite Lace" look? I'm seeing a lot of clear nails being used this week. Is this something you would try DIYing or want to wear?
Disclosure: All Lacquered Up's coverage of CND at New York Fashion Week is sponsored by CND. For more info, view my Disclosure Policy.