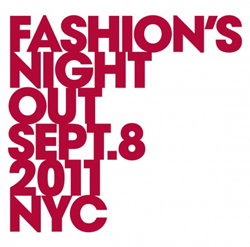 Tonight is Vogue's 3rd annual Fashion's Night Out event. A night to help promote the fashion industry that has grown to become a worldwide celebration. Stores all across the country and the world will be open late tonight, many of them offering special deals, gift bags or complimentary services while you shop.

Of course the craziest place to be on FNO is New York City. Last year was my first time being out for FNO and to say it was a madhouse would be an understatement. One major lesson I learned… if a major celebrity or reality star is involved STAY AWAY. Unless you are sleeping on the sidewalk waiting to be the first ones in the door, you're never getting near them.

That's why this year I am focusing on the events outside of the major department stores or featuring big names. I'd rather enjoy the fun things like discounts, manicures, goodie bags and hair styling. I've compiled my list of 19 fun FNO destinations for all my NYC peeps. Enjoy!


ASH Footwear – 44 Mercer Street Time: 6-10pm
Join us 'Where the Wild Things Are' at the Ash Flagship NYC store (44 Mercer Street) for a 'wild' time brought to you by Ash and The Dirty Durty Diary. With a very special musical performance and DJ set, nail art by world renowned manicurist, TracyLee, food, drinks and much more! Come celebrate Fashion's Night Out in style! ALU says: TracyLee is one of my fave NYC manicurists with an incredible editorial eye. She's sure to hook your nails up with major style.
Barbie Loves FNO – Various Manhattan Locations Time: 6-11pm
Join Barbie and her favorite CFDA designers for the ULTIMATE FASHION HUNT and the chance to win some of the fall's haute-est looks. Fashionistas can shop for Barbie's closet via a city-wide mobile scavenger hunt with QR code clues and free rides aboard the Official FNO Bus. Locate doll-size fashions and accessories from Rogan, Tracy Reese, Alice+Olivia, and Alexis Bittar at the designers' stores and be entered to win life-sized versions. (full rules and more info at www.BarbieLovesFNO.com Hop aboard the bus at any of the following locations: – 34th Street between Broadway and 7th Avenue – 14th Street between Hudson and 8th Avenue – Bleecker Street between West 4th Street and West 10th Street – Broadway between Spring Street and Broome Street – Houston Street between Bowery Street and 2nd Avenue – 1st Avenue between St. Marks and 9th Street – 14th Street between 5th Avenue and 6th Avenue – Madison Avenue between 49th Street and 50th Street – Time Warner Circle at 57th Street – Fifth Avenue between 38th Street and 39th Street ALU says: If I didn't already have plans, the Barbie lover in me would be all over this event.
Chanel – 15 East 57th Street, 139 Spring Street and 737 Madison Avenue Time: 6-11pm
Be the first to get your hands on the newest CHANEL Nail Colour Collection, Les Jeans de Chanel – created exclusively for Fashion's Night Out by Peter Philips, Creative Director of CHANEL Makeup. A favorite of past and present and the quintessence of casual chic, denim fabric is the inspiration for this trio of blue lacquers. Stop by for a complimentary mini manicure featuring these exclusive hues. ALU says: I've been salivating for these polishes ever since I previewed them. They're guaranteed to sell out so don't miss out.
Color Club – 13th + 9th Time: 6:00 – 11:00 pm or at shopcolorclub.com.
Color Club is launching a Limited Edition FNO Red Nail Polish. Created for Vogue Magazine and in celebration of Fashion's Night Out, Color Club's FNO Red will be sold individually, and as part of Color Club's Limited Edition FNO Nail Duo– FNO Red paired with Color Club's Black Fractured polish.Color Club's FNO Red and the FNO Duo will be available on Fashion's Night Out at Color Club's Mobile Color Bar located in New York's Meatpacking District. ALU says: Nail polish collectors won't want to miss out on a LE color.
CND – Multiple locations & times ALU says: The "Mood Ring" manicure is a super cool layering technique and who doesn't love free Shellac?
*** UPDATE-This event had been canceled*** Bergdorf Goodman (9am – 10pm) Shoppers who purchase a CND Effects set of four dazzling polishes ($40) receive a FREE Shellac "Mood Ring" manicure service. Stop by the beauty department any time between 9am – 10pm on 9/8 to participate! While supplies last.
Malandrino Boutique (655 Hudson Street) – Complimentary CND Shellac services will be offered on first come, first serve basis from 6pm – 11pm on 9/8.
Mobile Shellac Manicure Van (115 Mercer Street) – CND Shellac services will be on the move throughout Fashion Week, thanks to CND's hot new wheels. Track the van on Twitter by following @CNDWorld and #ShellacMobileManiNYC (Pssst: check near the 3.1 Phillip Lim Soho store during Fashion's Night Out).
Deborah Lippmann at Barneys – 660 Madison Avenue Time: 6:30-8:30
Barneys New York, the luxury specialty retailer, will be participating in Fashions Night Out on September 8th by donating 10% of it's Madison Avenue flagship store's sales and 10% of its Barneys.com sales from the entire day and evening to the National September 11 Memorial & Museum. This year marks the tenth anniversary of the September 11th attacks and Barneys New York will commemorate this significant date through a donation to this worthy cause.
Meet fashion and celebrity mega manicurist Deborah Lippmann to get your personal nail care consultation from Deborah. Receive a complimentary nail change from Deborah's team of manicurists and a full size Some Enchanted Evening nail color with your purchase of $35 or more. (Complimentary gift while supplies last.) Please call 212.826.8900 x2686 for an appointment. ALU says: Support a great cause with your nail polish purchase and meet a nail industry icon.
Essie – Teen Vogue Block Party (Bleecker Street & West 11th Street) Time: 6-10pm
Teen Vogue will be taking over Bleecker Street at 11th Street and inviting girls to come out for a Fashion's Night Out block party that will include free manicures from essie, among other fun elements. essie's celebrity manicurist, Elle Gerstein, will also be on hand to talk nails with the girls and dish on her celebrity clients' favorite nail looks. ALU says: Knowing Elle's creativity, I can guarantee she came up with some fashion forward nail art designs for the event.
The Fragrance Foundation – 545 Fifth Avenue Time: 7-9pm
The Fragrance Foundation's colorful flower carts will again be attracting passersby to "Stop And Smell The Roses" to find out all about the pleasures of wearing a gorgeous scent! Flower Cart locations: 2 x Macy's Herald Square Under the Highline in Meatpacking district 61st & Madison Avenue Union Square 48th & Fifth Avenue 57th & Fifth Avenuue. ALU says: I wish I was a fragonerd with a skilled nose so this sounds like a fun way to discover which notes are favorites.
Frederic Fekkai – Henri Bendel 712 Fifth Avenue Fourth Floor Time: 4-7pm
"A Fekkai Night Out" – A pre-party at Frederic Fekkai Fifth Avenue to get ready for a night out on the town. Our special FNO Beauty packages include: 1. A signature Fekkai Blow-Out, Makeup Application and Polish Change for $75.00 2. A Swarvoski Bejeweled Manicure starting at $54.00 Sip champagne cocktails while you enjoy the ultimate in beauty pampering. Start your Fashion's Night Out looking glamorous with Fekkai. ALU says: A blinged out manicure can cost a TON so this is quite a deal.
MAC Soho – 109 Spring St. @ Mercer Street Time: 8pm for Beth Ditto and 8:30-10:30 for The Bumbys
At M·A·C we're celebrating Fashion's Night Out on Sept. 8 with a killer performance from Beth Ditto in our Soho store. For M·A·C fans outside of New York – or those looking to avoid the crowds – we'll be livestreaming her set at www.facebook.com/maccosmetics at 8pm. Extra! Extra! Anonymous performance artists Gill & Jill Bumby will provide "Fair and Honest Appraisals of Your Appearance" with nothing more than their typewriters and charming wit at M·A·C stores in Times Square and SoHo. It's as simple as it sounds… ALU says: After seeing and up close & personal set from Sarah Silverman, I can only imagine how great it will be to see Beth Ditto live. Plus, based on everything I've read about The Bumbys, it's an experience you won't forget.
Maybelline – Gansevoort Plaza – Little West 12th Street at 9th Avenue Time: 6-11pm
Makeup artists will provide free mini-makeovers! In honor of Great Lash Mascara's 40th birthday, guests will receive a free tube of the product (while supplies last)! Maybelline spokesmodels will be on-hand to sign the tubes! The first 300 guests will receive a limited edition Great Lash t-shirt designed by Patricia Field. DJ Chelsea Leyland will perform a live music set from 8-11PM. Post makeover, guests can have their picture taken & upload directly to social networking sites. ALU says: Pat Field is such an icon. I would line up early for one of those LE t-shirts.
Minx – Saks, Bloomingdales Soho, Bloomindales 59th St
The Minx for Marc By Marc Jacobs (MBYMJ) One Night Stand is a set of printed nail coatings designed by Marc By Marc Jacobs to highlight signature prints from the Fall 2011 Collection. The One Night Stand nail fashion will be offered as a complementary gift with any MBYMJ purchase in Women's Ready-to-Wear during the following events; Saks New York Fashion's Night Out Event, Bloomingdales Soho Lucky Magazine Event, Bloomingdales 59th Street 2nd Floor Grand Reopening Event. Famed New York celebrity nail stylist Lisa Logan, whose clients include Beyoncé, Katy Perry, and Madonna, will be present at the events to offer a professional application. ALU says: This is the ONLY time you can get this LE pattern and Lisa Logan is the BOMB.COM.
Nails Inc – Sephora 5th Ave (597 Fifth Ave b/w 48 and 49) Time: 7:00 pm-8:00pm Sephora 34th Street (130 West 34th Street b/w 7th and Broadway) Time: 9:00 pm
Express Yourself with NAILS Inc. - Meet and greet Thea Green, founder of one of UK's most fashion forward nail brand that just landed at Sephora and get tips and tricks of how to wear the latest nail trends. While learning about this coveted nail collection, Sephora invites you to get polished at the new Sephora Nail Studio Art + Lacquer featuring XpresSpa (Sephora 34th St). ALU says: Nails Inc is debuting a limited edition FNO nail polish at the 15 Sephora stores in Manhattan.
NARS – 413 Bleecker Street Time: 7-9pm
NARS Cosmetics will host a special evening with Founder and Creative Director François Nars at the NARS 413 Bleecker Street flagship boutique in NYC's West Village. Silver Odyssey, a coupling of two exclusive products created in honor of Fashion's Night Out, will be introduced and celebrated with an iconic Guy Bourdin visual that will also be on display at the boutique. ALU says: The chance to meet François Nars, EPIC. Plus one of the exclusive products is Space Odyssey nail polish, an aluminum shade.
Paper Doll Boutique and Beauty Bar – 921 Fulton Street Brooklyn NY Time: 6-11pm
Across the Hudson Over the bridge & under the most fashionable roof in Brooklyn. This year on "Fashion's Night Out" the dollhouse is where glits and glam go over the top. Forget about miniature goodies in small samples. Paper Doll Boutique is presenting a healthy load of gifts to the naughty & nice fashion lovers this year with free manicures, mini massages, make up application and "I really hope I win" giveaways. If this doesn't sound like the most fashionable celebration, then I recommend my killer cocktail at our open bar to turn this up a notch. ALU says: Manhattan is crazy pants on FNO. If you live in Brooklyn and don't want to venture into the packed crowds, this event sounds like a blast.
Ricky's NYC – 2387 Broadway (btwn 87th & 88th Street) Time: 6-10pm
Join Ricky's NYC to celebrate Fashion's Night Out 2011 at their newest location in Manhattan! Shop their eclectic, hard-to-find beauty offerings and enjoy free makeovers by Ricky's NYC's Elite Pro Beauty Team along with complimentary manicures from Katy Perry's nail stylist, Patricia Yankee. Hosted by Ricky himself with amazing contributions from Too Faced, Skyn Iceland, Dashing Divas, Nest Fragrances, Sally Hershberger Hair Care and much more. ALU says: Pattie is an amazing talent and Mr. Ricky is a doll.
Talbots with Sally Hansen – 525 Madison Avenue Time: 6-11pm
Please join TALBOTS, celebrity stylist and fashion and beauty expert MARY ALICE STEPHENSON, and beauty specialists from SALLY HANSEN for FASHION'S NIGHT OUT. Mary Alice Stephenson will provide fashion tips and advice which Sally Hansen beauty experts will offier mini-manicures and eyebrow shaping. The first 100 customers will receive a gift bag filled with treats from Sally Hansen. ALU says: Go early for the gift bag.
Ted Gibson & mark – 184 5th Avenue 2nd Floor Time: 8-10pm
Get Glam: $50 blowouts and mark. makeup applications from 10am-6pm. Make your appointment by contacting Ted Gibson Salon: 212-633-6333 Go Glammed: Join Ted Gibson, Ashley Greene and mark to celebrate the big night with tips and tricks on how-to-get-the-look… plus the hottest trends for fall 2011- from 8-10pm (invite/RSVP only). ALU says: Twihards will be all over the Ashley Greene appearance and What Not To Wear Fans will be all over hair genius Ted Gibson and his uber talented team.
Warren-Tricomi – The Plaza One West 58th Street, Floor 2 Time: 6-11pm
Warren-Tricomi Salon at The Plaza presents an evening of fashion-forward beauty with Violent Lips. Guests will be treated to complimentary Violent Lip temporary lip tattoo application, makeup touchups, and trend-setting fall hair how-tos courtesy of the Warren-Tricomi beauty experts. ALU says: The Violent Lips tattoos sound really fun and the chance to see the Edward Scissorhands of hair is always a bonus.
So where will I be on FNO? I plan to hit up Bergdorfs early in the day to check out the CND Mood Ring Manicure and later I'll be heading to Malandrino and the Teen Vogue Block Party. If you plan to stop by any of those locations, I'd love to meet you. Tweet me if you're in the area and let's see if we can find each other in the madness.