Bronze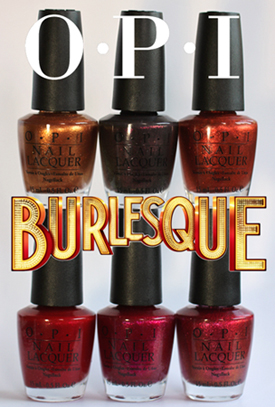 This holiday, OPI hits a high note with the release of Sony Pictures' upcoming film Burlesque. With an all-star cast including Cher and Christina Aguilera, this musical written and directed by Steven Antin opens nationwide in theaters on November 24, 2010.
OPI's Holiday 2010 collection marks the third film collaboration for the brand this year.  Following up the sell out successes of Alice In Wonderland and Shrek, the Burlesque lineup is sure to follow suit.  This year OPI has flipped the script by forgoing their usual six reds in varying finishes to give us six shimmers in warm metallics, a vampy plum and some more traditional reds.
"OPI is thrilled to partner with Sony Pictures' Screen Gems on this exciting movie release," said Suzi Weiss-Fischmann, OPI Executive VP & Artistic Director. "The colors were modeled off the majestic glamour, over-the-top costumes and mesmerizing Cabaret that are typically seen in Burlesque performances. The resulting bright, dazzling shades are perfect for the holiday season."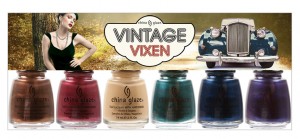 In spite of the fact that women were called "dames" and "broads" there's something about the 1940′s that intrigues me.  I wouldn't want to live in that time but I'm completely fascinated by the style and beauty of that era.  The pin curls, the heavily powdered and made up faces, the structured clothes.  Women put so much work into their look.

Though what the ladies of the 40′s seriously missed out on is nail color.  As we all know, there is more to life than blood red talons. Thankfully when China Glaze looked to the 40s for inspiration, they pulled shades from all aspects of that decade to bring us the colorful Cat's Meow set from the Vintage Vixen collection.