Bronze
Ever since it was announced that COVERGIRL was partnering with the latest installment of The Hunger Games movie franchise, Catching Fire, I've been on the edge of my seat to see what it would bring in terms of nails. COVERGIRL released teaser images of a couple The Hunger Games: Catching Fire inspired looks but there was no actual details on the nail polish until now.
Affiliate Link|I Bought This|Press Sample
You all know how I flipped for the first set of The Hunger Games nail polishes from China Glaze so I was curious to see what COVERGIRL would bring to the nail table for this epic film series. Continuing the trend of releasing seasonal/limited edition shades in mini Outlast Glosstinis, COVERGIRL's The Capitol Collection, introduces nine sparkling shades inspired by the film.
Continue Reading »
We're just a couple weeks away from the official start of fall and as much as I love summer weather I feel like we've been gypped with all the rain and cool temps. At this point, I'm over it and ready for boots, sweaters and jewel-toned nails. Enter, the Sally Hansen Fall 2013 Insta-Dri nail polish shades.
At first glance I wasn't sure what to expect from these colors. Some of them appear rather frosty in the bottle but, as evidenced below, their looks are quite deceptive. I'm pleasantly surprised by the nail juice inside and I think you will be too.
Continue Reading »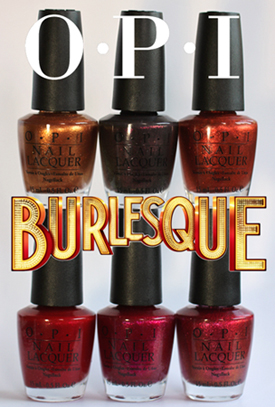 This holiday, OPI hits a high note with the release of Sony Pictures' upcoming film Burlesque. With an all-star cast including Cher and Christina Aguilera, this musical written and directed by Steven Antin opens nationwide in theaters on November 24, 2010.
OPI's Holiday 2010 collection marks the third film collaboration for the brand this year.  Following up the sell out successes of Alice In Wonderland and Shrek, the Burlesque lineup is sure to follow suit.  This year OPI has flipped the script by forgoing their usual six reds in varying finishes to give us six shimmers in warm metallics, a vampy plum and some more traditional reds.
"OPI is thrilled to partner with Sony Pictures' Screen Gems on this exciting movie release," said Suzi Weiss-Fischmann, OPI Executive VP & Artistic Director. "The colors were modeled off the majestic glamour, over-the-top costumes and mesmerizing Cabaret that are typically seen in Burlesque performances. The resulting bright, dazzling shades are perfect for the holiday season."