Beige
As I'm sure you've figured out, I'm a sucker for greens, blues and purples. Even before I became the full fledged polish fanatic that I am today, those were always the shades I gavitated to. I grew up in a purple bedroom with purple shag carpet that remained until my parents moved 12 years ago. For the majority of my life the only jewelry I wore contained my birthstone, emerald. And my first car was a white convertible with slate blue leather. I've had two electric blue cars since.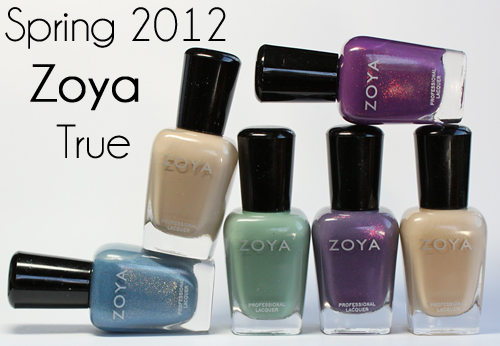 So you can imagine my joy when I laid eyes on the Zoya True nail polish collection for Spring 2012. They couldn't make it any more "me" if they tried. Not unless they can make an emerald green holo happen, ha!
A fresh bloom of dewy color. Inspired by the runway looks of top designers this collection features slightly muted and unexpected spring shades in six easy to wear, full-coverage creams and metallics.
I'm sure like a lot of you, I feel programmed to expect Spring to be all a flutter with sheers, pastels and brights. So much so that anytime a brand releases anything outside that color box, I get excited. The True collection certainly gives me butterflies.
Continue Reading »