CND Monday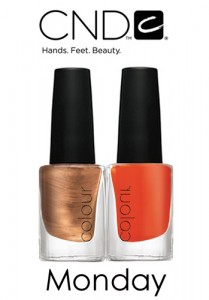 Welcome to CND Monday, a regular series here on ALU. Each week I'll be sharing a new layering combination from CND Colour & Effects to show you the versatility and creativity of the line.

As New York Fashion Week draws near I wanted to share with you the nail looks from my favorite show from the Spring 2010 season, Diego Binetti.  As CND's Jan Arnold told me, Diego gets nails and really understands the importance of incorporating them into the overall look.

Now in season's past, the CND team has used a lot of custom blends but with the launch of Colour & Effects they challenged themselves to use layering as much as possible to create the exact shade each designer wanted.  For Diego Binetti, they took on the task of translating his Thailand inspiration onto the models' nails using various combinations of CND Copper Chrome, Electric Orange, Brilliant White, Buff, Inkwell, Ice Blue Shimmer and Gold Pearl with some very intricate nail art.