365 of Untrieds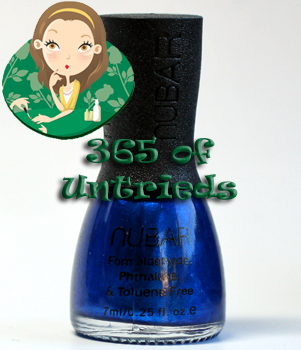 365 of Untrieds is my personal challenge to weed through the polishes in the ALU stash that I've been wanting to try but just haven't gotten around to.
Untried Day #116 – Before we start talking polish, I have a Weight Watchers update for you. If you recall, I joined the program in July after my father's health scare. Well it's been 30 days and I have lost 10 pounds! I'm so excited. I'm really loving WW since they have an app for Android and I'm pretty much addicted to my phone. It makes it so much easier to calculate and keep track of my points.
Okay so back on track. As you know I went to Cosmoprof last week and I promise to start posting about everything I saw tomorrow. In the meantime, let's talk about the fact that Nubar is launching mini bottles of their best selling shades. The minis are currently available outside the US but releasing here very soon.  They also have some gorgeous colors coming out in the fall collection but I can't reveal pics for another couple weeks. Let's just say they are unexpected fall shades.
I had a great time chatting with Nubar founder Noubar Abrahamian and he was kind enough to send me home with some minis before they launch on the site. Oh and keep an eye out for a completely redesigned, easier to navigate ByNubar.com.
Since one of the minis is a shade I have in full size but have never worn, I decided to use it for today's Untrieds. Let's take a closer look at Nubar Indigo Ocean.