Are we stuck in some kind of 2007 nail polish flashback? Did Chanel Blue Satin just launch? First we talked about grey nail polish, now we're moving onto blue. Those of you who have been reading ALU since way back in its infancy will remember that blue and grey were big nail trends for Fall 2007 and as I approach my fifth year of blogging, it's like it's all coming full circle.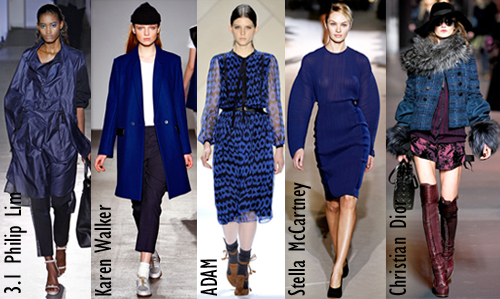 The past couple years there has been a greater focus on greyed slate blues and teal but this time around we're looking at a more true blue range that varies from denim to sapphire to indigo. And as brands have continued to evolve their mixing techniques we are being treated to more unique finishes and sparkle combinations than we've seen in the past.

The Bold & The Beautiful of Blues (Fall 2011 Release) – all polishes (except two noted below) are shown using two coats
From left to right -NARS Night Flight (bottom), OPI Road House Blues (top), Dior Denim (laying down), CND Midnight Sapphire, Color Club Blue-topia, Rescue Beauty Lounge Piu Mosso (laying down), Sparitual Blue Moon, Nubar Elegant Indigo, China Glaze Skyscraper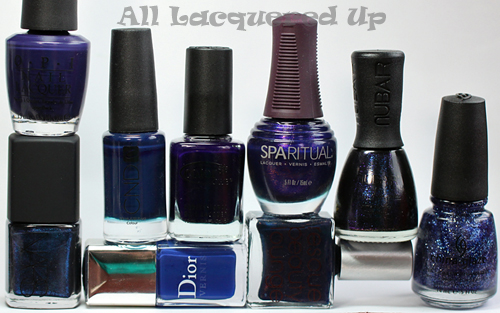 China Glaze Skyscraper ($3, Head2ToeBeauty, TransDesign. $6, Sally Beauty) is a blue ball of fun. It's a semi-sheer glitter jelly polish with a softened midnight blue base. It reminds me of a twilight sky, before it darkens to an inky navy. It's one of the two polishes that required three coats and that's so that the glitter can be properly suspended. What intrigues me about this color is how the finish can look similar to a glass fleck at one angle and like a foil-ish metallic from another.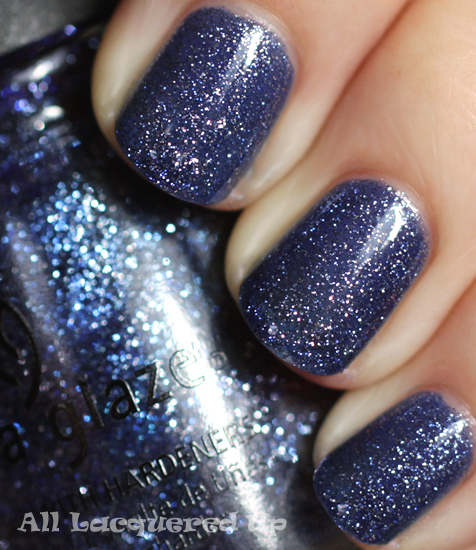 I used my cell phone to take this shot so the color isn't as accurate but I thought the slight bluriness showed the finish off well.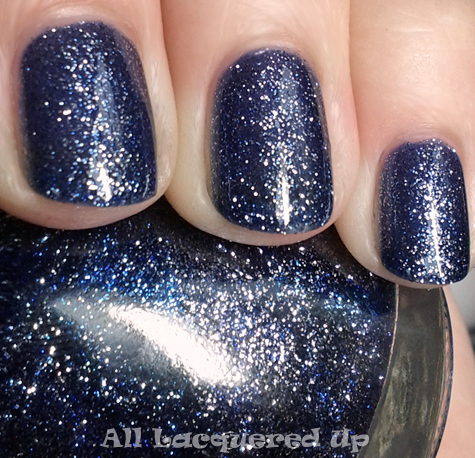 CND Midnight Sapphire ($9, CND.com for locations or GoIndulge.com) is part of CND's "Look" for Fall 2011 and it's a densely pigmented creme that I showed you as part of my Cleveland Indians themed manicure. It applies beautifully and barely needs two coats. In fact I only used one coat in this shot and I like that it looks a bit lighter than the two coats I used in my Indians mani.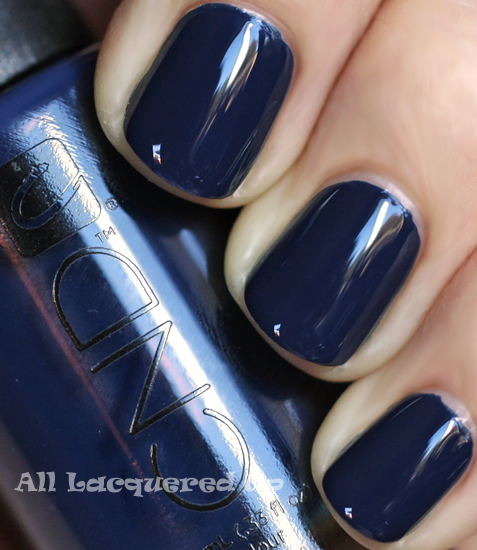 Color Club Blue-topia ($8, ShopColorClub.com) is a deep navy jelly polish. As much I love the idea of jellies, they are hard to do with darker colors. They tend to be pretty streaky as was the case with Blue-topia. I used three coats with this one and it's still pretty uneven.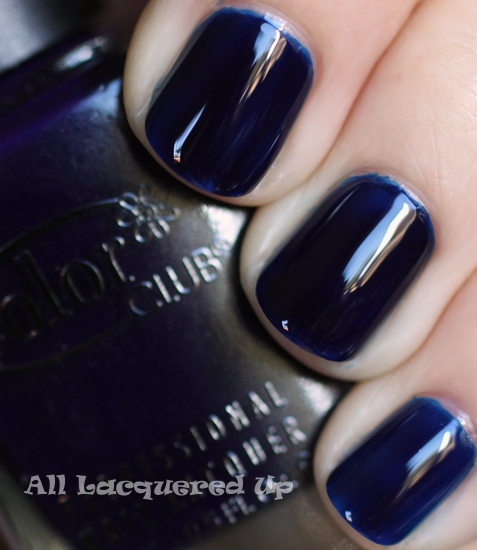 Dior Blue Denim ($22, Dior.com & Nordstrom stores) is part of the emerging sub-trend of denim inspired blues. This faded sapphire creme effortlessly blends comfort and chic. I love that even though it's really pigmented, it has a jelly-like finish.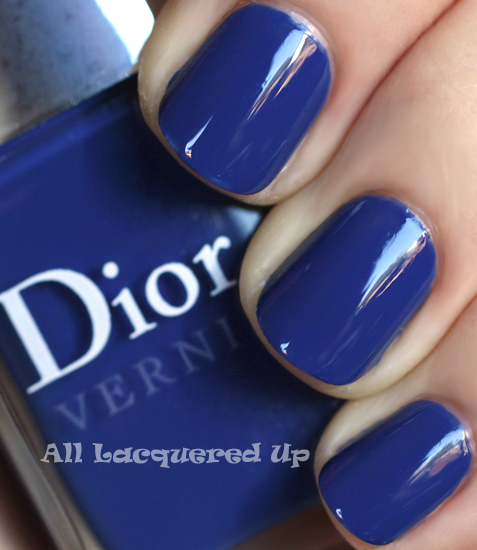 NARS Night Flight ($17, NARSCosmetics.com & NARS counters nationwide) is part of the Night series of sparkle polishes and in spite of its inky blue base, the tiny light blue and purple glitter particles lighten it up to a glorious mid-tone navy. You really have to see this one on the nail to appreciate the depth of its glitz.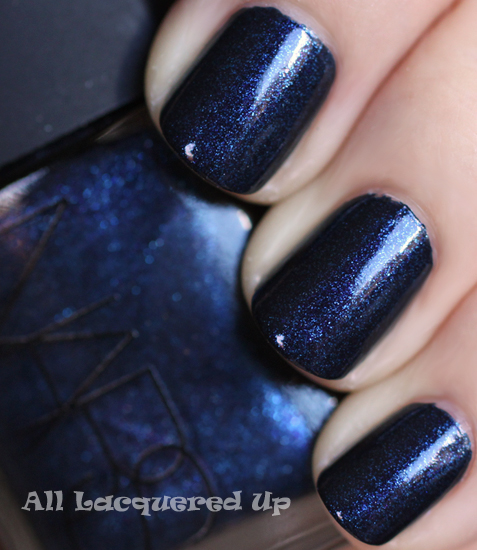 OPI Road House Blues ($8.50,OPI.com for locations) is a lush navy creme that leans towards indigo. Makes me think of blueberry juice. I have a LOT of navy cremes but none are quite like this one. OPI Sapphire in the Snow from Holiday '09 looks downright purple next to it.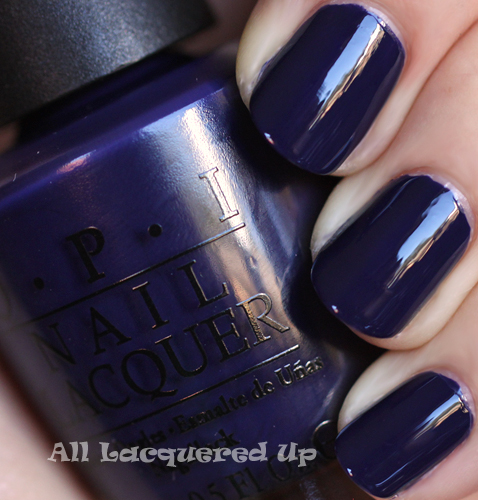 Rescue Beauty Lounge Piu Mosso ($18, RescueBeauty.com) is an unusual flower combining fiery orange shimmer with a blackened blue base. As I mentioned in my initial review, it's a challenge to bring a complimentary shimmer to the party without it affecting the base color but RBL's Ji Baek achieved that with ease. It's definitely one of my favorite fall colors this season.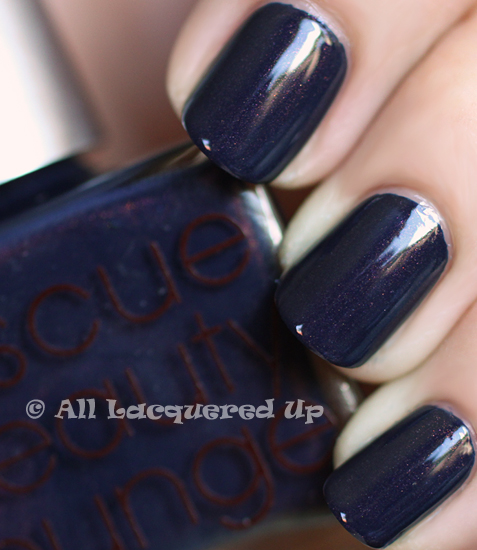 Sparitual Blue Moon ($10, Sparitual.com & AveYou.com) is hands down my favorite of all the blues that have come out for fall. I wasn't sure what to expect based on the bottle color. It looked pretty murky, more purple than blue, with this odd rose gold-ish flake glitter. On the nail it's electric. Imagine Essie Aruba Blue being jolted to life with a defibrillator then injected with flakie goodness. The picture really does it no justice. I had this one for a full week and it looked smashing the full seven days. It pained me to take it off. In short… BUY THIS!!!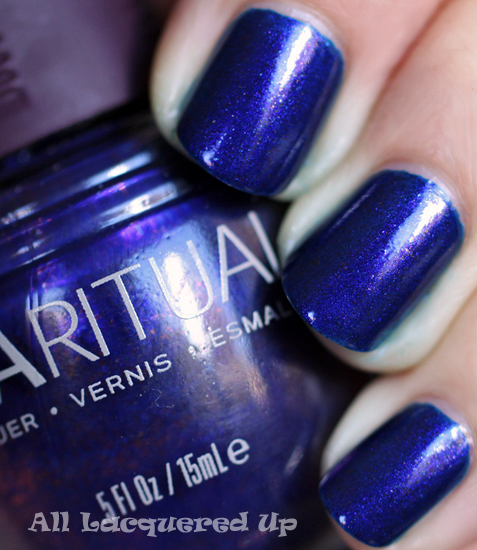 The Old School Blues
You don't have to buy new colors to be on trend, just shop your nail polish wardrobe for these classic sapphire blues.
Click the names to view swatches: ULTA Moody Blues, China Glaze Bermuda Breakaway, Barielle Berry Blue (laying down), Essence Just Rock It.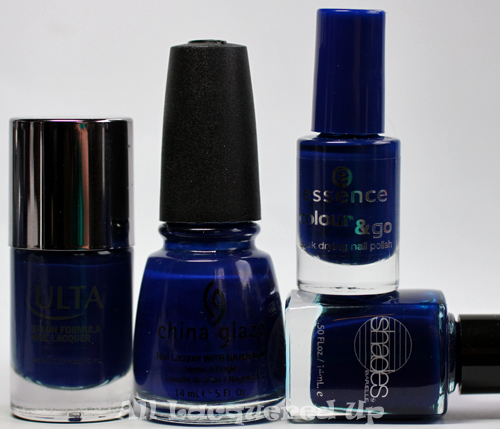 Entity Blue (bottom), China Glaze Up All Night (top), Nubar Sapphire (bottom), NYC Skin Tight Denim Creme (top), OPI Yoga-ta Get This Blue, Sally Hansen Xtreme Wear Blue It, Zoya Indigo (laying across), Essie Aruba Blue (laying down), Sparitual Surreal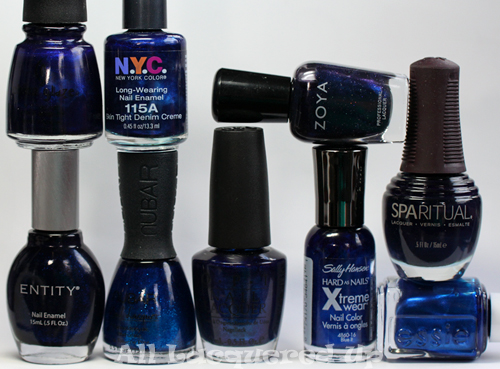 Best colors to pair with Blue – Grey, camel, pumpkin, ruby, silver, gold
Thoughts on the resurgence of the blue nail color trend? Do you prefer straight-up blues to the greyed and green tinged tones? Which new colors do you plan to pick up? What are your favorite blue nail polishes?
Disclosure: Product samples were provided by reps for China Glaze, CND, Color Club, Dior, NARS, OPI, Rescue Beauty Lounge and Spatirual. For more info view my Disclosure Policy.