The original Footloose is one of my all-time favorite movies. Even though coordination and grace are not attributes I possess, I love to dance and I'm a sucker for any flick involving dancing (Center Stage, Girls Just Want To Have Fun, Step Up, etc). Footloose makes it to the top my list thanks to the combination of Kevin Bacon and an awesome 80s soundtrack.
So you can imagine my horror when I heard a Footloose remake was in the works. Does Hollywood have to remake EVERYTHING? Are there no original stories left that aren't based on actual events? I mean really! And how bad would it have been if they stuck with the original idea of a musical version of Footloose with Chase Crawford? Hairspray was bad enough. It destroyed the perverse magic of John Waters but a singing Ren McCormack would have been too much for me.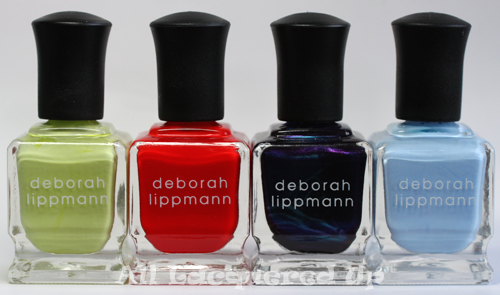 Now I've heard that the Footloose update isn't as horrible as I predicted but I still won't be forking over cash in a theater to watch it. However one good thing did come from all this; Deborah Lippmann teamed up with HSN to be a part of their Footloose Collection. She created two exclusive nail polish duos named after the songs we all remember from the original film – Almost Paradise & Footloose and Dancing In The Sheets & Let's Hear It For The Boy.

Formula & Application: Deborah Lippmann nail polish is 4-Free (including formaldehyde resin) and doesn't contain camphor, which can be an irritant. Her signature glass bottle is so distinct you would know the brand even without the name on it. It's one of the best bottle shapes in the industry. The curved cap was designed with professional manicurists in mind as it is shaped to rest comfortably between your fingers.
The Lippmann brush is short, round and average in width with flexible bristles that easily fan out over the nail plate. The three creme polishes all have the same creme/jelly hybrid formula that I've come to expect from Lippmann. They are packed with pigment but have a squishy, jelly type feel. The one shimmer is thin, easy to manipulate and pigmented. I was able to get great coverage in two coats with all but one (Almost Paradise) though the red (Footloose) probably could have used a third coat as there is a wee bit of VNL (visible nail line).

Deborah Lippmann Footloose causes immediate flashbacks to Ariel's signature red cowboy boots. The ones her preacher daddy hated SO MUCH. Of course Ariel's boots looked more dark cherry in the movie and Footloose is a ripe tomato creme. While I'm normally pretty immune to red polish, this one flowed on the nail so phenomenally that it turned me into a red lover for a hot second.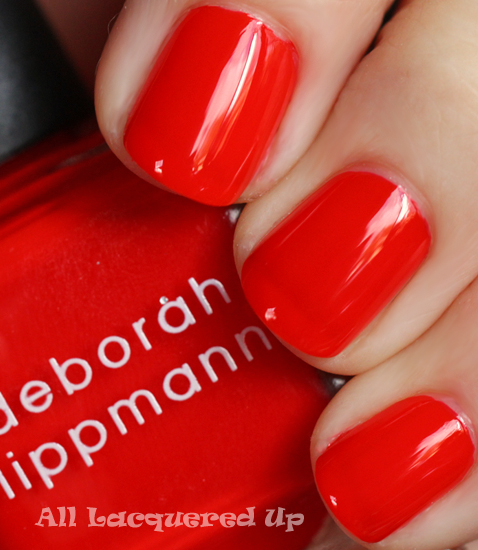 Deborah Lippmann Almost Paradise is not the kind of green I normally fall for. Yellow-based hues just aren't that flattering on me but there's something about this cross between chartreuse and celery that I'm obsessed with. Even though it takes three coats, it's totally worth it. Get involved people!  Side note, the Dior Spring 2012 runway featured a bold red lip paired with a light green nail that wasn't nearly as pretty as this color. Hop on the trend early by wearing an Almost Paradise mani with a Footloose pedi.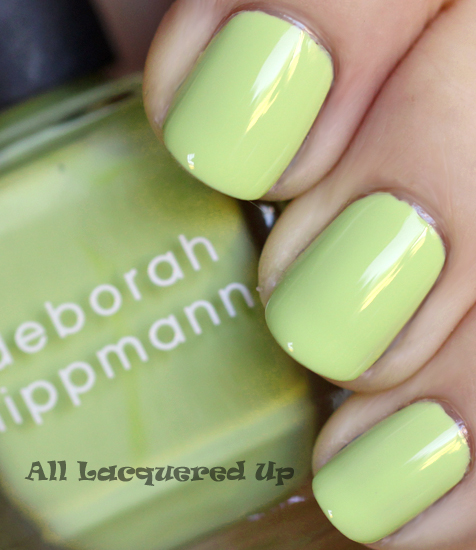 Deborah Lippmann Let's Hear It For The Boy is a pale periwinkle blue creme. It has a bit too much purple in its base to qualify as baby blue, as the name suggests, or sky blue and I dig it. It's like a watered down version of China Glaze Secret Periwinkle.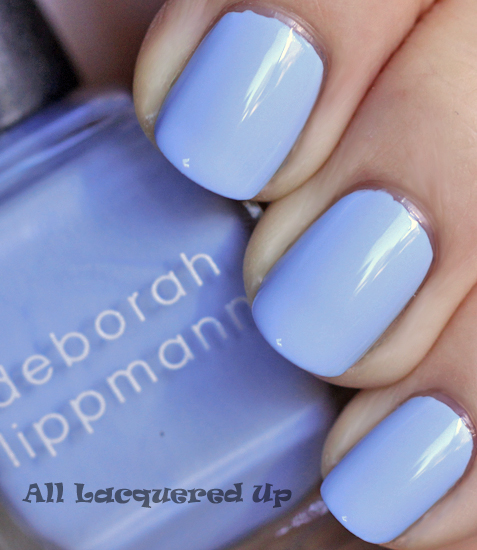 Deborah Lippmann Dancing In The Sheets is a moody indigo shimmer. The deep aubergine base is sprinkled with ice blue shimmer that makes the polish look duochrome in the bottle. On the nail it has an inky, almost black look and in bright light, the shimmer comes to life.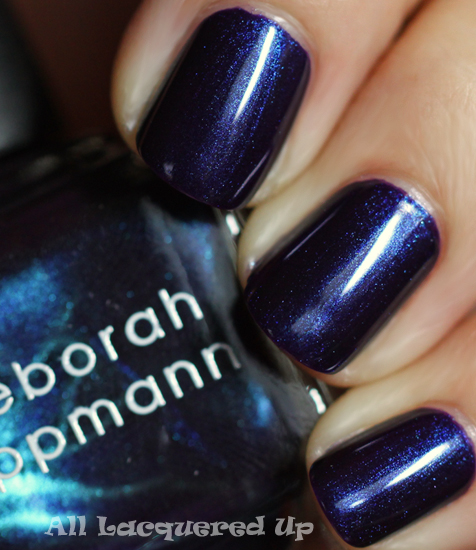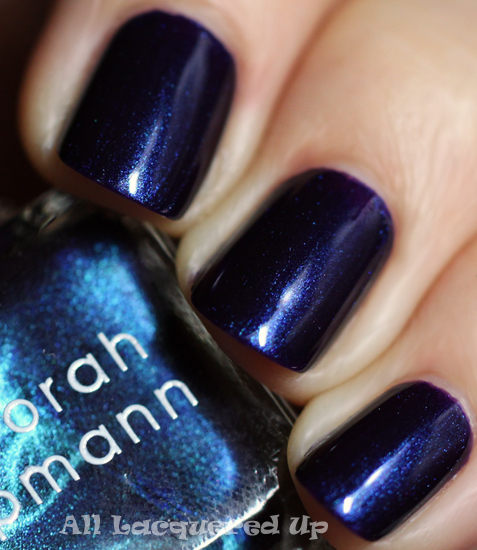 Bottom Line: I love the Lippmann formula and its wear but have always found the core line lacking in blues. If you love blues like I do, the Let's Hear It For The Boy/Dancing In The Sheets duo will definitely fill that need. They will happily join Across The Universe and Lady Sings The Blues in my collection. The duo containing Almost Paradise and Footloose is worth a look if you've been hunting for that perfect pale yellow-based green. Even if you're not all that into reds, you'll fall for how amaze Footloose applies.
The Deborah Lippmann for HSN Footloose Nail Polish Collection Duos are available exclusively on HSN.com. The duos retail for $32/set for two .5oz bottles.
Are you feeling the Footloose collection polishes? Which duo is your fave? If you could create your own duo from the four shades, which two would you put together. Who saw the remake? Which version is better?
Disclosure: Product samples were provided by reps for Deborah Lippmann. For more info view my Disclosure Policy.