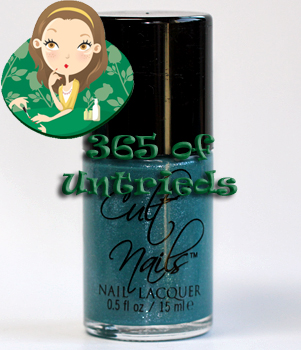 365 of Untrieds is my personal challenge to weed through the polishes in the ALU stash that I've been wanting to try but just haven't gotten around to.
I hope everyone is enjoying their holiday weekend. With the exception of a fierce late night thunderstorm, the weather has been hot and beautiful in Cleveland. Speaking of Cleveland, a reader asked me to recommend places to visit while she is in town so I created this map of my favorite places. If you are planning to visit the CLE, I highly suggest you check it out.
Getting back to nails, I read on Twitter that Cult Nails is having a sale this weekend for the 4th of July. All nail polishes are on sale for $7.40 through tomorrow (7/4). Maria from Cult Nails also tweeted that there is very little stock of Let Me Fly from the A Day At The Races collection so I wanted to show it to you before it sells out.

Formula & Application: Cult Nails nail polish is 4-Free (including formaldehyde resin) and free of camphor, which can be an irritant. The bottle is pretty plain in that it looks like the empty bottles I buy for frankening from beauty supply stores. I'm sure creating a custom bottle is pricey but I hope that the success of the brand will bring a more unique bottle shape.
The big round plastic cap houses a brush that is clearly of Maria's choosing. It is a round brush of average length and noticeable girth. The bristles are nice and flexible so they fan out easily across the nail plate without causing any dragging. In short, I love the brush. It is definitely in contention for my favorite nail polish brush.
Unlike Cult Nails Living Water, the consistency of Let Me Fly is in no way watery or jellyish. It's thin and spreadable but rich, creamy and packed with pigment. In fact it reminded me a lot of Essie Coat Azure which has, hands down, the best Essie formula that I've worn in a long time. Though Let Me Fly isn't as thick which makes it even better. An added bonus, it dries super glossy. I normally photograph my polishes wearing top coat but I didn't use it for this shoot.

Cult Nails Let Me Fly is a cross between teal and cerulean blue with some dusty greyed undertones and irregularly shaped, glass-fleck style, silvery glitter.
For funsies I added some "blackberry bling" to my thumbs with a coat of the Glitter Gal Blue holographic nail polish I showed you a few days ago. As Elle Woods said about spritzing perfume on her resume, "I think it gives it a little something extra, don't you think?"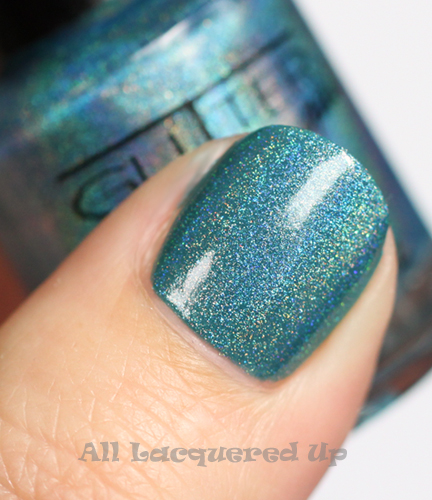 Given Maria's love of polish and brand knowledge I wasn't surprised to come up dupe-less in my collection. What kind of polish fanatic would she be if she copied another brand's creation? To give you an idea of how Let Me Fly walks the line between teal and cerulean I'm showing it next to Sally Hansen Fairy Teal and Rimmel Marine Blue.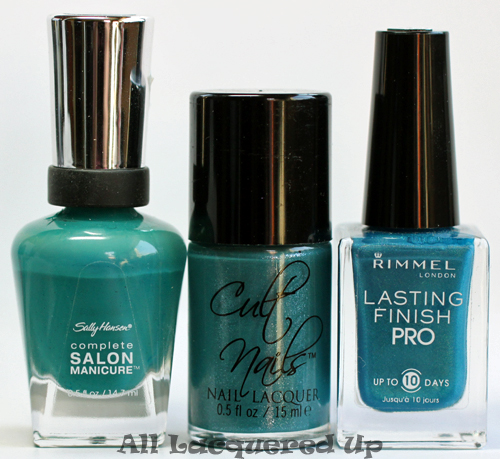 While Let Me Fly is considerable darker than the other two polishes, I think this comparison gives you a good idea of what kind of color you can expect, should you order a bottle. Sally Hansen Fairy Teal is on the left and Rimmel Marine Blue is on the right.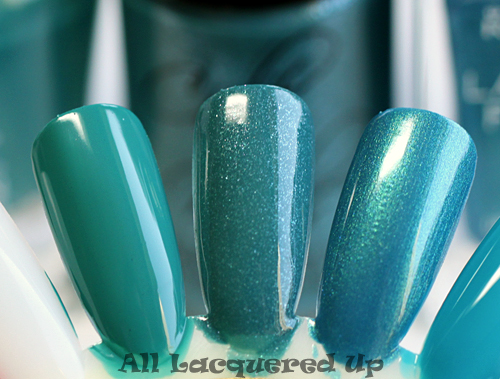 Bottom Line: Based on my limited Cult Nails experience, there's not denying that Maria has a unique eye for color and knows her nail polish. Let Me Fly is a snowflake and a color I highly suggest getting your hands on before it sells out. I hear a reorder will be happening but it won't be in stock until early 2012. Since the world may be ending by then, you might want to jump on it now. I kid about the world ending part of course, but I see no reason to delay getting your hands on this beauty unless you have something against blue-green polishes and then, well, I have no help for  you.
365 of Untrieds Stash/Share Verdict: STASH STASH STASH. Did I mention STASH
Cult Nails Let Me Fly is available now on CultNails.com with limited quantity. The nail polishes retail for $10/ea for a .5oz bottle but they are ON SALE NOW for $7.40 through 7/4/11.
Are you planning to snag one of the few Let Me Fly's still in stock? Thoughts on the color? If you already have it, have you come up with any colors that are similar? If you weren't part of the "cult" before I first posted about the brand, have you ordered from them since?
Disclosure: A product sample was provided by Cult Nails. For more info view my Disclosure Policy.