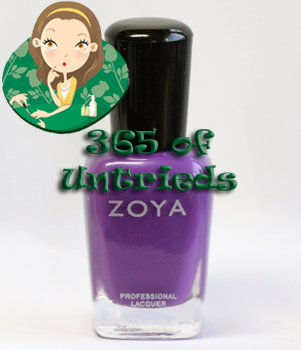 365 of Untrieds is my personal challenge to weed through the polishes in the ALU stash that I've been wanting to try but just haven't gotten around to.
Independence Day is on Monday so it's a holiday weekend here in the US and one of my favorite holidays of the year. It's not that I'm ultra-patriotic, though I do love my country, I just love the fireworks, cookouts and parties that the weekend tends to bring. One of my blends (blog friends) is having a birthday/housewarming/4th of July party and my neighborhood is having a block party so the weekend should be lots of fun. I'm sure the boyfriend and I will catch a movie at some point as well. I REALLY want to see Midnight In Paris.
I recently purchased a grey jersey top with some lace details on the sleeves that I adore so I decided to pair it with a fun purple polish. I've been curious about Zoya Mira from the Zoya Summertime collection and since I've been on such a glitter kick of late, I thought a gorgeous, glossy creme would make for a nice change of pace.

Formula & Application: Zoya is a 4-Free brand (including formaldehyde resin) plus they leave out camphor, which can be an irritant.  Their signature Italian glass bottles have a tapered, shiny black plastic cap that rests comfortably between the thumb and index finger while polishing.  The brush is short, round and medium in girth with flexible bristles that allow for ease of control.
The consistency of Zoya polishes tends to lean more towards watery than creamy but Mira fell somewhere in the middle. It is a well pigmented purple that provides full coverage in two coats. And while it has a nice flow I must note that it doesn't self level. I left an uneven stroke on my middle finger and I had to add a third layer of polish to achieve a smooth finish.

Zoya Mira is mid-range grape creme. It walks the line between those "too red" and "too blue" purples and, to my eye, is a lighter version of my signature color, Rescue Beauty Lounge Mismas. I'll call it Mismas Lite.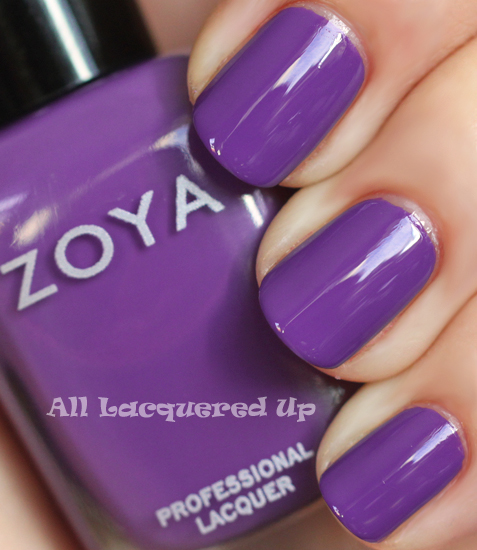 Of course being the purple fanatic that I am, I had to go in search of its stash cousins and came up with Barielle Grape Escape and the aforementioned RBL Mismas.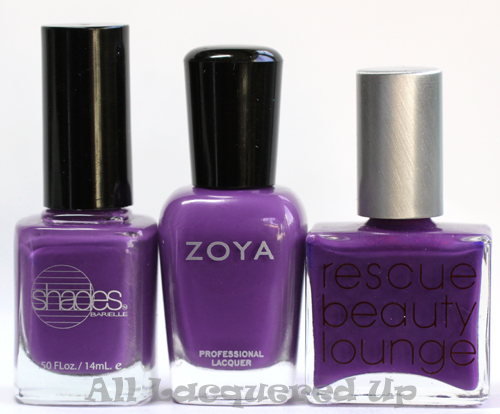 As you can see Mismas is quite a bit darker than Mira but definitely of the same breeding stock. Grape Escape is as close a relative as I could find though it has just a slight bit more red in its base. They are similar enough to not need both though Zoya definitely has one up on this Barielle in terms of formula and opacity.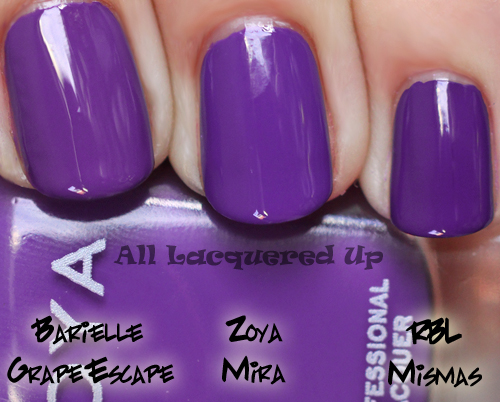 Bottom Line: Mira gives great coverage and the formula is good despite the leveling issue. If you are looking for a bright, true purple creme, this will satiate you. Though if you already own Barielle Grape Escape I would give Mira a pass unless GE was a bit too red for your taste.
365 of Untrieds Stash/Share Verdict: I'm STASHing Mira and sending Grape Escape to the SHARE bin.
Zoya Mira is available now as part of the Zoya Summertime collection. Zoya nail polishes are available online at Zoya.com and at salons and spas nationwide including national chains like ULTA. Seasonal collection availability will vary by location. Nail polishes retail for $8/ea for a .5oz bottle. Don't forget, you can try before you buy with the Zoya Color Spoon program.
Thoughts on Mira? Do you prefer the cremes of Zoya Summertime or the glitters of Zoya Sunshine? What was the last purple nail polish you wore? Do you have any fun plans for the weekend?
Disclosure: A product sample was provided by Zoya. For more info view my Disclosure Policy.