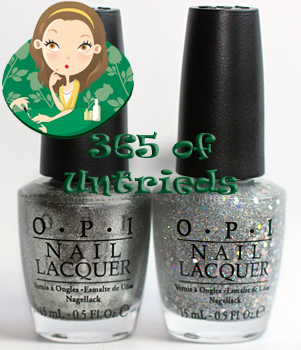 365 of Untrieds is my personal challenge to weed through the polishes in the ALU stash that I've been wanting to try but just haven't gotten around to.
After I posted about the OPI Glam Slam! England duo with Grape…Set…Match quite a few of you requested that I also share my thoughts on Your Royal Shine-ness. To be honest, I wasn't even planning to talk about this polish because it looked like just another silver foil in the bottle and I have more than my share of those.
Turns out I have to thank you all for prodding me into giving it a whirl because it ended up being one of those "Don't judge a book by its cover" kind of moments. And isn't that the whole point of this series and my blog in general? Keep reading to see what I mean.

Formula & Application: OPI nail polishes are now 4-Free (including formaldehyde resin) and free of camphor, which can be an irritant. This is a new development as OPI's pre-Texas were only 3-Free. I just wish OPI had changed the color of the print on the labels so buyers can identify 4-Free polishes like they did when they made the switch to 3-Free.
The OPI Pro Wide Brush is flat, wide and medium in length. It's of average stiffness and easily spreads out on the nail when pressed. The only downside to the Pro Wide brush is that it can be too wide for slim fingers or little toes.
As with most foil metallics, this polish gives great coverage in two coats and unlike traditional metallics, it doesn't leave you with brush stroke madness on the surface. The formula is smooth and workable, which is great for amateur polishers.

As I mentioned above, I didn't expect much from OPI Your Royal Shine-ness. I ASSumed it to be a twin to some of the other great foil metallics I own; China Glaze Cheers To You, Orly Shine and Sonia Kashuk Smoke & Mirrors. As it turns out, I was pleasantly surprised to find that it is more unique than that. YRS-ness actually has a bit of a tarnished feel thanks to the mix of silver and gold foil particles. That allows the color to look both silver and slightly pewter depending on the light. To me, this is like the foil version of Spark de Triomphe with its mix of silver and gold glitter.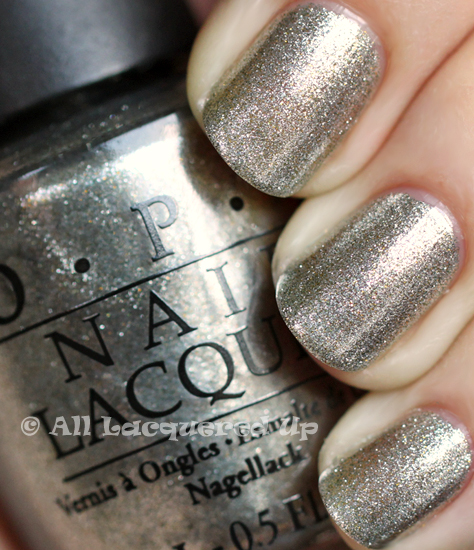 Adding a layer of OPI Servin Up Silver amps up this look to full-out disco ball dance party. The fine holographic micro-glitter particles light up your nails like multi-color twinkle lights while the larger holographic sequins create bursts of color whenever the light hits them. This would make an amazing NYE manicure and an eye catching summer pedicure. But you better make sure your feet aren't busted if you wear this on your toes because everyone will be looking down to check out this combo.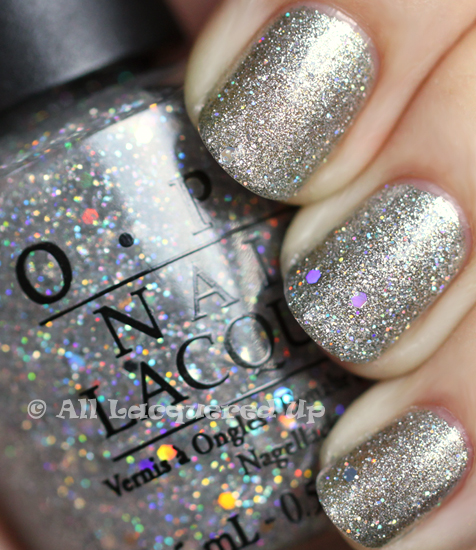 Bottom Line: I know better than to trust a bottle yet I completely ignored my own advice and thankfully I listened to all of you and gave Your Royal Shine-ness a try. It turned out to be quite an original metallic. If you happen to shy away from silvers because they are too cool for your skin tone, this may be the perfect solution for you. The gold really warms up what could be a very cold color.
365 of Untrieds Stash/Share Verdict: No doubt about it… STASH!
OPI Your Royal Shine-ness and Servin Up Silver from the OPI Glam Slam! England collection are available now at salons and spas nationwide including Beauty Brands, Beauty First, Chatters, Dillard's, JCPenney, Pure Beauty, Regis, Trade Secret and ULTA. OPI nail polishes retail for $8.50/ea and the Glam Slam! duos retail for $14.95 for two .5oz bottles.
Which of the two OPI Glam Slam! England duos do you prefer? How are you feeling about Your Royal Shine-ness? Do you know of other foil metallics that mix silver & gold like this one? What nail polish have you tried lately that looked unimpressive in the bottle but ended up winning you over on the nail?
Disclosure: For more info view my Disclosure Policy.