Taupe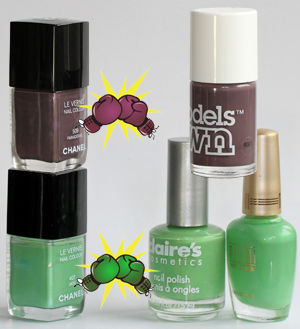 With every new Chanel nail polish launch the inevitable question is, are there any affordable alternatives?  More often than not the answer is no.  Chanel seems to find a way to add a little something special to their nail colors that make dead-on dupes an impossibility.  Of course there are plenty of nail polishes that come close but Chanel twins are usually hard to come by.

After the Chanel Jade craze last fall a number of brands came out with their own less expensive version of the pale green shimmer, most notably Charlotte Russe Jade and Claire's Dream Catcher.  And now Milani has entered the ring with their interpretation, Dress Maker. Back when I reviewed Chanel Paradoxal I was hard pressed to find any decent comparisons and then a reader email led me to Models Own Purple Grey.

Read on to see how these budget conscious versions stand up to two of Chanel's most buzzed about nail creations.  Let the smackdown begin!