Fall 2011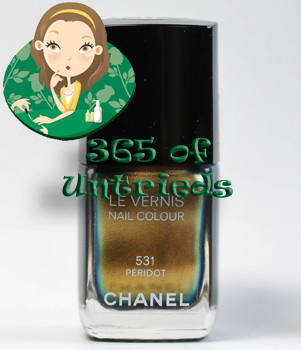 365 of Untrieds is my personal challenge to weed through the polishes in the ALU stash that I've been wanting to try but just haven't gotten around to.
Even though Chanel Graphite is the Fall Chanel color that caused me to swoon, it's Chanel Peridot that is getting all the buzz. I even saw Bobbie Thomas mention it on her Today Show "Minute Buzz" segment along with LCN Magnetic Polish (yay!).
Now you know I'm all about the greens but I haven't exactly been champing at the bit to wear Peridot. Yellow greens are just not my thing. They remind me of cat's eyes which, as much as I love my furballs, are a creepy color.
I did a nail wheel swatch of Peridot when it arrived and felt pretty "meh" but I'm finally taking the plunge since so many of you have asked about it.