Rimmel
I know I've mentioned it in the past but one of the best things to come from starting this blog is the people I've met. Readers, brand reps and my fellow beauty bloggers. My blogging buddies have become some of my closest friends, which is why I'm thrilled to be joining a group of my fave ladies in Makeup Wars!
Makeup Wars is a battle among bloggers to share their favorite products in a variety of topics; fave purple nail polish, best sunscreens, etc. This week is Color Wars! Each blogger in the group selected a shade to highlight and I chose TEAL!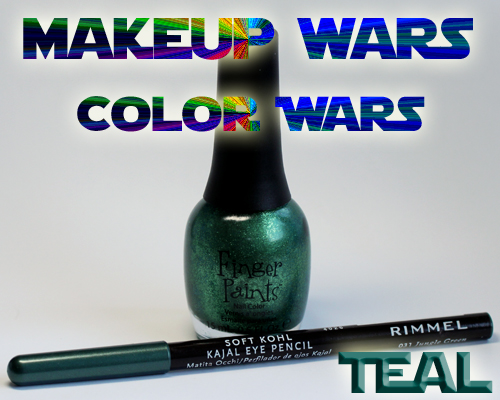 Affiliate Link|I Bought This|Press Sample
I have an affection for teal since it combines two of my favorite shades, blue and green. And unlike Jennifer Lopez's character in The Wedding Planner, I do not associate teal with "the color of gangrene." It's a fab accent color for eyes and simply stunning on nails.
Not only is teal shaping up to be one of the hot colors for Fall 2013, it's also part of my FingerPaints A Pair Affair by All Lacquered Up collection. And today I'm thrilled to give you the first real look at FingerPaints Our Tips Are Tealed, paired with one of my all-time favorite eyeliners. Plus, I have three more gorgeous teal polishes to share.
Continue Reading »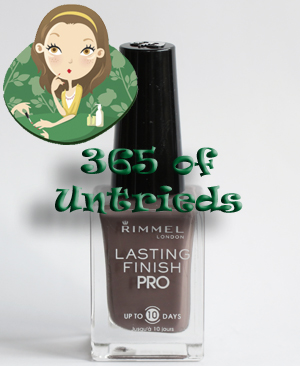 365 of Untrieds is my personal challenge to weed through the polishes in the ALU stash that I've been wanting to try but just haven't gotten around to.
Back when Chanel Particulière was making nail polish headlines, there was talk of a potential dupe in Rimmel London Steel Grey.  Of course, at the time, whenever I would remember to look for it at my local drugstore it was sold out.  Then a few months back I picked up a bottle and I"m just now getting around to trying it out.
One day and counting kids, do you have your polish picked out for tomorrow? If you're still scrambling for ideas, I've got more than a few for you.

Last year, I showed you some of my fave accessible greens including RBL Recycle and Sinful Colors San Francisco and since then, even more fab shades have come on the market. Take a peek at my St Patrick's Day recommendations, after the jump!

Aside from the shades I rec'd last year, there are four more previously reviewed polishes that are a perfect St. Paddy's Day fit. Of course I had to include my fave emerald shimmer, Barielle Date Night, one of the few mass market perm greens Sally Hansen Emerald City, springy kelly green OPI Green-wich Village and my dream green glitter China Glaze Emerald Sparkle.

Also, there are some great hues that I haven't posted yet but definitely deserve some Irish love. Sally Hansen released a new line, Insta-Dri, that includes a rich forest called Jumpin' Jade. China Glaze Cherish is a soft, pastel-ish option for those of you that shy from full-on green. On the opposite end of that spectrum we have Misa Let's Go Green for a shock of lime. Finally, Rimmel's 60 Seconds formula has adopted the now defunct Underground Play Fast shade Camouflage a gold tinged verdant.

All shades are available in your local drugstores or online at Barielle.com, Head2ToeBeauty.com, 8ty8Beauty.com and TransDesign.com.
Check back tomorrow to see what I picked for my St Paddy's NOTD. Hint: You haven't seen it yet!