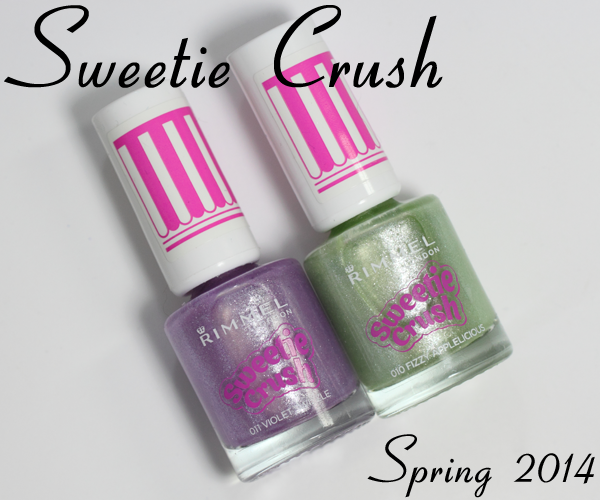 If I have anything to say about it, sparkly texture is going nowhere, any time soon. I love it an I'm not afraid to shout it from the rooftops. So, naturally, when I came upon a Rimmel London Sweetie Crush display at my local Rite-Aid, I couldn't leave without a couple. I mean, candy-colored glittery texture. Bargain basement pricing. How could I not?

Formula & Application
The Rimmel London Sweetie Crush polishes don't have ingredients listed on the bottles but considering that it's a UK brand, where 3-Free is the standard, we can assume there is no Formaldehyde, Toluene or DBP. Outside of that, your guess is as good as mine.
The bottles are about half the size of a traditional polish bottle with thin plastic caps that house a short, wide, flat brush with stiff bristles. The formula is thin and kind of sheer so it's easy to control but you need three medium coats for full coverage.
Like other glitter texture polishes, it dries matte with metallic particles that give it a sparkling sand finish. They are intended to be worn without top coat but you can always add one.

Rimmel London Violet Swizzle is a warm orchid sparkle texture. It doesn't have the gold shimmer of Formula X Glitter Rocket but it's also not as pink.
Rimmel London Fizzy Applelicious is a pale green apple with silver shimmer. It looks a bit minty in the bottle but it's definitely has too much yellow in its base color to go there. I have no green textures quite this light or this warm.
The full Rimmel London Sweetie Crush lineup: Sherbert Sweetheart, Candyfloss Cutie, Violet Swizzle, Blueberry Whizz, Fizzy Applelicious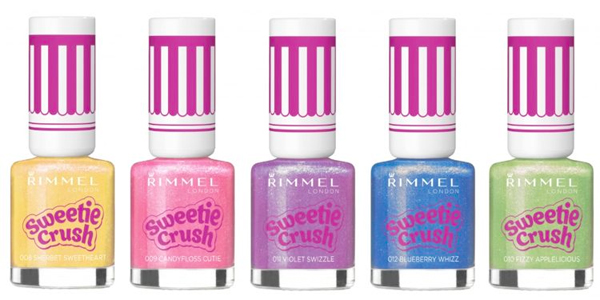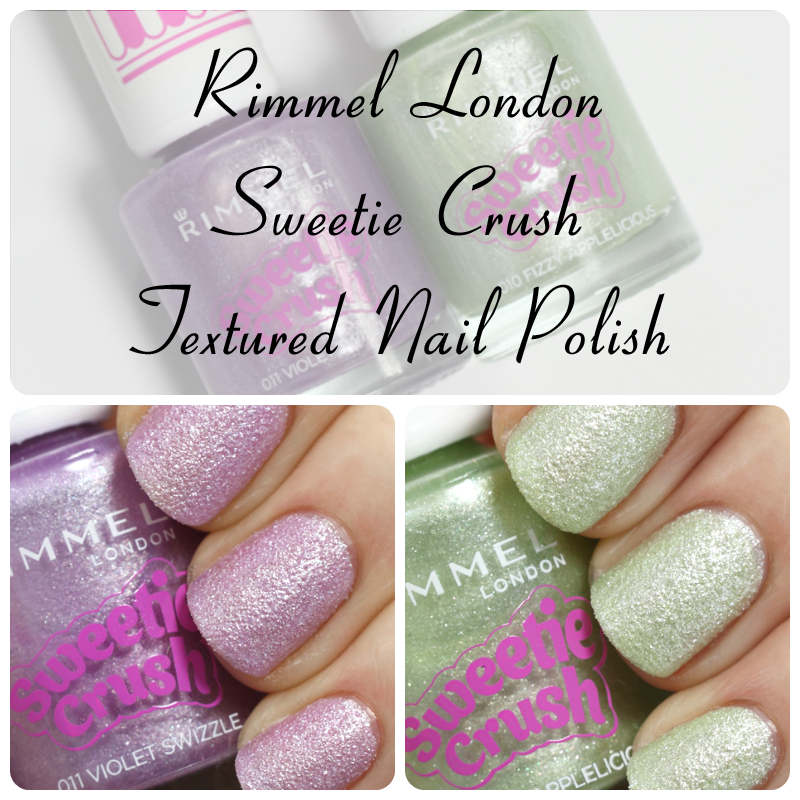 Bottom Line: If you are still on the texture bandwagon (come join us, it's fun!), these will make a great addition to your collection. They're affordable with a fruity range of colors that will work for spring or summer.
Rimmel London Sweetie Crush is available at drugstores and mass retailers nationwide. They retail for $2.25/ea. for a .27oz bottle.
Have you spotted Sweetie Crush at your local drugstore? Are you still wearing texture or so over it? Do you plan to pick up either of these shades?
Disclosure: I purchased both nail polishes. For more info view my
Disclosure Policy
.