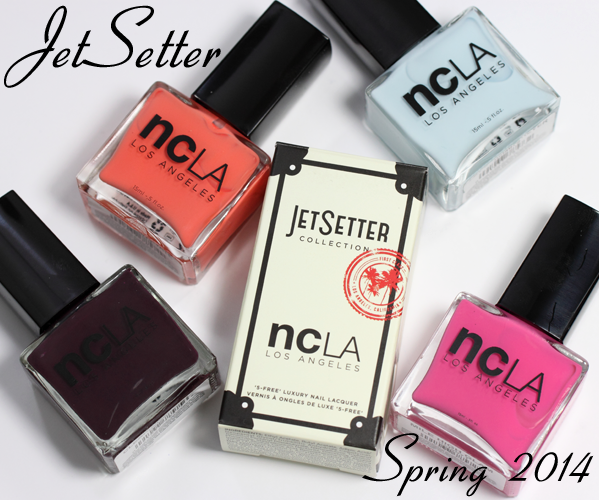 We're going on a trip this spring with the travel-themed collection, NCLA JetSetter. The brand that has recently given us textures, glitters and holos galore is going back to basics with four new seasonal cremes that help round out their overall color range.


Formula & Application
NCLA nail polish is 5-Free (Formaldehyde, Toluene, DBP, Formaldehyde Resin, Camphor). The bottle is a hefty, glass rectangle topped with a shiny square cap that is removable to reveal a round, ribbed inner cap. The brush is flat but narrow with long, flexible bristles that have just enough stiffness to allow for control.
All four polishes are cremes and they have a squishy feel that makes them a dream to apply in terms of placement and creating a smooth curve along the cuticle. The pigmentation is decent but not great. For the most part, I needed three coats for full coverage. Let's Stay Forever was the lone exception as it was kind of streaky and really needed four coats to get an even surface and complete opacity.

NCLA Clear The Runway is a berry-based wine creme. It's pretty vampy but not so dark that it enters almost-black territory. It reminds me a lot of Dior Black Plum, only darker.
NCLA I Only Fly Private is a melon creme. It's not quite orange, not quite coral, not quite peach. It's caught somewhere in the Bermuda Triangle of those three shades. To me, it's a less pink version of butter LONDON Trout Pout.
NCLA Let's Stay Forever is a pale blue sky creme. It's very light but not chalky. It's in the same range as Zoya Blu but looks a tad greener next to it.
NCLA Mile High Glam is a blue-based hot pink creme. It's very bubblegum, very Barbie. I don't own any exact matches for it but the popular CND Hot Pop Pink is a kissing cousin.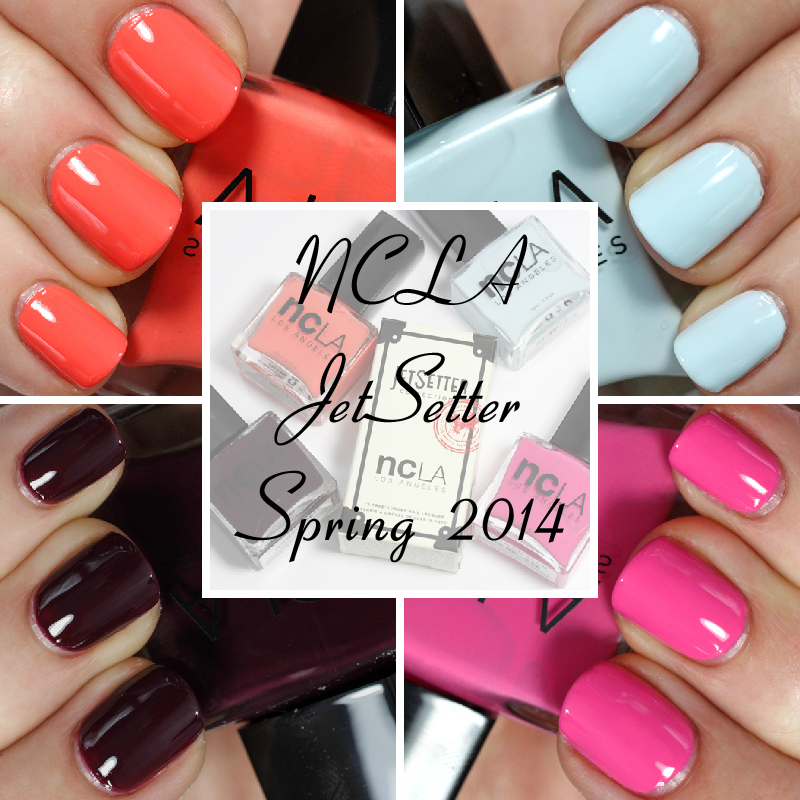 Bottom Line: As I stated above, these shades are basics. We're not talking earth-shattering creations here. But, as I shared in my recent Top 10 Accessories for Spring 2014 post, I'm loving corals and melons like I Only Fly Private, so that is definitely my winner for must-have of the collection. The only polish I can't say I'd recommend is Let's Stay Forever due to application and opacity issues.
NCLA JetSetter will launch in April 2014 at Ricky's NYC and Kitson LA and online at Beauty.com, RickysNYC.com, and ShopNCLA.com. NCLA nail polish retails for $16/ea for a .5oz bottle.
Have you tried NCLA polish before? Are you a fan of the brand? Do you plan to get any of the JetSetter colors?
Disclosure: Product samples were provided by reps for NCLA. Affiliate links appear in this post. When you purchase through an affiliate link, you help support this site. For more info view my
Disclosure Policy
.