I know I've mentioned it in the past but one of the best things to come from starting this blog is the people I've met. Readers, brand reps and my fellow beauty bloggers. My blogging buddies have become some of my closest friends, which is why I'm thrilled to be joining a group of my fave ladies in Makeup Wars!
Makeup Wars is a battle among bloggers to share their favorite products in a variety of topics; fave purple nail polish, best sunscreens, etc. This week is Color Wars! Each blogger in the group selected a shade to highlight and I chose TEAL!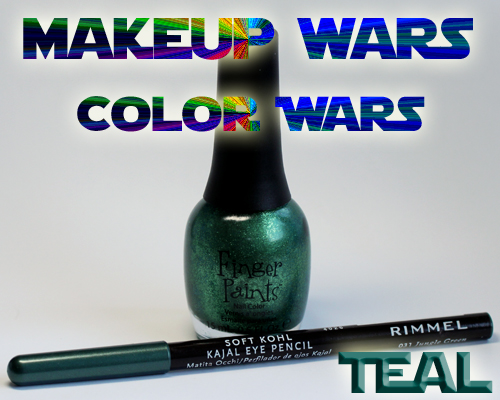 Affiliate Link|I Bought This|Press Sample
I have an affection for teal since it combines two of my favorite shades, blue and green. And unlike Jennifer Lopez's character in The Wedding Planner, I do not associate teal with "the color of gangrene." It's a fab accent color for eyes and simply stunning on nails.
Not only is teal shaping up to be one of the hot colors for Fall 2013, it's also part of my FingerPaints A Pair Affair by All Lacquered Up collection. And today I'm thrilled to give you the first real look at FingerPaints Our Tips Are Tealed, paired with one of my all-time favorite eyeliners. Plus, I have three more gorgeous teal polishes to share.


FingerPaints Our Tips Are Tealedis a teal that leans heavily towards green, filled with tonal micro-glitter and metallic glass flecks. The finish definitely has a bit of texture but you can barely feel it with top coat. The result is an overall metallic teal with tiny star-like glitter particles that dance in the light. My vision was a teal sparkler that bordered on emerald green and I couldn't be happier with the result. It's unlike any color I own.
I have a weakness for glittery teals and these definitely come in a close second to my creation.
China Glaze Watermelon Rind ($5 Amazon.com) was such a hit in the Summer Days glass-fleck collection that it became a perm shade. For good reason, it's stunning. A little sheer due to its jelly-ish nature but buildable and utterly gorgeous.
LA Girl Rock Star Head Banging ($4 at LAGirlUSA.com) is a vivid blue-green with smooth glitter.
Finally, Milani Key West ($2.97) is a smooth teal glitter filled with tiny micro-sparkles and is even more vibrant in person. It falls somewhere between Watermelon Rind and Our Tips Are Tealed. It definitely has a lot of green in its base but not quite as much as OTAT.

When it comes to eye makeup, I tend to keep it pretty neutral. I own tons of unique shadows but my go-to is the Urban Decay Naked 2 ($50) palette. I love a palette for its ease in pairing colors and I use this cooler, taupe counterpart of the original Naked palette about 90% of the time.
To spice things up a bit, I like to add a colored liner. Rimmel Jungle Green Soft Kohl Kajal Eye Pencil ($3.67) has been part of my arsenal for almost ten years. And for an enhanced but natural lash look, I've been turning to Revlon Lash Potion ($4.99) of late.
For this look I used Tease all over the lid, YDK in the inner corner, Snakebite in the crease and a touch of Busted in the outer corner. And despite its name, Jungle Green is a rich, shimmery teal.
Our Tips Are Tealed and Jungle Green play well off each other, no?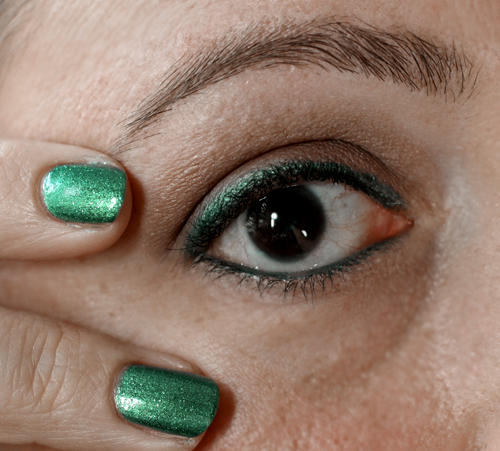 FingerPaints Our Tips Are Tealed from A Pair Affair by All Lacquered Up will release September 2013 at Sally Beauty stores nationwide.
What do you think of Our Tips Are Tealed? And what are your favorite teal colored beauty products? Do you own any of the ones I listed? If you were in a color war, which shade would you choose? 
Disclosure: Samples of China Glaze Watermelon Rind, FingerPaints Our Tips Are Tealed and Revlon Lash Potion were provided by reps for the brands. I received a sample Urban Decay Naked 2 palette from reps for the brand but purchased a second palette on my own. All other products were purchased by me. For more info view my Disclosure Policy.