Matte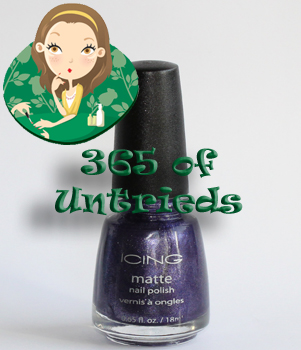 365 of Untrieds is my personal challenge to weed through the polishes in the ALU stash that I've been wanting to try but just haven't gotten around to.
I rarely make it to an Icing accessory store since we moved a few years ago which is a shame because I really love their polish.  The closest one to me is a hual and in a pretty unremarkable mall.  With the Cleveland shopping mecca, Beachwood Place, so close, I never see the purpose in traveling to other malls.
However, last summer I found myself visiting friends near Detroit and had an afternoon free so I FINALLY got to meet up with K. from Pumps and Gloss for some retail therapy. I introduced her to the wonderful world of Icing nail polish and discovered that they had joined the wonderful world of mattes.
Now I know that mattes are "so 2009″ and all but they're still a great last minute manicure option due to their quick dry time. Besides, the metallic mattes look fantastic with a glossy top coat so polishes like Icing Bet Me And Lose aren't just one trick ponies.