Emmy Awards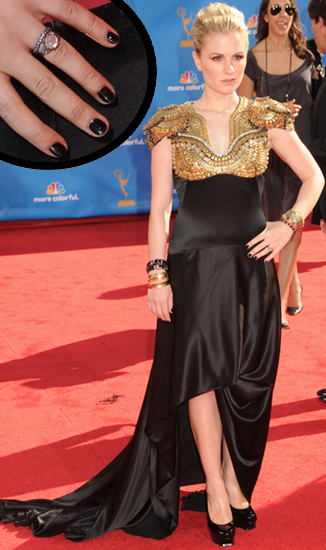 I don't know what's so special about black nail polish but apparently Anna Paquin is being as secretive about her nail color at last night's Emmy Awards as she was about her wedding to Stephen Moyer. The True Blood star requested that Celebrity Green Nail Stylist Jenna Hipp be sworn to secrecy! If you ask me, that is just plain silly.  I get wanting your personal life kept private but NAIL POLISH??  Sookie, get over yourself! 
In her defense, Jenna did say that Anna was an absolute pleasure to work with.  Even though I couldn't get her to spill Anna's nail color she did say that, "Anna was full of smiles and very hospitable! She and Steven even served me fresh lemonade!" My guess, this is her publicist's call but it's still lame sauce.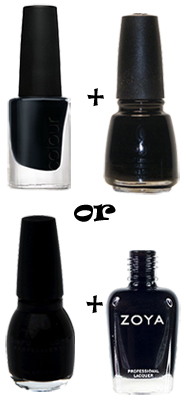 However, Jenna did clue me in that she layered two black colors to achieve extra depth and shine. If you want to copy Anna's look, I suggest you try CND Oilslick, a green based black with China Glaze Liquid Leather, a brown based black on top.  The different bases will give you a more true black and the jelly-esque nature of Liquid Leather will add a cool, squishy looking texture.
Another option is to add just a whisper of shimmer using Sinful Black on Black, my go-to black creme, over Zoya Raven with its subtle silver pearl.  The silvery specks will just barely peek through.
You know, Sookie and Bill are my least favorite characters on True Blood and something as silly as not releasing a nail color doesn't help their cause.  What are your thoughts on this? Regardless of the top secret nail drama, Jenna gave Anna an amazing manicure and her hair and makeup were flawless.  The dress left something to be desired for me.