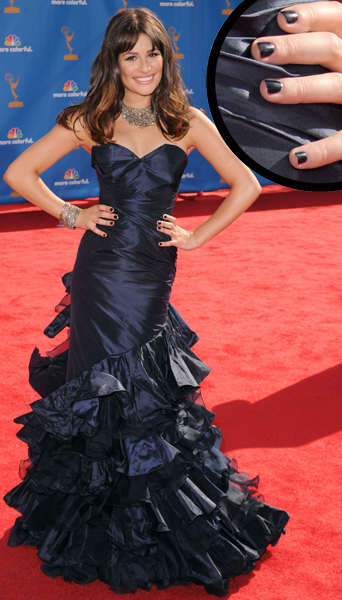 Birthday girl Lea Michele ruled the Emmy red carpet in a stunning navy Oscar De La Renta gown.  The Glee star, who IMO should have won for Best Actress, glowed from head to toe.  She is my pick for best dressed of the night and in some shots I've seen, she strongly resembled Penelope Cruz.  After all they do both love Mr. De La Renta's frocks.

Lea's glam squad was comprised of Makeup Artist Melanie Inglessis for NARS, Hair Stylist Mark Townsend for Dove and Manicurist Deborah Lippmann.  Melanie Inglessis used NARS new Pure Matte Lipstick in Tashkent and while I was leery about the whole matte lip trend taking us back to 90s, it looks beautiful on Lea.

Pairing dramatic winged eye liner with nude lips and full, tousled hair, Lea's nails were painted a deep, dark hue to match her dress.  Can you guess what polish Deborah used?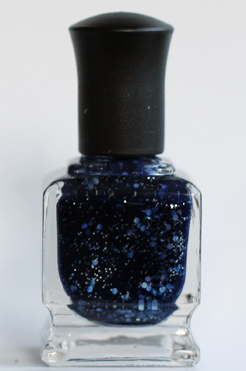 Lady Sings The Blues from the Deborah Lippmann Anniversary All That Jazz set was used on both fingers and toes but in two very different ways.

Deb told me that to keep the fingers more subtle she, "polished thinner layer[s] and kept the sequins off." However on the toes she went for full on glam doing two regular coats of the polish. It's just a shame we weren't able to see that due to the length of Lea's dress.

Behind The Scenes Scoop: Lea is the first celebrity Deb used LStB on.  And because it was her birthday, Deb sang a bluesy version of Happy Birthday to Lea and presented her with a bottle of Happy Birthday nail polish.
Lady Sings The Blues is a deep navy with silver and blue square micro-glitter and cornflower blue octagonal sequins.  The base color is a semi-sheer jelly, similar to Across The Universe only I found it to be more pigmented.  Unlike AtU I only needed two coats of LStB for full coverage.  The swatch below is of two coats applied normally with no dotting to place the sequins.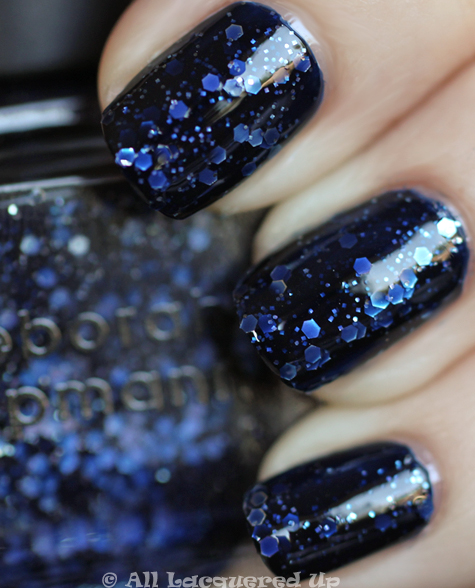 Lady Sings The Blues is only available in the Deborah Lippmann All That Jazz set which is now available online at DeborahLippmann.com and also at Nordstrom.com and Nordstrom stores nationwide. The set retails for $40 (a $14 savings) and includes the pink glitter Some Enchanted Evening and raspberry glitter Razzle Dazzle.
Who agrees with me that Lea should have won last night?  I would have been delighted to see either her or Amy Poehler take home the statue.  Like Edie Falco said, she's not funny though she is brilliant at playing a character with no redeeming qualities on Nurse Jackie.
On the beauty/fashion side of things, where did Lea rank in your best/worst dressed lists?  Do you like the matchy-matchy dress/nail look or think she should have gone with something contrasting?  While I normally coordinate my nails to my look I can't help but love the dark nail on her.
Disclosure: I purchased the All That Jazz set myself.  For more info view my Disclosure Policy.