Dermelect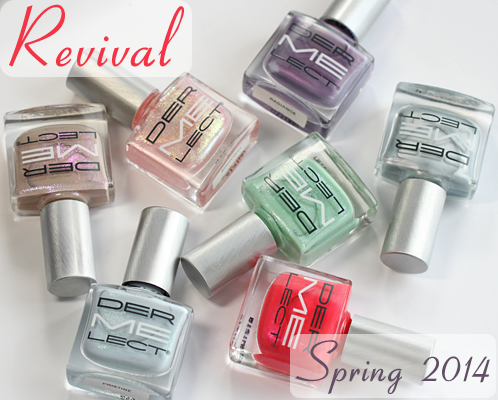 The latest collection from the Dermelect ME nail polish line, Revival, is about more than just the renewal of spring. It also marks the first shimmers and metallics from the creme-based brand. Celebrity Manicurist and Dermelect Color Curator, Elle, created six new full-coverage shades and one transformative flecked top coat.
Continue Reading »
Fear No Beauty's Karie Frost is one of my fave backstage buddies at NYFW. As the Beauty Director for Nail It! magazine and NAILPRO, she's an industry vet yet she never puts on airs. She's just a chill, sweet chick with a bold eye for color and beauty. All the amazing nail looks on the Nailpro and Nail It! covers? Karie dreamt up the concepts.
It's no wonder that my pal, Celebrity Manicurist and Dermelect Creative Director, Elle, wanted to collaborate with Karie for the Dermelect ME Summer 2013 nail polish collection, appropriately named Fearless Beauty. Karie's no holds barred approach to beauty empowers women to take a chance with their look.
"I see hundreds of new nail products cross my desk each year, and Dermelect really caught my eye," says Frost, who not only founded beauty blog FearNoBeauty.com, but has also worked for 12+ years on top nail industry magazine Nailpro and new consumer nail magazine Nail It!. "The science behind the nail treatments, and now the new ME lacquer colors, truly deliver stronger, longer nails—the perfect canvas for brilliant manicures. I wanted to bring brave new colors to the brand's ME lacquers—colors that will not only inspire women to take fun, fearless shade risks with their nails, but also feel confident while doing so."
Continue Reading »
It's April 1st, aka April Fool's Day, and it also happens to be Dyngus Day, which even though it's celebrated in Cleveland, I had never heard of until the Anderson Cooper giggle-fest last year. So whether you're pranking your friends, spraying girls with water, hitting boys with pussy willows, or trying to avoid a "case of the Mondays", I hope your week is off to a good start.
This is just a quick Mani Monday. I celebrated Easter with my family yesterday and when I decided to wear a bright color-block dress, I knew I had to switch up my nail look from the pastel fishtail braid I showed you on Friday. Enter, the Fearless Beauty collection from Dermelect, created by Celebrity Manicurist Elle and Fear No Beauty's Karie Frost.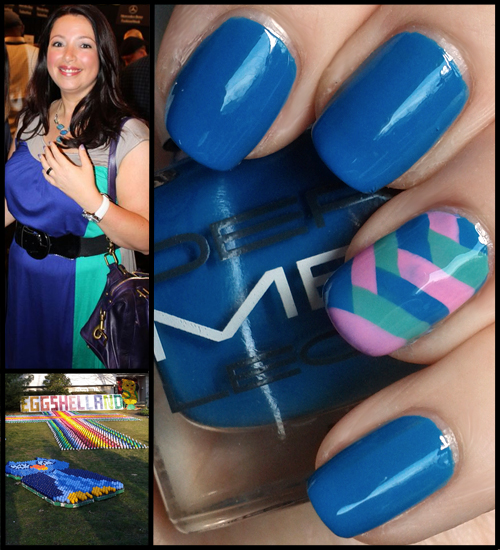 I used Fearless (cobalt blue), Moxie (bright, not chalky, pepto pink), and Renegade (jade) to create the look. The colors paired perfectly with my dress, shown above when I wore it to NYFW last September.
Since we don't have kids and Mom finally stopped hiding Easter baskets, after doing it for 30+ years, Easter is pretty laid back, just an early dinner. But this year we stopped by the famous Eggshelland for a visit. I've never been and hearing this was the last year, I had to go. The display uses over 20,000 enamel painted egg shells and it's quite a sight. If you're in the CLE, they'll have it up until April 5th so head on over.
The Dermelect Fearless Beauty collection will be available this summer so consider this an early preview with a full review closer to launch.
If you celebrate Easter, did you create a special manicure? Does your city have any Easter displays like Eggshelland? Have you tried Dermelect nail polish? What do you think of the new summer shades?
Disclosure: Product samples were provided by reps for Dermelect. An affiliate link may appear via a third party link service. For more info view my Disclosure Policy.