I'm a strong believer that there is no such thing as too much green. St. Patrick's Day is the perfect time to put that theory to the test. From my bright green loafers to my pool felt colored pea-coat to my Lucky Charms tee and shamrock accessories, I'm ready to be faux-Irish for a day.
This year, instead of doing nail art, I just want to wear a glorious new green that I've never used before. A deep dive into my Helmer unearthed Morgan Taylor Later Alligator. And with the perfectly-timed arrival of the Nicole by OPI Coca-Cola collection, my St. Patrick's Day nails were born!


St. Patrick's Day Manicure
I don't know how Morgan Taylor Later Alligator has remained untried in my collection for so long. This bright emerald green creme is the PERFECT color to celebrate the Emerald Isle. The polish is richly saturated, the formula is thin, creamy and pigmented, and it dries with a super glossy finish. I mean, does it get any better?
To add a little bling to the look, I applied a couple coats of Nicole by OPI Seriously Citrus. The clear-based glitter has a mix of white, lime and blue matte glitter with metallic emerald glitter, all in varying sizes.

I picked up this Lucky Charms tee at Old Navy a few years ago, and while I will wear it throughout the year, today is the day I always pull it out, along with my green shamrock sunglasses. Even though I'm a craft beer drinker, I'm not above taking a pair of promo sunglasses from a Miller Lite girl.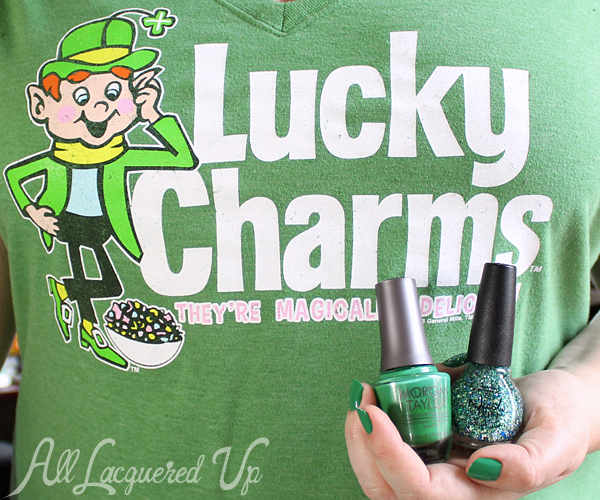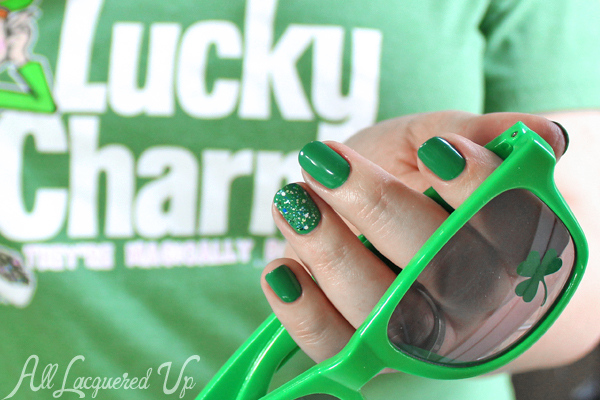 Morgan Taylor Later Alligator is available online at LoxaBeauty.com, JCPenney.com and Amazon.com. Nicole by OPI is available at select CVS, ULTA Beauty, Kmart, ShopKo, Harmon, and Giant Eagle locations.
Are you wearing green for St. Patrick's Day? What's your favorite emerald nail polish? 
Looking for more green-spiration? Click the images below to view my past St. Patrick's Day picks.
  Disclosure: Product samples were provided by reps for Morgan Taylor and Nicole by OPI. Affiliate links appear in this post. When you purchase through an affiliate link, you help support this site. For more info view my
Disclosure Policy
.