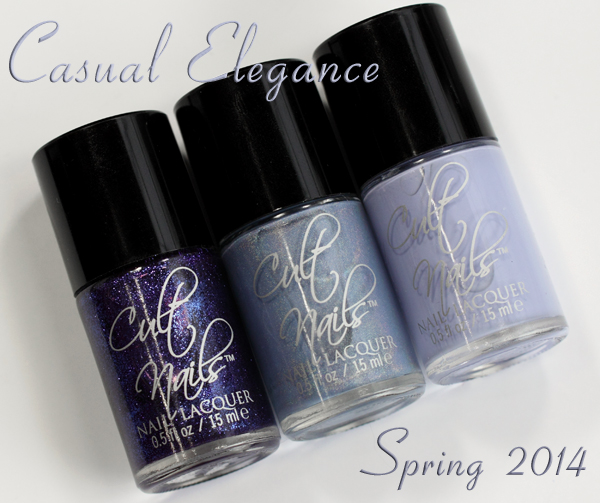 Purple has got to be one of my favorite shades to wear, period. In clothes, makeup, nails, etc. As much as I love green, and you KNOW I do, purple tends to be more flattering on me. So when I heard that Cult Nails newest collection was all about purple, I knew I'd love it.
Releasing in a very limited run (only 500 for pre-sale), I think of Cult Nails Casual Elegance as a capsule collection; three essential purples for spring in a range of finishes. And because the collection is sold with a set of Nail Vinyls nail art stencils, I'm showing you three different nail art looks you can create with the polishes.


Formula & Application
Cult Nails nail polish is 5-Free (Fomaldehyde, Toluene, DBP, Formaldehyde Resin, Camphor) . The bottle is round with a round plastic cap that houses a round brush of average length and noticeable girth. The bristles are nice and flexible so they fan out easily across the nail plate without causing any dragging. In short, I love the brush. It is definitely one of my favorite nail polish brushes.
All three shades vary in opacity with Casual Elegance giving the best coverage. It is almost a one coat wonder and extremely smooth. No chalkiness, streaks or lumps here. Intriguing is a soft linear holo that is a bit sheer but buildable and silky smooth. I recommend three thin coats. Winter's Light on the other hand, is a jelly-based glitter that can be worn over the other colors or on its own with three coats.
As a way to support other small nail businesses, the pre-sale collection include a sample of chevron Nail Vinyls, which are pre-cut nail art stencils that are used like tape. They come in an array of shapes including chevron, hearts, stars, etc. You just apply the Nail Vinyl to dry polish, paint over and pull up with tweezers.

Gradient with Mini Chevrons
I recently placed a Nail Vinyls order so I have the mini chevrons on hand. I decided to do a soft gradient with Casual Elegance and Intriguing using a sponge and then, when dry, I applied the Nail Vinyls and polished Winter's Light over top.
Large Chevron featuring Let It Fly
Teal and purple is a favorite mani/pedi combo and Cult Nails Let It Fly is a stunning teal so I made it the backdrop for Casual Elegance and Intriguing, using the large chevron Nail Vinyl that came with the set.
Fishtail Braid Nail Art using the Casual Elegance Collection
It's been a while since I've worn a fishtail braid manicure and a trio of purples is perfect for this technique, as it's best created with three shades. As you can see, my application of Winter's Light wasn't the most even but, if anything, it gives you a good idea of the polish's opacity and jelly base.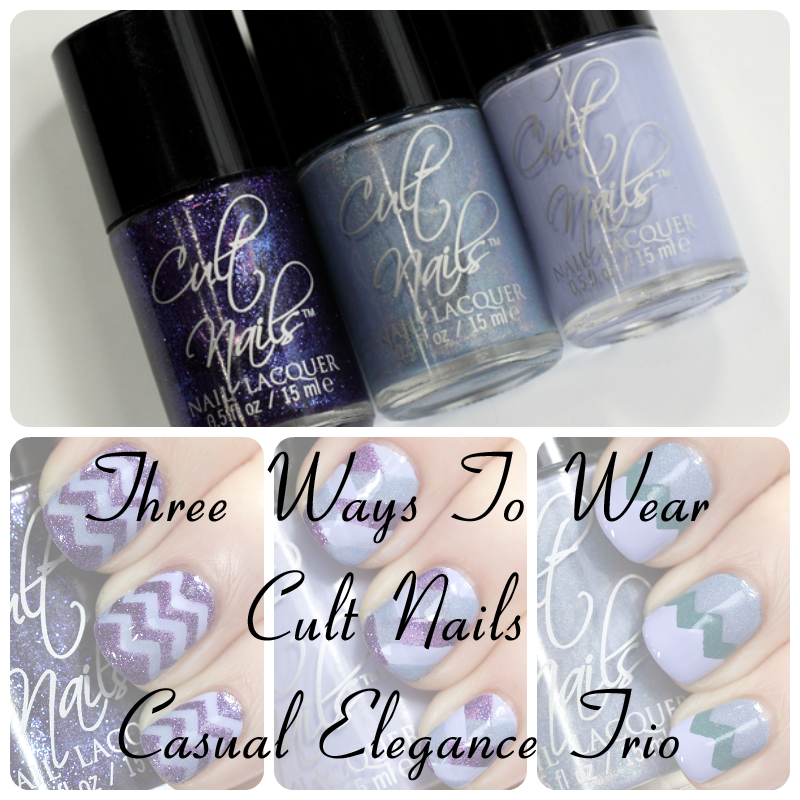 Bottom Line: If you love purple like I do, you'll want to pick up this new trio from Cult Nails. I can't wait to see the sun bring out the holo in Intriguing, when it finally reappears in Cleveland. And I like that Casual Elegance isn't too warm, as warm purples make me all "lobster hands."
Cult Nails Casual Elegance is available now for pre-sale through April 2nd at CultNails.com. There are 500 sets available for $24/set. A limited number will be available after the pre-sale.
Alright my fellow purple lovers, who's going in on this set? Have you tried Nail Vinyls? Which design of mine is your favorite?
Disclosure: Product samples were provided by reps for Cult Nails. For more info view my
Disclosure Policy
.