New for Spring 2014, the OPI Sheer Tints Top Coats marry Lucite-esque jelly nail polish with a high gloss top coat to create a transformative new option for those of you who love to layer. These four new shades are designed to be used solo as a sheer wash of color, as a shade altering top coat or for watercolor nail art designs.


Formula & Application
OPI Sheer Tints Top Coats are 5-Free (Formaldehyde, Toluene, DBP, Formaldehyde Resin, Camphor). The OPI Pro Wide brush is flat, wide and medium in length. It's of average stiffness and easily spreads out on the nail when pressed. The only downside to the Pro Wide brush is that it can be too wide for slim fingers or little toes.
Sheer Tints have a consistency that is very thick and gooey. To the point that when you pull the brush out of the bottle, you can see thin strings of polish still connected to the bottle.
You have to careful applying the polishes because the thick consistency makes it hard to get even coverage. Yes, you can thin them out but you shouldn't have to. Personally, I look at thinner as a last possible resort. I find that, over time, polish will continue to break down after you've added thinner.
That being said, they are fun to layer over colors, though you get a more dramatic color changing effect when layered over lighter colors, like white/pastels.

OPI Be Magentale with Me
(thumb) is billed as red, and it certainly looks that way in the bottle, but it would take a lot of coats to get there so I'm calling it pink.
OPI I'm Never Amberrassed
 (index) looks orange in the bottle but is actually a lemon yellow. It's pretty strong when layered with other shades so I suggest using it on the bottom in a layering combo to keep it from overtaking the other Sheer Tints shade.
OPI I Can Teal You Like Me
 (ring) is a pretty true blue, in spite of its name. It's definitely the thickest and most difficult polish to work with of the bunch.
OPI Don't Violet Me Down
 (pinkie) is a warm, red-based amethyst. It's the most pigmented yet the most streaky.
I'm showing all the shades, with two coats, over an opaque white base to give you an idea of their true color. I also layered I Can Teal You Like Me over I'm Never Amberrassed (middle) to give you an idea of how they combine.
To see how they would work for a jelly sandwich, I added a layer of glitter (Essie Set In Stones) and another layer of each Sheer Tints shades. You can see how intense they get with additional coats but this is when you have to start worrying about bubbles (see below).
One of the ideas OPI offers for use with Sheer Tints is an ombre/gradient manicure. They showed the technique in this video.

I decided to give it a go with I Can Teal You Like Me over white, because I hate seeing my free edge under sheers.
The problem… bubbles. Lots of bubbles. It's obviously an issue of too many polish layers and not enough dry time in between. If you have the patience to wait long enough between coats to avoid bubbles, it's a cool look.
I even tried it once again with less coats and a minute or two between coats and I still got bubbles. I tested it without the white base, thinking that might be the problem but, no, even more bubbles. I'm at a loss.
The OPI video clearly uses much thinner and fewer coats but that's not easy with this formula. I'd love to see their manicure, up close, once it's fully dried to confirm that bubbling didn't occur.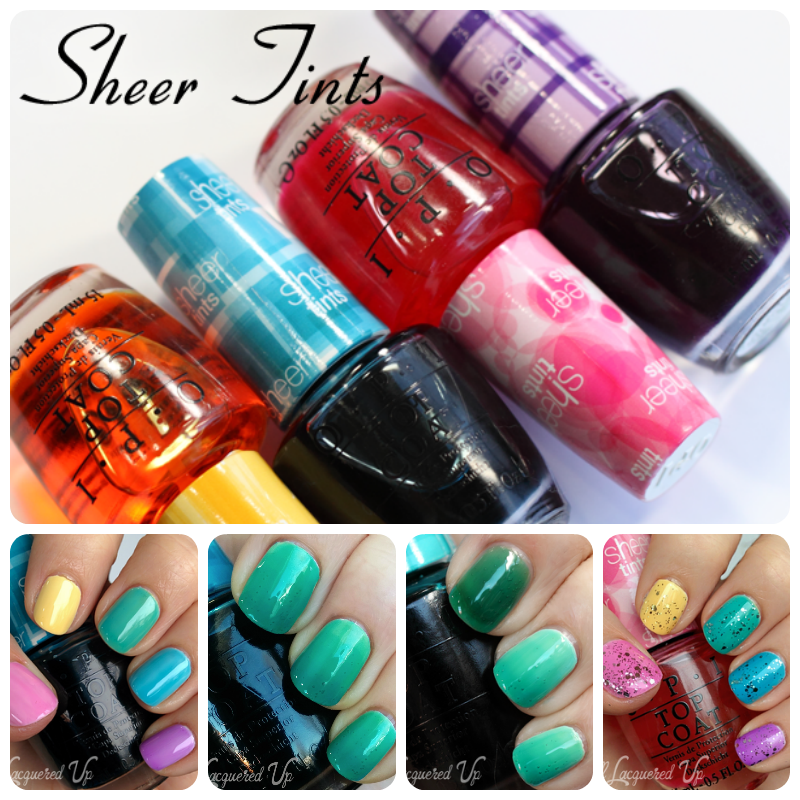 Bottom Line: I like the concept of the Sheer Tints and for a 1-3 coat layering combo, they are so fun. It's when you get into looks that require more layers that you have to budget enough time to allow for proper drying of each coat. If only the bubbling wasn't an issue, I would give them two thumbs up. As it stands, I'm mixed. Great when used in three coats or less. Not so much beyond that.
OPI Sheer Tints Top Coats are available now at salons and spas nationwide including Beauty Brands, Beauty First, Chatters, Dillard's, jcp Salons, Pure Beauty, Regis, Trade Secret, ULTA and ULTA.com for $9/ea for a .5oz bottle. You can also get a set of minis for $12.95 on Amazon.com
.
What do you think of the OPI Sheer Tints? Do you plan to pick up any of the shades? Have you successfully thinned them or found a trick to avoiding bubbles, besides time?
Disclosure: Product samples were provided by reps for OPI. Affiliate links appear in this post. When you purchase through an affiliate link, you help support this site. For more info view my
Disclosure Policy
.