As I mentioned in my 2014 Resolutions, I want to amp up things here on ALU. One of the ways, is to create more opportunities for us to interact.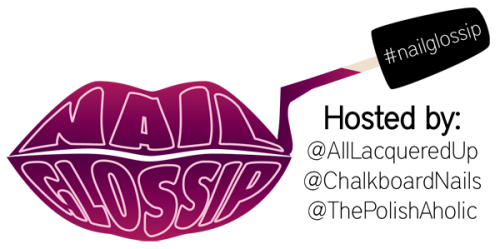 Which is why, this Sunday, January 12th at 9pm EST,  I'm thrilled to be part of a new bi-weekly Twitter Chat called #NailGlossip with two fabulous co-hosts, Sarah from Chalkboard Nails and Jen from The PolishAholic.
Since it's Golden Globes night, we'll be talking Red Carpet Nails, Celebrity nail polish collaborations and more. Plus, there will giveaways throughout the hour as a thank you for joining us.
Join In The #NailGlossip Fun
Follow us on Twitter @AllLacqueredUp, @ChalkboardNails, @ThePolishAholic and tweet using #NailGlossip.
RSVP to the chat on Twubs to follow the conversation, interact with us and get updates about future chats. Visit Twubs.com/NailGlossip to connect.
Giveaway Rules
In order to be eligible to win a prize during a #NailGlossip chat, you must be: A US Resident, follow @AllLacqueredUp @ChalkboardNails and @ThePolishAholic on Twitter and use the hashtag #NailGlossip.
Winners will be randomly selected. You must provide your address within 48 hours of prize notification. Prizes will ship within 6 weeks of Twitter chat.
So mark your calendars, friends, and join us for some #NailGlossip this Sunday night!