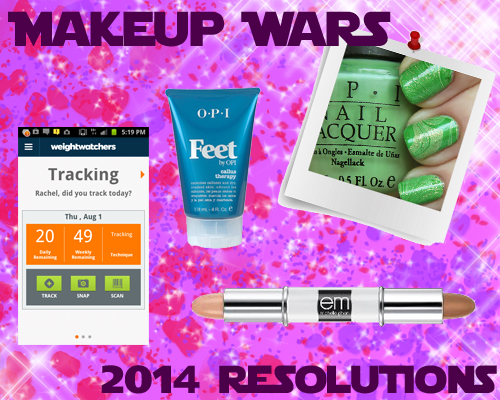 My theme for 2014 is all about getting back on track. 2013 was kind of crazy for me. There were some major highs and devastating lows that threw things out of whack. And while one of the high points was getting back into the game with my blog, which quietly turned 7 last week, I want to take things to the next level in 2014.
I have set some attainable and logical goals for myself in the beauty, blogging and health realm, which fits in with this week's Makeup Wars theme, 2014 Resolutions. Previously, I gave you some ideas for Nail Resolutions, now it's time to share what my goals are for the coming year.


Actually use my Weight Watchers app – Beauty comes from within and I feel my most beautiful when I'm healthy. I've been a WW Online member for over 2 years and it helped me shed 55 pounds. But in the past six months, I've slacked off, hardcore, and it shows. It's time to cut the crap and count EVERY.SINGLE.POINT! Even if I go over my daily/weekly allotment, I need to be accountable. No excuses!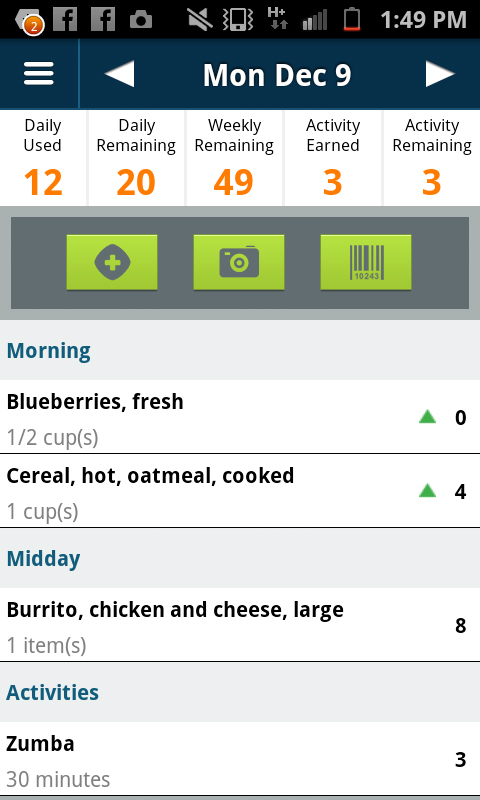 Get my money's worth out of my Gym Membership – Eating habits and fitness go hand in hand towards a healthy body. I tried giving C25k another go but my knees and shins were not playing that game so it's back to the gym. Thankfully, I have a makeup artist as my gym buddy. She helps keep me motivated. Plus, knowing there will be talk of nail polish and beauty products while I sweat, makes it much more appealing.
Take better care of my skin – I've been bad about washing my face every night, you guys. Even though I stash packs of cleansing wipes in my nightstand, I still pass out with a full face of makeup some nights. Shame me, I deserve it! The result is regular breakouts, IN MY LATE 30s! Unacceptable. Especially considering how long it takes me to heal. We're talking red marks for months, no joke. I vow to make regular use of my fave Kiehl's face wash and Clarisonic.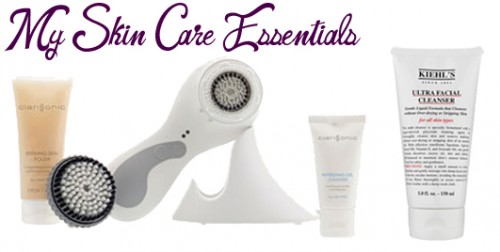 Finally make an appointment with a Dermatologist - Piggybacking off my last goal, I am way overdue for a visit with a derm. It's been over 10 years and given the fear that I'm developing rosacea, it's about time I see a pro and stop self medicating.
To not ignore my feet in winter – All summer long, I am on my foot exfoliating game like no other. My nail tech always compliments my soft skin. But in the winter, it's like I forget what a foot file is. I get regular pedicures but, in between, I am laaaaaaazy. I need to make use of my Feet by OPI Callus Therapy
lotion and Gena Pedi-Pro File even when they won't see the light of day. Maybe I should look into the Clarisonic Pedi.
To master Contouring and Highlighting – I can watch YouTube gurus teach me about highlighting and contouring all day long. It's one of my biggest time sucks. And I constantly contemplate the em by Michelle Phan Chiaroscuro stick. The thing is, when I try to replicate it, I look like a hot mess. Either I don't have the right products or technique so this is the year I make it my bish!

I will attempt Water Marbling once more – When I originally posted about my water marbling experience, declaring it my last, lots of you gave advice in the comments. Fabulous advice. And since the scars from that PITA incident have healed, I will heed your tips and tricks and give it a go. Giving up after one try was kind of pathetic.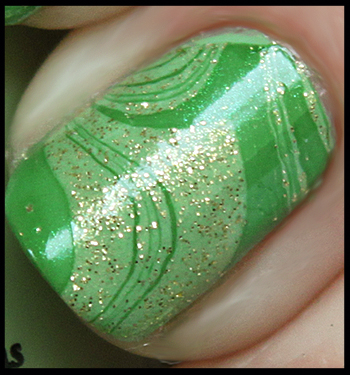 Finally, I want to up my blogging consistency and deliver more unique content outside of my standard product reviews. I have a lot of ideas, including the revival of some older series that you all enjoyed, so stay tuned! Let's make 2014 our best year yet!
Do you make resolutions or goals at the start of a new year? What are some things you want to accomplish in 2014?
Disclosure: Affiliate links appear in this post. When you purchase through an affiliate link, you help support this site. For more info view my Disclosure Policy.