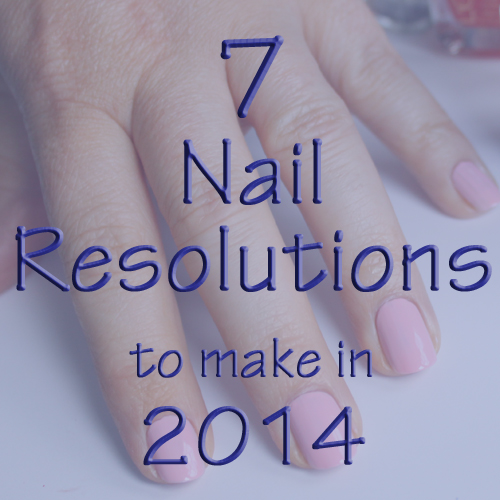 I'm pretty lax when it comes to a lot of things, like picking up after myself or staying organized, but I take my nail care seriously. No doubt this blog is a major reason why.
But, based on comments and questions I've received over the years, there are still lots of you committing major nail sins when it comes to manicure maintenance. So I've come up with 7 Nail Resolutions every nail polish fanatic should follow. I hope you'll add them to your 2014 list of resolutions/goals. And if you already do all these things, you go, Glen Coco.


7 Nail Resolutions for 2014
1. Step Away From The Cuticle Clippers – Unless you have a hangnail or a serious amount of excess skin, cuticle nippers are unnecessary and can be damaging. Use a cuticle softener (I like Orly Cutique and Sally Hansen Instant) and an orange wood stick to gently push cuticles back.
2. Use Cuticle Oil Daily – When people compliment my cuticles, like Stacie from Pitch Perfect, I attribute it to my hobbies which, "include cuticle care and E! Network." Seriously, you guys, I never leave home without my trusty cuticle oil pen and I have a bottle of CND Solar Oil on my desk at all times. Using a product like CND Cuticle Eraser is one stop shopping as it takes care of both Resolutions 1 & 2. Tip: I apply Solar Oil before using polish remover to help protect my skin.
3. Stop Overbuffing Your Nail Beds – One thing that can weaken your nails over time is overzealous buffing. Yes, we all want perfectly smooth nails and ridges are the WORST but buffing them to oblivion is only a stopgap. If you must buff, apply cuticle oil first to make it gentler and to nourish the nail bed.
4. Moisturize Hands After Washing – Your hands can age you pretty fast so keep them in tip top shape by moisturizing throughout the day. The easiest way to adhere to this resolution is to keep pump hand lotions by each sink in your house. I stock up on Lubriderm Advanced Therapy. I love that it doesn't have a girly scent so the boyfriend will it as well. I also apply Dermelect Timeless Anti-Aging lotion before going out because it reactivates in water, eliminating the need to reapply after every washing.
5. File Nails In One Direction – Considering that I often read this advice from professional manicurists in magazines, it kills me every time I get a manicure and the tech saws at my nails, ugh! To get a good seal and prevent water from seeping in to the nail, causing splitting and peeling, file in one direction. I find it best to file from side to middle without overlapping.
6. Ditch The Metal and Rough Grit Files – When I see a manicure set that includes a metal file, I cringe. I mean, who actually uses those things on the regular? They're awful! Instead, pick up a glass nail file
that you can reuse for years or emery boards with a grit of 180 or higher (look for the word "fine" if numbers aren't provided). The higher the grit, the better the seal you get on your free edge.
7. Stop Picking At Your Polish – I hear this all the time from friends and random people I meet. That you peeled off your nail polish, or worse, gel polish. STOP! Stop right now. If you do nothing else on this list, DO THIS! As a reformed nail biter, I understand where you're coming from and, habits are hard to break but, you need to get over this one. You're taking off layers of nail with every piece of polish you strip away. Unless you use a peel-off base coat (which I'm still unsure of), you are doing more damage than the pleasure you get from picking affords.

Alright, it's time for a little honesty. How many of you still do the things I listed above? No judgement! It's a new year and a new chance to make positive changes in your life.
Will you be adopting any of my resolutions? Or, do you have other nail resolutions you want to make?
I know, personally, I want to weed out my overwhelming stash and get rid of any dupes or dried up old bottles I've been hanging on to for sentimental reasons.
Disclosure: Product samples were provided by reps for Dermelect. And while I have received samples from CND and Lubriderm in the past, I continue to re-purchase them on my own. Affiliate links appear in this post. When you purchase through an affiliate link, you help support this site. For more info view my
Disclosure Policy
.