So, I had planned for this post to be about all the fun I had running the Run or Dye race yesterday. But someone (that would be me), didn't read the Groupon she purchased correctly and didn't actually register for the race. Whoops! Attention to detail is clearly my strong suit.
Anyway, I think it turned out for the best that I didn't run. I was in no way, shape or form prepared for it. And that needs to change!
Let's back up a second. If you've been reading for a while, you know that over two years ago, I started a journey towards better health by joining Weight Watchers and exercising. In a year, I managed to lose 55 pounds, which was awesome. Then came last summer's plateau.
Realizing that Zumba wasn't cutting it, I decided to try the Couch to 5k running program. There are a ton of great apps that make it really easy to follow (search for C25K). I prefer RunDouble but there are free ones as well.
Now, let me preface this by saying that outside of "running" the mile in gym class, I hadn't run at all since high school. But for some reason, this program worked for me and I found myself enjoying running. Not something I EVER expected to say. I wasn't losing weight but I also didn't gain while enjoying fun summer foods and my favorite craft beers.
Then, my friend Katrina convinced me to join the Liver Life Challenge program to run the Walt Disney World Half Marathon. I'll admit, I was a bit into my cups when I agreed but I registered sober. As daunting as it sounds, the program was actually an amazing experience. I met some great people, raised money for a worthy cause and, thanks to the training program and the best coach ever, Heather, I was in the best shape of my life.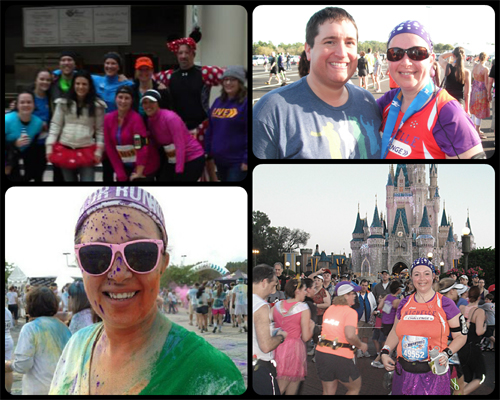 Then came the harsh, harsh winter. My clumsy ass was not about to break something running in snow and ice. I had already injured myself tripping on a perfectly clear sidewalk (just another in a long line of falls), so I wasn't taking any chances. So, when I returned from Disney in January I threw myself, head first, into spinning. I have a great gym nearby and spinning is a fantastic calorie torch.
Oh, but spinning five days a week in no way prepared me for running outside once the weather turned nice and my gym membership expired. I went out, all cocky, thinking I could blow through a 5k with no problem. Um, running a mile made me want to pass out and die. Pathetic! So what did I do? Did I rally? Hell no!
Some major, life-altering shit was going down at the same time so I hung up my sneakers, found comfort in food and essentially buried my head in the sand (as I tend to do). I'm sure you noticed that posting was lax, to put it nicely, from April to June. Yeah, there's a reason for that.
So that brings us to today. After ignoring the inevitable for way too long, I stepped on the scale yesterday. To no one's surprise, it wasn't great. It was, in fact, a giant reality check. Without running and exercise to offset my not-so-great, of late, eating habits, a few pounds crept back on (more like 10). Well, that's just unacceptable. I worked too hard to go backwards.
So, starting tomorrow, rain or shine, I'm getting back on track with exercise and healthy eating. I'm going back to Day 1 of C25k and tracking everything I eat in my WW app and when I do my next 5k, I'll be running the whole way.
Have any of you completed C25k? What about a half marathon? When you slip in your healthy living routine, how do you get back on track?