The Gwen Stefani for OPI collection is finally here and all I can say is, IT'S ABOUT TIME. Seriously, how it's taken this long for the music and fashion icon to come out with a line of nail polish, baffles me. She's as known for her red lips and tips as she is her unique vocals. Not that she doesn't stray into the world of nail art, mind you, but when I think of Gwen, I think of bold, fierce red.
So it should come as no surprise that this collection is highlighted by a signature red shade, Over & Over A-Gwen, that comes in its own Gwen-ified packaging. In addition to that, we have six new shades in a range of finishes including OPI's attempt at a true chrome. Check it out!


Formula & Application
OPI is a 4-free brand (Formaldehyde, Toluene, DBP and Formaldehyde Resin). The OPI Pro Wide brush is flat, wide and medium in length. It's of average stiffness and easily spreads out on the nail when pressed. The only downside to the Pro Wide brush is that it can be too wide for slim fingers or little toes.
In this collection there are three cremes, two satins and clear-based glitter and a chrome. I'm not sure what differentiates Satin from Matte Suede other than a naming convention. Outside of the glitter, they are all well pigmented, requiring only two coats, and buttery smooth. The only issue I had is with the chrome, Push and Shove, and I'll discuss that below.

Let's start with Gwen's signature shade, OPI Over & Over A-Gwen. You can't do a collection about Gwen without a hot red and this one is super saturated and rich. Are there dupes for it? Undoubtedly, but no one is buying this because it's a super unique shade. They're buying it for Gwen, the packaging and the Swarovski elements inside.
Speaking of, the packaging on this one is sublime. A total collector's hoarder's delight. Inside you'll find a booklet with nail art ideas, OPI nail glue (not pictured) and the aforementioned Swarovski crystals & studs.
OPI 4 In The Morning is a charcoal satin with tiny flecks of gold. It's very pigmented and smooth but when it dries, there's tangible texture. Not rough, per se, but definitely noticeable. Personally, I prefer it with a top coat. the gold flecks really pop.
OPI Hey Baby is a bright rosy pink creme. It's bold and punchy and makes me think of her "Think Pink" September 2012 Harper's Bazaar cover. The color looks a bit more bold and magenta than it is in real life. This type of shade can be so hard to capture accurately.
OPI I Sing In Color is a vampy raisin creme. It has a lot of berry in its base, which you can see on the first coat, but once the second goes on and it dries, it treads on "almost-black" territory. The formula is thin and easy to control so it's a breeze to apply.
OPI In True Stefani Fashion is a clear based glitter filled with tiny silver particles and chunky square holographic pieces. The glitter is pretty dense and not so big that the brush has a hard time scooping it up so you don't need any special glitter application techniques to get an even placement.
OPI Love.Angel.Music.Baby is a luminous pale gold satin shimmer. It dries with a much smoother texture than 4 In The Morning. The shimmer on this is really stunning and while adding a top coat brings out some extra shine, it's not as noticeable a difference as its darker satin counterpart above.

OPI Push and Shove – Now let's talk about what it probably the most unique polish in the collection and the most polarizing. Push and Shove is silver chrome metallic that promises a "reflective mirror finish." It comes with an accompanying base coat, Lay Down That Base and is to be worn without top coat. And according to the packaging, "Like all limited engagement events, Push and Shove is intended for One Night Only wear."
Let's get one thing straight from the start, you're not applying lipstick, looking into your nails, anytime soon. Don't get me wrong, Push and Shove is a great concept and probably the closest a polish has come to replicating Minx, but at the end of the day, it's still not Minx. Polish manufacturers need to stop trying to make fetch happen with that idea.
All that being said, it does look like brushed metal. While you do have to be careful in your placement, most brush strokes melt away as it dries. The downside is that every little nail imperfection will be magnified, as evidenced below. If you have perfect nails, you will love this. Peeps with ridges and dents, peace out!
Note: You MUST wait between each layer. Applying polish over wet base coat will make it streaky and lumpy. Applying a second coat over wet polish will do the same. I waited five minutes between each coat.
I'm sure, like me, you are thinking about what you could put under Push and Shove to make it better. First, I tried a coat of ridge filler UNDER Lay Down That Base, letting each coat dry for 5 minutes before adding P&S. Fail! Like lumpy disastrous fail.
Next, I tried it over Nfu Oh Aqua Base since it's designed to be worn under chromes & holos. Because my patience for testing this on my nails had worn thin, I tried it on a nail stick. Well, you can see how well that turned out. I waited over 30 minutes and this still happened. I don't know what in Lay Down That Base (no ingredients list on the package) but clearly it's necessary to P&S's life.
Finally, I wanted to see what would happen if you add a glitter/shimmer top coat. It totally dulls the finish, clouding the brushed chrome look.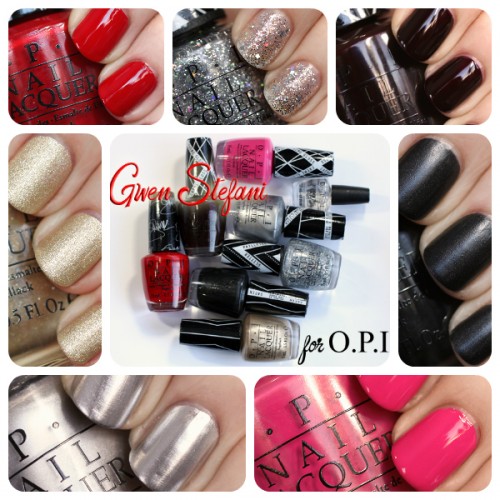 Bottom Line: Despite magnifying my nail flaws, Push and Shove is pretty damn cool. The lack of wear time makes it a bummer though. I mean, who wants to make all that effort if it's going to start chipping in a few hours? And what do you do when you run out of Lay Down That Base?
Outside of the collectible nature of Over & Over A-Gwen, the cremes get a pass. They're quality but not unique. Both Satins are stunners, even better with top coat, if you ask me. And since I don't see square holo glitter that often, I'm feeling In True Stefani Fashion.
Gwen Stefani for OPI is available now at salons and select retailers nationwide, including ULTA stores and ULTA.com. OPI nail polish retails for $9/ea for a .5oz bottle. The boxed set including Over & Over A-Gwen and Swarovski Elements will retail for $14.95/ea.
So, do you all like this collaboration from OPI and Gwen Stefani? Is it what you expected? Which shades do you plan to pick up?
Disclosure: I purchased the products reviewed in this post. Affiliate links appear in this post. When you purchase through an affiliate link, you help support this site. For more info view my Disclosure Policy.