If you've ordered from Chanel.com in the past you undoubtedly received the same email I did regarding the launch of the Chanel Côte d'Azur collection. In case you didn't, here are the deets!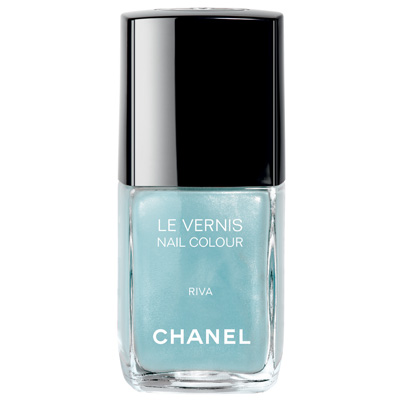 Debuting at the CHANEL Cruise Collection 2010 – 2011 fashion show in Saint Tropez on May 11th, Peter Philips, Global Creative Director of CHANEL Makeup, was inspired by the location to create a playful collection that flirts with the sun. "Effortless, natural beauty, relaxed girls who are enjoying their holidays. That was the main idea behind the look for this show. And we added a touch of playfulness by applying a pastel baby blue nail polish", says Peter Philips.
In CHANEL COLLECTION CÔTE D'AZUR, lips are adorned with Rouge Coco Hydrating Crème Lip Colour in four soft, summery shades: Perlé, Chintz, Taffeta Rose and Sari Doré. The playful spirit is accentuated down to the fingertips with the pastel blue lacquer, Le Vernis Nail Colour in Riva.
Rouge Coco Hydrating Crème Lip Colour: $30.00
Le Vernis Nail Colour in Riva: $27.00
Available for limited time exclusively at CHANEL.com, CHANEL Makeup Studios and CHANEL boutiques.
I haven't seen the color yet but I'll be sure to post a review as soon as it arrives.  How many of you intend to order Riva? A pale blue in the winter reminds me of the China Glaze Bahama Blues collection.  It was such a breath of fresh air in contrast to the drab winter weather.  I hope Riva will have the same feel though the $27 price tag is a bit much.