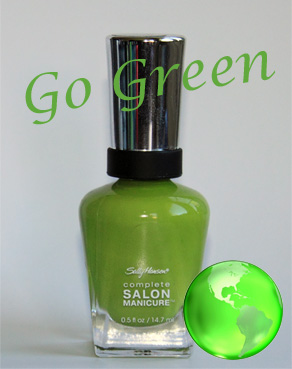 It's Go Green Week on ALU! In celebration of Earth Day on Thursday, April 22nd I'm reviewing some of the great green polishes from this season that I haven't yet shared. Included with the reviews are tips on how you can "green" your manicure routine.

Last winter I was in Michigan visiting friends when I made pit stop at Meijer's to check out the Massini brand of nail polishes that I've heard so much about.  The word on the interwebs is that Massini is made by Color Club and some of the polishes are dupes for the holographic CC's.

Of course, I got completely sidetracked when I spotted a bright green polish in the Sally Hansen rack.  I saw the Spring Tracy Reese shades backstage at Fashion Week last fall but hadn't seen the core colors yet.  Grass Slipper from the Complete Salon Manicure line jumped into my cart and it's a fantastic color.  Check it out after the jump!

If you missed my gushing rave for the Complete Salon Manicure formula when I wore it during NYFW, check out my review in my NOTD Challenge post. Long story short, the formula is smooth, glossy and long wearing even without base & top coat.  Though with Grass Slipper I HIGHLY recommend wearing a base coat to avoid staining.  Blue and green polishes are notorious for staining so always wear a base with those types of colors or learn to embrace smurf fingers.
Grass Slipper is a lime green that is very close to the paint in one of our bedrooms.  The one the boyfriend uses as his office.  I love unique wall colors and in our house you'll find red, two greens, slate blue, yellow and purple. The green in the office/bedroom is called Jalapeno Jelly by Valspar and while I LOVE the color, Valspar paint is crap.  Seriously, avoid the brand at all costs.  Getting that instead of Behr was like the worst decision ever.
Getting back to Grass Slipper, the lacquer flows on the nail easily and dries with a nice glossy sheen though it's not all that pigmented.  As I noted in my initial review of this line, the colors all seem a bit diluted so you need three coats to get them opaque.  As compared to the more yellow-based OPI Who The Shrek Are You? this color is much more flattering on me because it's more green.  The overly yellowish greens make me look deathly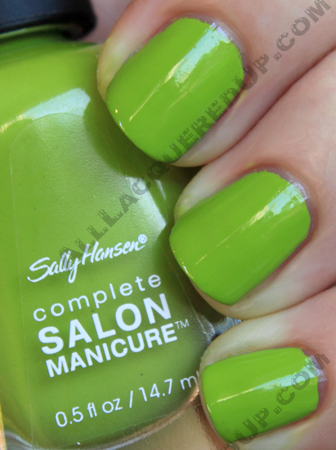 Now I know the brush is pretty polarizing among Fanatics but I personally love it. I like the curved tip that fits perfectly along my cuticle line. What I don't like is the inconsistency. They aren't all cut the same so I've had to do some trimming. Also, the long flat stick grabs paint like there's no tomorrow so you REALLY have to wipe if off well to avoid excess polish flowing on the nail. All those things aside, I'm extremely pleased with Grass Slipper.
Go Green Week Nail Tip: Help the environment by properly disposing of your nail polish and treatments.  You CAN NOT just throw nail polish bottles in the trash, even if they are empty or dried up.  We're dealing with hazardous chemicals here that can leach into the soil and contaminate groundwater.  Never pour polish down the sink or into a trash can.  Call your trash service and ask about hazardous waste disposal and take the time to responsibly dispose of your old polish.
Grass Slipper from the Sally Hansen Complete Salon Manicure line is available now at drugstores nationwide.  Prices vary by location but keep your eyes on the weekly circulars for BOGOs and 50% off sales.
What do you think of Grass Slipper?  Who else is in love with the Complete Salon Manicure line?  Do we have any detractors?  Are you wearing green for Earth Day?  Or just wearing green period?
Disclosure: I purchased this polish from Meijer's.