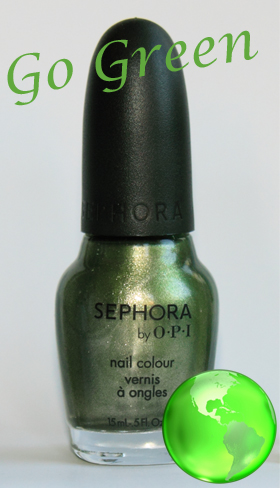 Welcome to Go Green Week on ALU! With Earth Day coming up on Thursday, April 22nd I'm celebrating with some of the great green polishes from this season that I haven't yet reviewed. Included with the reviews are tips on how you can "green" your manicure routine.

I'm kicking off Go Green Week with Leaf Him at the Altar from the Sephora by OPI spring collection Modern Flowers.  The collection itself didn't really draw me in with the exception of the sheer purple & holographic glitter, It's Bouquet with Me, and this standout green stunner.  Check it out after the jump!

Sephora by OPI (SOPI) is sometimes referred to as $OPI by fellow nail girls due to the fact that these polishes cost more than regular OPIs and to be honest, I don't really understand the reasoning behind it.  The formula isn't any more magical than a regular OPI nail polish.  The ingredient lists aren't identical but I can't tell the difference between them outside of the bottle and brush shape.  Personally, I really like the small round brush on the SOPIs and I'm sure anyone with thin nail beds does too.
Leaf Him At The Altar is a silvery green that reminds me of the hostas the previous homeowners planted in EVERY flower bed on our lot.  Not that I'm complaining, they are easy to maintain, but we must have 40 of them.  Anyway back to the polish.  The silver metallic shimmer leaves slight brush marks in the finish but if you make sure to wipe your brush off so there's no pooling, it shouldn't be an issue.  If there is a downside to this color it's the pigmentation.  I needed three coats to get it opaque.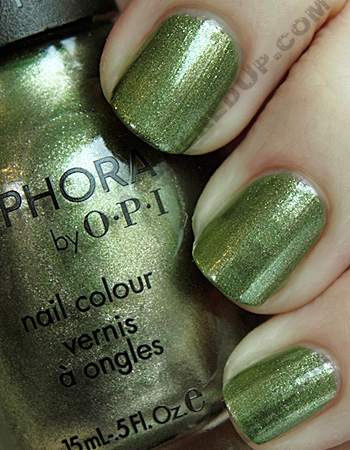 Now you know how much I love my greens and I have drawers filled with them to prove it so it continues to amaze me when I can't find a dupe in my stash for a new color.  Leaf Him at the Altar is definitely unique to my collection and therefore a must-have for me.  I love that SOPI could create a cool green without it having any blue undertones.
Go Green Week Nail Tip: Invest in a glass nail file.  Instead of creating more waste using disposable files, purchase a quality glass nail file. Not only do they last forever and a day, they do a better job of sealing the nail due to the fine grit.
As I mentioned in Let's Talk Files, my favorite place to stock up is GlassNailFiles.com.  Yes, the website looks sketchy but I've ordered from them many times and so has ALU Mom.  If I would send my mom there, you know it's reputable.  Files come in varying sizes starting as low as $1.79/ea including a carrying case.  You can even customize a file with your name on it which makes a great gift.  Shipping is reasonable and fast so what are you waiting for?
If you object to online ordering check out the La Cross files sold at drugstores, Essie's sold at ULTA and Sephora's house brand file.
Sephora by OPI Leaf Him at the Altar is a limited edition shade available now on Sephora.com and retails for $9/bottle.
How many of you have made the switch to glass files?  Do you prefer them over paper files?  Who else picked up Leaf Him At The Altar?
Disclosure: A product sample was provided for review by a PR rep for Sephora. For more info view my Disclosure Policy.