Spring 2011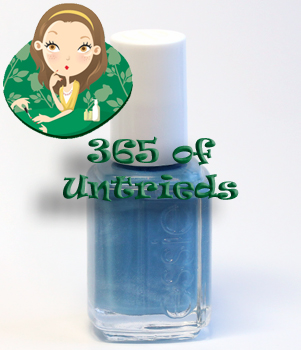 365 of Untrieds is my personal challenge to weed through the polishes in the ALU stash that I've been wanting to try but just haven't gotten around to.
I've briefly mentioned in past blog posts that I was in a sorority in college, Alpha Delta Pi. If you aren't familiar with the sorority system, like a US state, there are a lot of official symbols for sororities. Official flower (woodland violet), mascot (lion), symbol (diamond), open motto (We live for each other), philanthropy (Ronald McDonald House) and colors (azure blue and white).
Now for the past couple years I have found myself yawning over the spring collections from Essie. Soft shades just aren't my bag and sheers make my nails look terrible. So when I stumbled across Essie Coat Azure from the French Affair collection, I was pleasantly surprised. While I haven't been actively seeking out a nail polish version of my sorority's color, finding one has always been on my wish list.