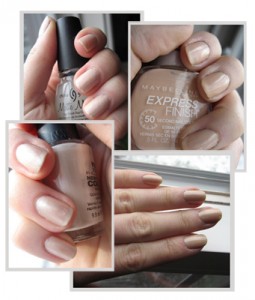 Mannequin Hands is a new series featuring ALU Fanatics showing off their "mannequin hands" shade. The one polish that best gives that elongated, flesh-toned look to their hands.
Salvaged Expression has been getting crafty when it comes to her mannequin hands look.  Unable to find a decent flesh toned polish in her stash, she went to work frankening her perfect match.  But what makes her franken truly unique is the inclusion of powdered foundation.  Genius, no?  She used this franken to eventually find a ready made match in NYC Mulberry Street.  Learn more after the jump!
Click here to view more pictures and read the rest of this story.